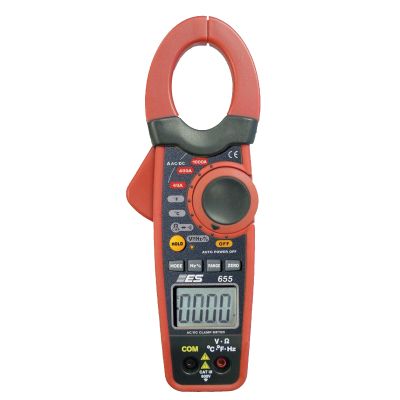 MD6551000 AMP CURRENT PROBE/DIGITAL MULTIMETER
MD655 1000 AMP CURRENT PROBE/DIGITAL MULTIMETER
Features & Benefits
Ideal for all high current applications, especially starting and charging diagnostics.
High quality unit with 37 test ranges and 10 testing functions - high current capability, good for starting/charging diagnostics
Measures up to 1000 amps AC or DC.
Unit also features integrated temperature readings in F and C, no adapters required - temp probe included.
Return Policy
Return for refund within: 30 days
Return for replacement within: 30 days
Detailed Specs
DC Current

0-40A, 400A, 1000A

Amps AC/DC

AC: 0-40A, 400A, 1000A

DC Voltage

0-400mV, 4V, 40V, 400V, 600V

AC Voltage

0-400mV, 4V, 40V, 400V, 600V

Ohms

0-400, 4K, 40K, 400K, 4M, 40M

Capacitance

0-40nF, 400nF, 4uF, 40uF, 100uF

Frequency

0-5Hz, 50Hz, 500Hz, 5kHz, 50kHz, 100kHz

Misc Features

Duty Cycle: 0.5 to 99.0%

Temperature

-4 to 1832F and -20 to 1000C