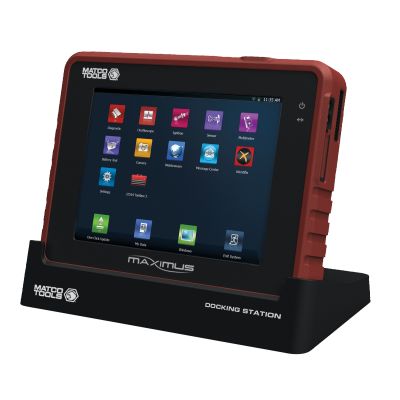 MDMAXOBD II SCANNER MAXIMUS DIAGNOSTIC TABLET
MDMAX OBD II SCANNER MAXIMUS DIAGNOSTIC TABLET
Features & Benefits
Discover the Maximus Diagnostic Tablet - an OBD II scanner from Matco Tools that offers touch screen diagnostics, Wi-Fi capabilities, full module coding and a 2-year warranty
True, PC based, touch screen diagnostic scan tool running Windows® 7
Get more done faster and perform vehicle diagnostics, access any of the optional modules, and surf the web - all at the same time
Class 1 Bluetooth Wireless to the Car
Browse the web or your favorite online repair databases like Identifix with Wi-Fi, B/G/N & Ethernet connectivity
Wi-Fi printing capabilities to print on any network printer in full color
10 minute one-click update for all car lines - even faster if updating a single car line
Full module coding & bi-directional capabilities
Next generation X431 software suite with OE-level access to Asian, European, and Domestic applications
Large 9.7" razor-sharp In-Panel Switching (IPS) Touch Screen (1024 x 768 resolution)
Exclusive docking station for charging, storage or browsing
16 GB SSD Storage, 2GB DDR3 Memory
Drop tested shock proof rubber casing
Plug & play VGA & HDMI out allowing for dual screen inputs
Built-in camera
Audio out
Multiple USB inputs
All cables and connectors included
2 year warranty
Optional modules include Sensorbox, Batterybox, Scopebox, and J2534 Passthru device
Return Policy
Return for refund within: Non-refundable
Return for replacement within: 30 days
OBD II SCANNER MAXIMUS DIAGNOSTIC TABLET
32
32
Very Nice
The Maximus has exceeded my expectations and usually works better than the Snap-On Veresus. The multi color display makes live data graphs easy to read with a very user friendly interface. The touch screen with stylus inhibits you the ease of functionality that snap on lacks. Performance I rated a 4 because the farther away from the wireless Bluetooth, the longer the communication initially takes to connect, but results are not slowed. The interface also takes slight adjusting to, but becomes simpler once learned. The actuator test/system test are easy to access on each vehicle and easy to read. One click updates are simple to do, literally one click. Runs Windows 7 so you have Microsoft's security essentials (virus and spyware)....just in case, as well as ask other Windows features. Pros: light, easy, touch screen, stylus pen and fiber input, 2usb, vga, hdmi, Ethernet and charge input as well as dock station. Color display, ability to use as oscilloscope, multimeter, battery tester, ignition tester, spark tester, sensor tester. All vehicles, Bluetooth (up to ten different cars at once) and normal launch connectors for more advanced systems. 2 annual classes each year to learn how to use Cons: potential to scratch screen easily, with screen protector--input is "misread" (doesn't pick up stylus sometimes), non interchangeable HDD (16GB) or RAM (2GB). Oscilloscope and features as such require additional purchase of each "box." Easy to forget Bluetooth connector in car, poor keyboard (go on your computer at home and bring up the on screen keyboard....instead of mouse you use stylus and makes typing painful and it takes up screen space) Neutral: usb ports allow normal keyboard and mouse to be plugged in for Windows side use, Bluetooth and scanner firmware updates included and gives you option of when to install. Identifix (haven't used, seems more beneficial for a shop to use on an actual computer), ability to switch between scanner and internet without losing data to view prodemand and/or alldata....I still go to computer. Easy to walk to customer lounge and show results, but they typically don't know what they're looking at, still fun. Overall, worth the money. There's no perfect scan tool, but this is close and I've used Snap-On Veresus, other launch products, autel, star connect/tech connect, etc. This one by far does more than the rest typically, but again, nothing us perfect. Good for dealerships/independent shops, but weigh the options of dealer specific scan tool before buying. Other than that, what are you still reading for? Go blow up your tool dealers' phone now.
March 25, 2014
Great right out of the box
I have been using the Maximus for around a month now and I have not been disappointed once. The one touch update system is phenomenal, the update process is no longer a chore i dread. Very well thought out and versatile tool. Working on many different make and models having a tool that allows me to not only scan in my choice of generic or factory, then jump right online and use my shops data base services has helped cut down diagnosis times. I would definitely recommend Maximus scan tool it is a great device.
August 1, 2013
******DONT BUY*******!!!
Do you research first, Launch is a great product but Maximus will not do Ignition Waveform yet, they will sell you the scope box and everything and distributors may not know about this yet. After you purchase you'll find out it cannot do ignition primary and secondary until they release the software. The unit has very little disc space as well and is slow. Already had the Bluetooth dongle fry out and operating system went screwy. Launch is giving great product support, but if you want a real tool, don't buy this one...you can't get a refund either.
November 13, 2013
Waste of money!!!!!!!!!!!!!!!
I bought this tool maybe 3 months ago an my code reader does more. You can use it on identical vehicles and it will communicate with one but not the next. No mode 6 for retrieving misfire counters on fords. Will not communicate will abs, tpms, airbag on any vehice. I call launch an am told when it wont communicate to use generic obd to pull my codes. You dont pay this much for a code reader so why for this?
January 7, 2014
Could be better for the money
The software is fine, just like any scan tool it takes some getting used to. The menus are weird and the help information is nonexistent. The hardware seems to be the main downside, the touchscreen is fine and it does have a stylus on the bottom. It is equipped with windows 7 32-bit, An Intel Atom 1.6GHz processor - slow, 2 GB ram - slow. So it is slow and the refresh rate on any data except CAN vehicles is so slow its useless, even if you just pick a few. BUT it is very good with the support of bidirectional controls and that saves a lot of time in diagnosis and it does offer a lot of data, sometimes too much, because its slow to navigate through. The wireless Bluetooth DLC connector is nice, unless you loose it, but it does display a message not to forget it. The DLC is just as fast as wiring it in and you can have the tool under the hood or in the office while communicating with the vehicle. The graphing option is cool but again, slow. You can graph or "plot" up to 12 PIDs at one time but good luck with the refresh. The hardware is just too weak. So all in all it works but it is slow. I really like the bidirectional controls, if they offer a faster model, get that one.
April 3, 2013
Judged tool before giving a chance.
Re-thought to my last review. Recently tool received a major update, that changed my whole opinion. this update put the functionality and operations of this tablet to another level. I can honestly say that it is one of the best diagnostics systems that I have seen. The graphing beats others by far. the speed is good, and very user frendly once you learn it. I have functions on the Maximus that I am unable to peform with a factory scan tool. There are several aftermarket scan tools out there, but I highly recommend this one. As far as the one click update. What can I say? Never seen anything as quick or reliable as this. It stays up with the latest software changes that manufactures allow at any given time. so far, I am very impressed. Keep up the good work.
April 19, 2013
Ok starter tool
I have worked with various Diagnostic Systems. I like the idea. The overall concept is good, put the graphing is to slow to be usable. The tool cannot do basic functions that less expensive diagnostic units can, like program keys (without an add on unit). Also, one good reason I purchased this unit because my understanding it was the Launch X431-pad with the Matco name. Where is the built in printer? Too little memory for windows 7 by it's self, let alone a windows 7 diagnostic pad. I trust the Matco name, but believe there should have been more research done before backing this product. I beg Matco to increase the memory and/or hard drive for your dedicated buyers. Either way. Buyer beware. Again, the concept is great and it has some cool features for the price. I am just a Diagnostic freak, and it hinders me. I will keep the tool and just hope an update will benefit my needs.
April 6, 2013
not bad for price
the scantool side of this tablet works pretty well but on the windows side it could use some improvements. windows side. needs more RAM 2GB is not very much for win7 (can we upgrade RAM?) trying to use web browser is slow and clunky add 16GB hard drive very small one of the problems with win7 is that is not touch friendly scantool side i think the data would be better if we could just flip through pages of pids that are already active instead of selecting the ones that you might need. instead have a selection for all or custom and the ablity to save custom pid selections lists. overall this is a good product that has very good coverage and usablity but also has room for improvement. when you look at prices for other scantools there is not much to compier with.
January 12, 2014