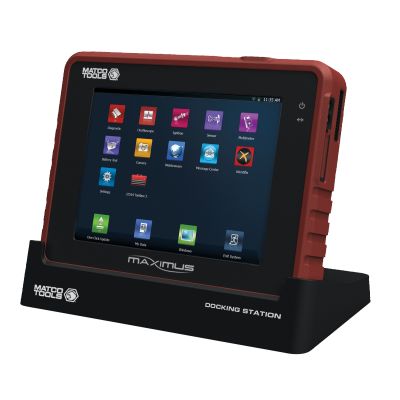 MDMAXOBD II SCANNER MAXIMUS DIAGNOSTIC TABLET
MDMAX OBD II SCANNER MAXIMUS DIAGNOSTIC TABLET
Features & Benefits
Discover the Maximus Diagnostic Tablet - an OBD II scanner from Matco Tools that offers touch screen diagnostics, Wi-Fi capabilities, full module coding and a 2-year warranty
True, PC based, touch screen diagnostic scan tool running Windows® 7
Get more done faster and perform vehicle diagnostics, access any of the optional modules, and surf the web - all at the same time
Class 1 Bluetooth Wireless to the Car
Browse the web or your favorite online repair databases like Identifix with Wi-Fi, B/G/N & Ethernet connectivity
Wi-Fi printing capabilities to print on any network printer in full color
10 minute one-click update for all car lines - even faster if updating a single car line
Full module coding & bi-directional capabilities
Next generation X431 software suite with OE-level access to Asian, European, and Domestic applications
Large 9.7" razor-sharp In-Panel Switching (IPS) Touch Screen (1024 x 768 resolution)
Exclusive docking station for charging, storage or browsing
16 GB SSD Storage, 2GB DDR3 Memory
Drop tested shock proof rubber casing
Plug & play VGA & HDMI out allowing for dual screen inputs
Built-in camera
Audio out
Multiple USB inputs
All cables and connectors included
2 year warranty
Optional modules include Sensorbox, Batterybox, Scopebox, and J2534 Passthru device
Return Policy
Return for refund within: Non-refundable
Return for replacement within: 30 days
OBD II SCANNER MAXIMUS DIAGNOSTIC TABLET
32
32
Very Poor Customer Support
I've had my MAXIMUS for almost 6 months now, love the tool but I am VERY dissapointed in the tech support! I have emailed them for help and called them for help on one particular vehicle,2006 MINI cCooper S all I needed to know is if the tool will perform a EWS-DME alignment! The one time I got through by phone the person said he would ask his engineer and get back to me that night or first thing in the morning, considering selling the tool and going back to Snap on.
November 18, 2013
launch has a lot to do befor they can even begain to say OEM SLOW
SLOW this scan tool is no wear near what they say it can do all talk no action the processor 1.6gs really? in a scan tool no good wish I could send it back. on top blue tooth is all ways failing lots of connecting to ecm problems and cannot do half of what they say it can over priced and under delivered. do not buy if this is going to be your main source to diagnose car and or trucks.
December 6, 2013
Autel DS708 much better scan tool than this right now
I bought this Maximus Because its suppose to be a OE level product which it aint by FAR. My Autel DS708 does alot more than this scan tool at this time. I hope they have more updates to make this product better real soon or they can take this junk back.
November 27, 2013
Dissapointed - Clunky
I'm surprised Matco put their name on it. It's clunky at best, the touch screen needs a stylus and should be able to zoom in on items with a finger pinch action. It is definitely a LAUNCH product, you need to very patient with it's learning curve. No contextual help files, no explanations for odd questions, and the programming is not consistent throughout the program. Sometimes you just click an item to open it, sometimes you need to highlight it and then press ok. I spent a lot of time going in and out of programs to figure out what I was doing. I tried it on an infinity product and after I got through the setup, I was left with a bunch of "No Information" errors. I found out that I needed a 14 pin connector to work a lot of the options, it should have told me that. It did set up nicely with my wireless network and was able to print to a wireless network printer, however the print function is not available in a lot of the testing. For instance, I wanted to print a screenshot of wheel sensors that I had graphed, no print button on the graphs. The record and playback is weird too, never knew if I was recording new items or playing back pre-recorded data. The tool would be great if they would work it over and get rid of the lousy english and assumptions that LAUNCH is known for (I have several of their tools). They need to clean up the menu's and functions too, it seems to be different throughout the programming of the tool. The weight and size is perfect. Sorry guys, I'll return the demo version and wait til it's fixed to buy it.
April 2, 2013
Good unit overall
Unit has a great display and always consistent with updates. Very user friendly. At times it could be difficult to understand if one is not mechanically inclined. Doesn't responded as quickly as I expected and wish the unit would assist in using the proper cables. Also wish the unit had lab scope integrated within it. Parallel port for accessories instead of a usb cable would be a lot more convenient.
June 11, 2013
Very slow, does not support as much as I had expected and was sold on.
I'm kind of disappointed with Maximus. I'm a shop owner where we specialize in mil light diagnosis and repair for all makes and models and expected this to do it all but I still had to buy from snap on. It does a lot with European cars but for some reason does not support random communications. For instance I had a Volvo which I had no option to communicate with ABS or SRS on an inventory unit but could communicate with everything else to include locks, lights, seats, and other meaningless items in comparison. I had to sublet it to another shop with the correct Snap on Scanner for the job which is what prompted me to buy one. It's also very over complicated and slow in retrieving DTCs and checking monitor status. I use my 1050 scanner far more often because Maximus is just so slow and over complicated. I'm also let down by the fact it will for some reason assume data at times like when a potentiometer fails in part. I can find a partially failed wiper with a multimeter but maximus creates data that does not exist and can hinder the progression of a diagnosis, especially when a lesser skilled technician which is not capable of realizing the data is flawed. Whatever algorithm is used here should be reconsidered. Overall, I feel I was well oversold on it's capabilities and wish I had not invested into it.
November 24, 2013
Loving It
Just got my MDMAX last week. I love this tool! Docking station is great. Keeps it charged up all day and safe from harm. Also tool is really fast! I was going to buy the Snap-on Solus, but decided to go with the Maximus instead. Bigger screen, windows 7, faster, and easy to use. Learn new things every day. Go Matco thanks for stepping up and providing a great diagnostic tablet.
April 15, 2013
very nice
i have been using this tool for about two weeks .I finally bought myself my first big boy scan tool. i m very happy with my choice in buying this one .
May 14, 2013
Awesome product with great features
This is a somewhat easy to use device. I like it and would recommend it to others. Anything made by Matco is a great product.
May 15, 2013
great scan tool for the money
picked this up about two weeks ago and have not found a major flaw with this unit. the real advice i can give someone is do the updates to it as soon as you get it or you will be disappointed in it. once it gets all the updates done, it really does mimic the OE scan tools. have have used a few of the OE ones over the years and it matches up perfectly to what you can do with it and what the OE versions can do. have hooked this tool up to several different vehicle form different manufactures since getting it up and running. works great. i will be snagging up the the rest of the add-ons later on.
July 17, 2013
A great diagnostic tool for the mid-range price.
I love this scan tool! You don't have to buy extra packages for VW, or Audi. You can upgrade for the ability to program, or add a oscilloscope to advance your diagnostics even further. The first time I hooked up to a 2010 Ford pickup and was able to access 23 pages of diagnostic info, I knew that we made the right choice. I love the fact that I can come in in the morning and turn it on, download the latest and greatest updates in 3 minutes, and know that I am up to date. I need to mention that it also has identifix on it already. You can hop on and find helpful info or test procedures while in the car. The amount of output test that it will allow you to do is insane. Its so nice to go in and move every mode door for h-vac, or turn the fans on and off. You can command on the fuel pump relays, fuel pump etc. I need to mention one last thing which is the wireless blue tooth OBD2 adapter, Awesome. You can work from your box while the car sits outside or in your bay. For our shop we work on any type of vehicle, and this machine has bridged the gap, and has saved me a lot of time.
May 9, 2013
Needs more for the money
I used this as a student at a technical College it really slow compared to other brands I gotten to play with. The graphing is slow and unresponsive at times.
September 27, 2013
5 star
this product has the diagnostic capability of more than several tools in one best buy i have ever done in diagnostic tools
April 26, 2013
MAXIMUS
I have used this equipment for the last 2 months and have not found any other scanner to work as well this one. It is very user friendly and exposes the easist and fewest amount of time to scan a vehicle and find the problem. I had the opportunity to use the MAXIMUS to assist an outside source to troubleshoot a transmission problem. They were unable to recieve a trouble code to assist them in their warranty of the transmission. Once I connected the MAXIMUS we found the problem and the warranty problem was resolved. I considered the equipment Fast, Effecient, and an overall excellent troubleshooting machine. I can not wait for all the additional troubleshooting attachments to come out.
July 30, 2013
among the top of the line For the aftermarket.
I have used a lot of different level scanners over the years, from the DRB II/III, StarScan, Tech II, Genisys, Pegisys, And even a couple of the different Actron Obd1/2 scanners. This Matco Maximus is by Far on top of the list right with the OE tools. It far surpasses the OTC scanners (Genisys/Pegisys) in it's capabilities of modules access/ actuation tests. To simplify, If there is a module on the vehicle for whatever system, This scanner can access it with DTC information and datastream, and almost always available actuation tests. I haven't had this capable of a scanner since i've been at the dealer. But the part that makes it better than the OE scanners, is i can Go from Chrysler, to Honda, to Mercedes, to Toyota...and so forth and so on, with one tool, and have in depth coverage for each vehicle. Also the Bluetooth connection to the OBD port is an awesome feature, i've been about 30-40 feet away from the car and still communicating in real time with the vehicle. The WiFi internet access is great, perfect for info/Procedure/TSB look up at the vehicle. Also the add on's of a 4 channel lab/ignition scope and Pass-through programming box make this scanner simply a must.
May 15, 2013
Loving it so far!
I have been using this scan tool for the past 2 weeks. I was the first person I know in this area to buy this scan tool. It was a lot of hype that it had to live up to, and let me say, it's better than I expected. The software does have a learning curve, as any new product does, but luckily I was familiar with the Launch scan tool software prior to purchasing (I upgraded from a X431 Master) The windows portion of the tool is great, as I can use this as my shop computer and look up diagnostic information on the fly. This scan tool is definitely taking my shop to the next level.
April 8, 2013
Side notes
Just adding to my previous review Overall it still has a great coverage if you consider across the board between all makes and models it has great versatility. I still think it's still among the best you can do for an aftermarket scanner the things that bug me on a daily basis with it are: How live misfire monitor pids are missing on vehicles I know have the pid. that is drives me nuts. and since the Scopebox software still isn't available for this tool yet, i can't even hook that up to watch the ignition fire. The speed of the unit. If you try to look/monitor more then about 3-5pids at a time the machine starts to slow down, especially if you choose to graph these pids, which in my opinion is one of the main reasons you're looking at data is to compare waveforms. on the new can bus vehicles the speed stays somewhat acceptable, but some of the older OBD II vehicles it becomes annoying and almost counter-productive. In these cases i'm forced to watch/graph one or two pids at a time to maintain the speed of the unit. which still works fine, just annoying, especially for the cost of the unit For re-entering a system you just previously scanner/viewed it would be nice of the scanner would keep a list of previously used vehicles so initial set-up time would be quicker instead of having to navigate through the entire menu again, and wait for it to scan for available modules and data. still, I like the maximus better than the OTC tools i've used in the past before, I hope down the line through software updates that some of the initial problems are remedied.
August 16, 2013
the best tool
I have done the math and looked at every tool on the market. I have tried to find one that will let me scope a car and then reset computers to tpms systems. After my first start up which was on my car, I started to tinker with the settings on the car. Now I'm in love with this thing. It works amazing. I can diagnose an issue while working on another vehicle. I no longer am strapped to the car. So if you are looking for the ultimate in computers and need to get things done fast. Buy this thing.
April 20, 2013
Has a long way to go, I want my money back.
Things I don't like about this Maximus (and launch tools in general) : 1) Can't take a screenshot. 2) Won't graph on/off signals. 3) No premade data groups, doesn't remember custom lists, if you leave the data stream. Try to make a custom data list out of 11 pages with 9 or ten PIDs on each page, scan data and check codes. When you come back to data you have to start all over again, not a good use of time. Many scanners remember custom data lists. Most have data groups, not Launch. 4) Graphing auto ranges, does not hold a MIN-MAX value. This is aggravating and not intuitive at all. 5) The DLC connector is easily lost. 6) When first turned on, it appears to not react, causing you to hit the button again. Some sort of hard drive indicator should show. As a scanner, the primary purpose of this tool, It fails. What I like about it: 1) As a PC, it's OK. Windows 7 the kind you find on a Netbook. It would be much cheaper to buy a laptop and handheld scanner. 2) I like the super small Bluetooth DLC connector, but it is too small, I have already lost mine #and recovered it). 3) Coverage wise Launch is OK, but I found a lot of cars with no bi-directional testing
August 2, 2013
Great coverage, slow computer
The vehicle coverage is great. Repairing both foreign and domestic vehicles, this computer makes it easy to read them all. I like the internet updating. It does a lot more than my stand alone previous machines, however..... The computer itself is slow. The refresh rates when reading sensors is so slow that the sensor better be reading bad continuously or you may miss it. When using on CAN vehicles you have to sort through too many pages of too much information to pick out what you are trying to test and there is no way to make yourself a "personal set group" to test. The dongle being Bluetooth is great as long as you don't forget it in the vehicle. We put the extension on so it hangs out in plain sight. The diagnostic reading does work very well and for that alone I would recommend this machine for shops dealing in both domestic and foreign repairs. .
June 3, 2013
wonderful scanner
i love this scanner. i am the first one to have one here in pueblo colorado maybe all of colorado. this is a product that i will definetly recommened to other technicians.... so many good fetures but the blue tooth capabilities of this scanner is what i love the most..
April 24, 2013
MDMAX took it to the MAX
As a repair shop I have used various scan tools and software including OE factory scanners. Its seems I always resort back to the MDMAX, as its software is very user friendly. The blue tooth feature combined with the wireless interface is an asset to any small repair shop.
April 23, 2013
this diag tool is awsome
Best scan tool ever love the wireless verry accurate a lil slow but highly effective a definate must have
May 6, 2013
Finally!
After purchasing a completely different scan tool after opening my own shop 3 years ago. I had Nothing but Issues with this particular product that was not a Matco or Launch built tool. I was Lucky enough to get Real Help from my Matco Rep and His Bosses to rectify my issues with this other manufacturers scan tool and what it was Not Capable of performing on a Daily basis. After Months of Research I found the X431 Tab and was Impressed with the Reviews and Video Demos on the net. My Matco Rep ordered me the MDMAX w/ J-Box Pass-Thru Module. All I can really Say about this Simple Combination is WOW! After Working for New Car Dealers for Over 22 Years This Tool IS A MUST for ANY Independant or Even at Dealer Level Shop! The BI-Directional Controls are Amazing and the European Coverage Cant be Beat. Domestic/Asian/European Even Heavy Truck/Diesel Applications...... If You're looking to Expand your shops Capabilities DON'T Spend Your $$$ Without at least getting a Demo of what This Tool Can and Will Do for your Diagnostic Confidence at ANY Level.
May 4, 2013