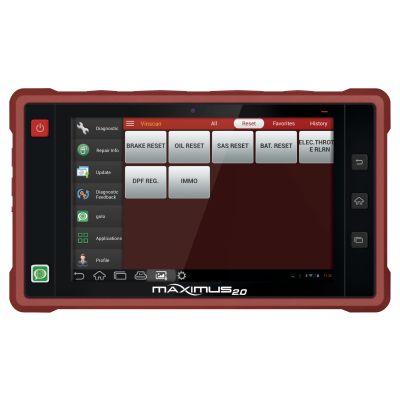 MDMAX2MAXIMUS 2.0 ANDROID TABLET
MDMAX2 MAXIMUS 2.0 ANDROID TABLET
Features & Benefits
Expandable, wireless, Android-based scan tool tablet that offers OE-level coverage for Domestic, Asian, and European applications
Ultra-fast graphing with the ability to display 15 graphs at once on the full-color 10.1" IPS capacitive touchscreen
COMING SOON - Easy access with ID and VIN scan that allows you to simply take a picture of a vehicle's VIN number to access all available vehicle information automatically
Immediate bi-directional access to all available controllers for trouble codes, live data, actuations and more
Drop-tested, dustproof, and waterproof to IP65 specifications, withstanding a stream of water in all directions
True docking station with VGA, audio out, Ethernet, 2 USB ports, and connector storage
High resolution front and rear cameras with still and video capabilities
Class-1 Bluetooth 2.1 connector for optimum wireless connectivity
One-click Wi-Fi updates
Works with all current add-on boxes
One-click commonly used resets, such as oil light
Supports Identifix
Return Policy *
Return for refund within: Non-refundable
Return for replacement within: 30 days
* Applies to purchases made on matcotools.com only; see your Matco distributor for warranty or return information on purchases made elsewhere.
MAXIMUS 2.0 ANDROID TABLET
61
61
the best
I did use all of the adapters for obd1 and also been working on many obd2 and this tool help me to fix the real problem mi boss has the snap on and is no way that he did what I can did with this one this is my best buy ever thanks matco tool's
October 18, 2014
happy to own the maximus
I'm please to rewrite my review I had a few issues but being Launch/Matco and my dealer John Black quickly got to my concerns addressed , found the causes, and fixed/improved upon them I'm happy to own this product. If your looking to expand your capabilities as a independent shop or a big name dealer this tool is the ticket. My hours per week on jobs other than Nissan vehicles has increased ten hrs at least a week on Ford Chevrolet and Dodge vehicles, being a commissioned tech that mean everything plus pays it self off fast
October 21, 2014
Great potential, has bugs
I patiently waited for the release of the Maximus 2.0 and to date am still waiting to be "wow'ed". I have spent countless hours with tech support and sent the unit back within a month of owning it due to blue tooth comm failures. I still cannot turn it off fully overnight after being serviced for fear of loosing the synch signal as told to me by tech geeks at Launch. This unit has great potential and I will get excited eventually, just not yet. Would you buy a new car that cannot be shut off overnight, has been to the dealer for repeated recalls, and still be a happy customer??
October 22, 2014
notforthosewhoareshortontime
its been great for the first 2 weeks had some issues but worked past them on most vehicles its very limited to what it can do only fords have the most features and some gm products but i have had a charging issue for a week and no luck with tech support im acually on hold while im writing this on my desktop because my matco maximus 2.0 has crashed again but im a nissan tech that works at a dealer ship with many sister dealerships such as ford and chrysler so i thought this would give me the advantage on getting work through the shop compared to other techs and on most cars ill just use the cheap 90 dollar acutron hand held
September 5, 2014
Yes. The king of them all
What more can be said? Used several scan tools, been told none can do all. This is close. The Maximus 2.0 does what most scan tools can do and more. I have used several high priced units and you get more for your money with this one. Graphics are clear, all makes and models are included without an extra cost, updates are constant to keep up with manufacture data, Android based and The best seems yet to come with the vin scanning, and Golo feature. I would put this up against any Scan tool on the market.
October 18, 2014
this product has great coverage
Awesome product but support is lacking. Great coverage but newer ford modles it doesn't comunicate with door key pad module. It won't give the current door axcess codes. Won't reprogram older bmw modules. Called product support and they said there is no plan to change this. I live in canada and theproduct support has been closed in missisauga. I try to push this product but every warehouse distributor or part supplier is carying a version for less money
October 21, 2014
Great Tool
Let's start with the fact that this tool is NOT made for a novice diagnostic technician. It is a wonderful tool if you know what you are looking at. It will not diagnose a vehicle for you. It WILL give you all the information you need to begin your diagnostics. It also has the fun feature of being a full on android tablet. I have had this tool for 7 months now and love it. My prior tool was the Autel MaxDas 708. I feel this is a more complete tool. I wish I could store the customer information right in the program. This option is not yet available. This is a very durable tool with excellent functions and features.
October 16, 2014
some kinks to be worked out but overall amazing
max 2 so far has scanned into everyvehicle ive put it on for months....i havent been able to find anythimg it cant do...the labscope is absolutrly top notch...excellent battery life IF you make sure its plugged in all nigh. full android abilities allow you to have assistant apps in ex. i use notepads and google frequently when diagnosing...tool is very quick nut i expected slightly more...three to four times as fast as max one...only doenside is that the diag program itself crashes here and there amd you have to restart and re log into the vehicle....usb ports are great for charging other usb devices...overall amazing tool probably the best innovation in a scan tool in twentyyears i highly trecommend this product
October 25, 2014