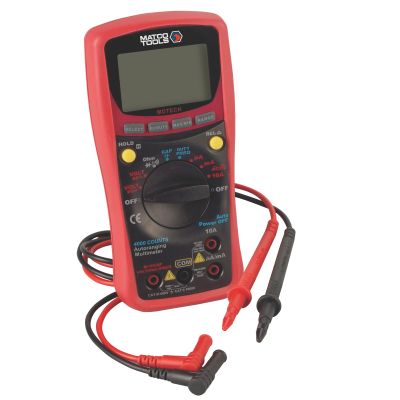 MDTECHMATCO TECHNICIAN METER
MDTECH MATCO TECHNICIAN METER
Features & Benefits
Technician Series meter features powerful automotive features such as frequency, duty cycle, diode and continuity tests, plus all the standard meter features.
Provides accurate readings for volts, amps, and ohms.
Auto Range function automatically selects the correct range for testing eliminating damage to the meter caused by incorrect range settings.
Examine leads and test points carefully while the meter holds the highest reading with the data hold feature.
Specifications
Frequency: 1Hz ~10MHz±0.1%
Duty Cycle: 0.1% ~ 99.9%±2.5%
DC Volts: 400mV/4/40/400V±0.5%, 1000V±0.8%
AC Volts: 4/40/400V±0.8%, 400mV/750V±1.2%
DC Amps: 400 /4000ìA±2%, 40/400mA±1.5%, 4/10A±2%
AC Amps:400 /4000ìA±2.5%, 40/400mA±2%, 4/10A±2.5%
Resistance: 400ù/4/40/400kù±1%, 4/40Mù±2%
Capacitance: 40nF/400nF/4ìF /40ìF±3%, 400ìF /4000ìF±20%
Diode Test
Continuity Test
Auto Range
Data Hold
Relative Change
Auto Power Off
Includes: TECH Multimeter, Red / Black Test Leads w/ probes and Manual.
Return Policy
Return for refund within: 30 days
Return for replacement within: 30 days
MATCO TECHNICIAN METER
1
1
great price great tool
Compared to my fluke this meter has more features and works great. Alot cheaper than the fluke and just as accurate. Been a mechanic for a year and a 12 volt installer for almost 20 years. Now I reach for this meter every time I need a meter.
February 12, 2012