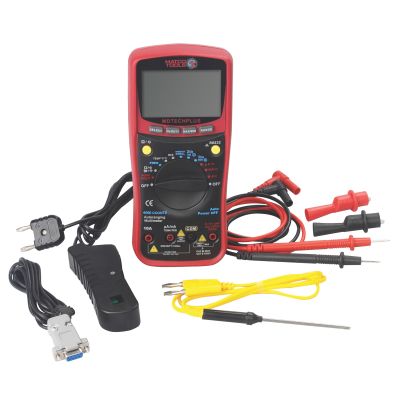 MDTECHPLUSADVANCED TECHNICIAN METER
MDTECHPLUS ADVANCED TECHNICIAN METER
Features & Benefits
Provides accurate readings for volts, amps and ohms required for automotive electrical system tests
Tests include: frequency, duty cycle, capacitance, RPM, temperature, true RMS and more
Auto range and data hold functions provide safe and accurate testing
Includes: meter, red/black leads with probes, alligator clips, RPM adapter, temp adapter, manual, PC cable, software and soft-sided carrying case
Frequency: 1Hz-10MHz±0.1%
RPM (direct test with leads): 0-10,000
Dwell angle: 0-360º (1-12CYL)
Duty cycle: 0.1%-99.9%±2.5%
Pulse width (negative): 1-999ms
DC volts: 400mV/4/40/400V±0.5%, 1000V±0.8%
AC volts: TRMS-4/40/400V±0.8%, 400mV/750V±1.2%
DC amps: 400 /4000mA±2%, 40/400mA±1.5%, 4/10A±2%
AC amps: TRMS-400/4000mA±2%, 40/400mA±2%, 4/10A±2.5%
Resistance: 400ù/4/40/400kù±1%, 4/40Mù±1%
Capacitance: 40nF/400nF/4ìF /40ìF±3%, 400ìF±5%, 4000ìF±20%
Temperature: -50ºC to 400ºC
Return Policy *
Return for refund within: 30 days
Return for replacement within: 30 days
* Applies to purchases made on matcotools.com only; see your Matco distributor for warranty or return information on purchases made elsewhere.
Rated

2.9

out of

5

 by

15

reviewers.
Rated

1

out of

5
 by
ThomasJ
Has all the features I needed for my job,and much more like the data logger.
I'm a tech for a very large truck dealership and use a DMM daily. After reading the reviews I began checking my temp probe for accuracy and found it to be off 9 to 10 deg. In my line of work I need a meter with a much higher degree of accuracy! I stopped right there and returned it fo something else. I read some of the comments of this being a good beginners meter! If you learn with askewed readings, your diagnosis will be as faulty as this DMM is. If or when you get an accurate meter, true readings are going to be foreign information. This is nothing more than an expensive toy. Very shocked Matco put their name on this, they're suppose to be selling professional tools, this is not even close.
November 14, 2014
Rated

3

out of

5
 by
busjockey
Makes a good beginner's meter
It has a lot of features but it doesn't have pulse width for positive slope, it doesn't react very fast when you put the leads on the test point, have to let it sit for a bit. The backlight doesn't stay on very long, only like ten seconds I think, that can be annoying, especially if your in the dark for an extended amount of time. And the continuity function's response time is horrible, definetely a problem if you are trying to find a intermittent short. This would be a good meter though for a beginner to learn on though.
October 29, 2011
Rated

1

out of

5
 by
Matcotools02
This product is garbage.
Do not waste your money on this product. I got this multi-meter part of my tools for school. When it turns on instead of being zero'd out for checking voltage it count down from 350.5mV. I own a fluke and it doesn't do this at all.
September 3, 2013
Rated

1

out of

5
 by
gmtech
dont waste the money just buy a fluke
this meter is very hard to read the dials, and display at times. It does not seem to be very accurate, it would measure 300-400 milivolts just shaking the leads around. I struggled with this meter for almost a year before i threw in the towel with it. The meter was purchased onsale for $180, and I found an almost new Fluke 88 with accessories and case on Ebay I bought for $175. You do the math, and decide which one you should buy
February 15, 2012
Rated

1

out of

5
 by
Gabev083
Not a reliable meter
I purchased this product off the truck. Took it home and it would not power on. My tool guy exchanged it, and this time it powered up, but the performance leaves something to be desired. The led light does not stay on long enough. There is no audiable indicator for continuity. The meter is very sensitive. I found myself tapping the leads together, or just turning it off completely alot just to get a stable reading of what I was testing. It also read temperature incorrectly. Something that is very important in my line of work. There was a discrepancy of 14 degrees. This is major. Finally, the other day I powered it on, and again it was dead. Checked the battery/connections but it appears to be the meter itself. I sent it back to my tool guy soon as its up and running it is going for sale.
March 18, 2013
Rated

5

out of

5
 by
GeneralMuscleCars
A great Multimeter for any Tech
I bought this meter for a steal under the MATCO Student program. It has everything you could ever need from a Multimeter. Durable, lightweight, compact, tons of features, carry case, test leads, Gator clips, directions, everything! 2 Drawbacks: 1. No information on how to check the internal fuses. 2. Included CD ROM is small and doesn't work in my laptop with slide-in CD drive.
September 11, 2011
Rated

3

out of

5
 by
Clutch
not really well made
Light doesn't stay on long enough, feels cheaply made, not rugged and slow to respond...thought this would be an up grade from the top of the line Sears model but its not...should've got a fluke meter...
January 16, 2013
Rated

4

out of

5
 by
Nate
Excellent DMM
For the money this DMM is a great value. All the features are there, and I love the different leads that it comes with. I normally work with Fluke DMM's at work and personally I like this one more (I keep this one at home for the hot rods).
November 8, 2011