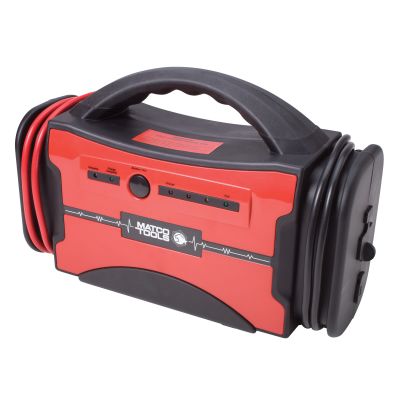 MJS350012V/18AH BOOSTER PACK
MJS3500 12V/18AH BOOSTER PACK
Features & Benefits
Flat platform housing provides a lower center of gravity for added stability. No more falling over!
Peak Rating 900 amps
Cranking Rating 400 amps/Cold Cranking Rating 350 amps
#4 Gauge 50" cables rated at 450 amps
Includes: Internal charger, AC and DC cords
Return Policy
Return for refund within: 30 days
Return for replacement within: 30 days
12V/18AH BOOSTER PACK
4
4
heavy JUNK
this product seemed to be all it was said to be for about 1 yr then all of a sudden it won't light a bulb let alone start a car it's very heavy, does not store well and the expence out weighted the use of the product's overhaul benifit i only wish i was offered a different item or warrenty "a warrenty...." i now have a heavy useless paper weight
August 29, 2013
Awesome jump pack
Has started everything I have needed it to and has a low center of gravity so it doesnt tip over and fall off car when driving into shop!
June 22, 2013
this some good stuff
urytime i gota bust off a batrie i grab mines an punt it on an BAMMM!!! there it is. It makes it possible for that chop block cam 2 come alive!
September 17, 2011
great product
GREAT JUMPER BOX I HAVE HAD GREAT RESULTS WITH IT .INTERNAL BATTERY WORKS LIKE A CHAMP
October 20, 2011