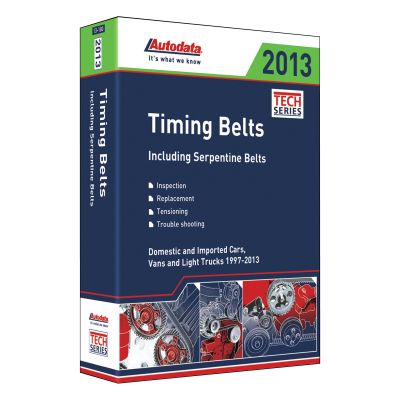 MMTB132013 TIMING BELT MANUAL
MMTB13 2013 TIMING BELT MANUAL
Features & Benefits
Includes domestic and import vehicles 1997-2013
Based on vehicles makers' information; clear concise step-by-step remove and install instructions with torque values for each model on just two facing pates. Labor times are also identified.
Clear illustrations show belt routing for timing and balancer shaft belts belt tensioning method engine positioning and locking methods cam and crank timing marks. Serpentine belt routing is also shown.
Manufacturers' recommended belt replacement intervals and labor times for each model helps auto repair shops encourage vehicle owners to have timing belts replaced regularly
Special tools are identified where required.
Return Policy
Return for refund within: 30 days
Return for replacement within: 30 days