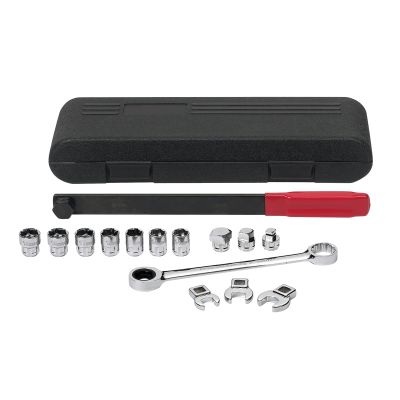 MSBT15SERPENTINE BELT WRENCH SET
MSBT15 SERPENTINE BELT WRENCH SET
Features & Benefits
Ratcheting gearwrench with slim head allows speedy access even in the most compact areas of today's smaller engines.
Ultimate set to service a wide range of vehicles with spring-loaded tensioner pulley.
Easy access with both crows foot and socket sizes
Return Policy
Return for refund within: 30 days
Return for replacement within: 30 days
| Part # | Product Name | Qty in Set |
| --- | --- | --- |
| SBT13 | WRENCH 7/8 IN BELT TOOL | 1 |
| BT14M | 14MM SOCKET, BELT TOOL | 1 |
| BT15M | 15MM SOCKET, BELT TOOL | 1 |
| BT16M | 16MM SOCKET, BELT TOOL | 1 |
| BT17M | 17MM SOCKET, BELT TOOL | 1 |
| BT18M | 18MM SOCKET, BELT TOOL | 1 |
| BT19M | 19MM SOCKET, BELT TOOL | 1 |
| BTA12 | 3/8 IN BELT TOOL ADAPTER | 1 |
| BTA16 | 1/2 IN BELT TOOL ADAPTER | 1 |
| BTA24 | 3/4 IN BELT TOOL ADAPTER | 1 |
| B1428X | 14 IN BELT BAR W 7/8 IN HEX | 1 |
| BTCF13M | 13MM CROWFOOT BELT TOOL ADP | 1 |
| BTCF14M | 14MM CROWFOOT BELT TOOL ADP | 1 |
| BTCF15M | 15MM CROWFOOT BELT TOOL ADP | 1 |
| MSBT14X | BLOW MOLDED BOX FOR MSBT14 | 1 |
| BT13M | 13MM SOCKET, BELT TOOL | 1 |
SERPENTINE BELT WRENCH SET
6
6
Great tool
Pros: Ratcheting action when in a tight spot where u need that extra inch to remove a belt with very little room. Multiple angles so you can easily get full compression on tensioners. Can be used as a long wrench on hard or stubborn bolts in hard to reach places. Cons: None to note. NOTE: I have used this tool from two different mechanics (borrowed) one held the sockets ok one didn't. Turns out it was the O ring on the main wrench not holding the sockets well and when replaced it worked great.
September 28, 2011
easy
This tool makes ur life so easy, fits everywhere. Buy it. Tech for the past 12 years, n I don't regret the investment.
November 27, 2011
PACKED WITH ALL THE RIGHT PIECES TO SERVICE ANY BELT
THIS IS BY FAR THE BEST SERPENTINE BELT TOOL I HAVE OWNED. GREAT ADDITION TO ANY TOOL BOX. GETS INTO EVEN THE TIGHTEST ENGINE COMPARTMENTS.
October 26, 2012
Love it!
Its such a versatile tool and so simple at such a great price, doubles as a small set of pass-thru's also. Could not be happier with it.
October 4, 2012
best serpetine belt tool for sale
as a retired mechanic and current auto parts store employee i use this alot and have had several other kinds of serpentine belt tools but this one is by far the best i have used
November 20, 2011
Great tool
Great tool! I have owned it for a year using it 2 to 3 times a day, definately worth every penny!
October 20, 2011