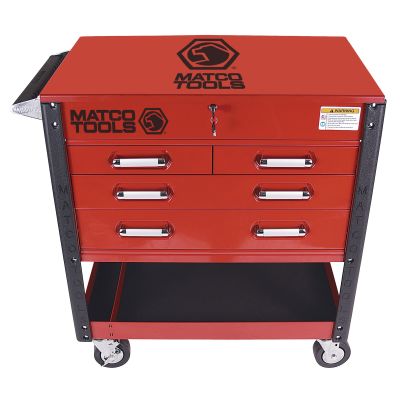 MSC4RHEAVY DUTY SERVICE CART - RED
MSC4R HEAVY DUTY SERVICE CART - RED
Features & Benefits
Matcos exclusive 4 Drawer Heavy Duty Service Carts feature patented bumper system to protect vehicles and other objects in shops and exclusive recessed drawer handles that hide the drawer pulls behind the leg bumpers.
Two Gas Pistons function for lid to automatically open and stay at the proper angle when unlocked.
Super High Chrome extra heavy duty 5" x 2" casters, all swivel with two locking.
Full extension drawers with heavy duty clips on roller bearing slides with Exclusive Matco Ergonomic Push Handle and Six Exclusive Matco Drawer Pull Handles.
Four Drawers total: 2 drawers at 3" deep, 1 drawer at 4" deep, 1 drawer at 5" deep. Includes drawer and tray liners for all surfaces.
Built in removable spray can holder in bottom tray.
Includes chrome plated heavy duty hardware for quick and easy assembly.
Available in Five Colors: MSC4R - Matco Red, MSC4BK - Black, MSC4BL - Blue, and MSC4TI - Titanium.
Specifications: 39.5" H x 20" D x 33.75" W, Top Tray - 5" deep.
1st Row of Drawers - 3" deep, (Two Drawers)
2nd Row of Drawers - 4" deep, (One Drawer)
3rd Row of Drawers - 5" deep, (One Drawer)
Bottom Tray 3" deep
Weight capacity - Total net load 500 lbs.
Top & bottom shelf capacity - 150 lbs.
Small top drawers - 30 lbs. each
Center and bottom drawer - 70 lbs. each
MSC4-FC - Optional 2 fixed casters
K7RSMCS4DH - Silver drawer handle
K7RSMSC4HB- Handle bracket
Return Policy *
Return for refund within: 30 days
Return for replacement within: 30 days
* Applies to purchases made on matcotools.com only; see your Matco distributor for warranty or return information on purchases made elsewhere.
HEAVY DUTY SERVICE CART - RED
22
22
okay cart.
okay cart. exact same cart as the cornwell cart just different handles. the handles on mine have striped and pulled off. i would expect better, and made in the USA, for the price.
December 27, 2011
great roll cart
the only problem I have had with mine is, had to replace the gas struts 2 times.. great cart
June 11, 2014
good starter cart
A lot more room than my snap on cart of similar size
December 14, 2011
I would replace my 72" long box with three of these
If I had it to do over again, I would replace my 72" long 4' tall tool box with three of these carts. I do about 90% of all my work out of this one cart. The big box has become storage for Harley parts and seldom used tools. My one and only minor issue is that the drawer stops should be made available as a service part instead of replacing the entire slide assembly. the small rubber stops do wear out over time but the ball bearings slides do not. this cart is at least a small part of the reason I'm not becoming a Matco Distributor.
October 16, 2012
Good starter cart or add on if have a smaller box
this cart is really good I love the pry bar and screw driver holders on the side it holds almost all my sockets pliers and wrenches. I keep all my electrical diagnosis tools in bottom drawer. The only problem I have had is with the middle drawer sliders and no dealer so I called matco and they sent me two new slider put them in and good to go, better drawer liners would be great and little better casters Also one guy in the shop has a blue point another a snap on cart I paid less and this is way better cart then both those.
September 14, 2011
Love it
I just bought this cart yesterday and already love it. It has tons of space and big ol drawers. The only thing I can pick on this box about is that the lock needs to be alittle better cause my buddy can open my box with his key, and that is a security issue with me. I am hoping that i can get a better lock and key from the dealer.
April 25, 2012
It's good, not great
I've been working out of one of these for about 8 years now. you can fit a huge amount of tools into the cart and the large open top makes the common stuff quick to access. the drawer slides are very smooth, and it has well thought out little features like screwdiver storage on the sides of the top which are secured with the locked lid. it's a great box to work out of. but it doess have weaknesses. the first weakness I noted was that the side storage for screwdrivers etc... cannot fit pry bars if you want to close the lid as their handles are too tall. this forces them into a drawer which seems a real waste of an otherwise great feature. The draw pulls (handles# are cheap. First was stripped threads in the plastic #yes, plastic) which I repaired with epoxy but since then they have broken to the point where there are rope pulls in their place now. the lower shelf is not up to the task of moving about a lot. I haul mine to the racetrack regularly. While it has been a great box to work out of, the moving in and out of the trailer has destroyed the floor as the casters mount directly to the flat open sheet metal and have bent to the point where the box actually wonders on it's own when on an open floor. the lock for the top is fiddly and weak. I have to strap mine shut now. the lock for the drawers usually works. usually. there are nice firm detents on the drawer slides when closed but there are no safety latches to keep the rest of the drawers closed when one is open. since the box is light and the drawers are large, it's very easy to tip the whole thing if the 2 wide draws open. not a problem usually but "it" happens. overall, for light loads and good service capability on a smooth shop floor this is a great box. for heavier storage and more durable use, look elsewhere.
January 30, 2013
Excellent Product!!!
A couple of guys in the shop have this cart and we all can only say good things. Drawer slides are sturdy and smooth. Holds all of our tools. Some guys even use this cart as a primary tool box. The only thing I would change is better drawer liners. The ones that come with the cart are kind of thin.
November 14, 2011