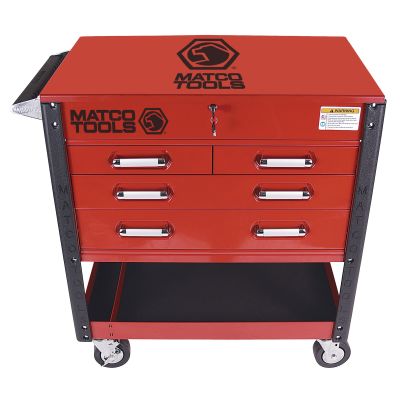 MSC4RHEAVY DUTY SERVICE CART - RED
MSC4R HEAVY DUTY SERVICE CART - RED
Features & Benefits
Matcos exclusive 4 Drawer Heavy Duty Service Carts feature patented bumper system to protect vehicles and other objects in shops and exclusive recessed drawer handles that hide the drawer pulls behind the leg bumpers.
Two Gas Pistons function for lid to automatically open and stay at the proper angle when unlocked.
Super High Chrome extra heavy duty 5" x 2" casters, all swivel with two locking.
Full extension drawers with heavy duty clips on roller bearing slides with Exclusive Matco Ergonomic Push Handle and Six Exclusive Matco Drawer Pull Handles.
Four Drawers total: 2 drawers at 3" deep, 1 drawer at 4" deep, 1 drawer at 5" deep. Includes drawer and tray liners for all surfaces.
Built in removable spray can holder in bottom tray.
Includes chrome plated heavy duty hardware for quick and easy assembly.
Available in Five Colors: MSC4R - Matco Red, MSC4BK - Black, MSC4BL - Blue, and MSC4TI - Titanium.
Specifications: 39.5" H x 20" D x 33.75" W, Top Tray - 5" deep.
1st Row of Drawers - 3" deep, (Two Drawers)
2nd Row of Drawers - 4" deep, (One Drawer)
3rd Row of Drawers - 5" deep, (One Drawer)
Bottom Tray 3" deep
Weight capacity - Total net load 500 lbs.
Top & bottom shelf capacity - 150 lbs.
Small top drawers - 30 lbs. each
Center and bottom drawer - 70 lbs. each
MSC4-FC - Optional 2 fixed casters
K7RSMCS4DH - Silver drawer handle
K7RSMSC4HB- Handle bracket
Return Policy *
Return for refund within: 30 days
Return for replacement within: 30 days
* Applies to purchases made on matcotools.com only; see your Matco distributor for warranty or return information on purchases made elsewhere.
Rated

4.7

out of

5

 by

24

reviewers.
Rated

5

out of

5
 by
cdparker3
Excellent Product!!!
A couple of guys in the shop have this cart and we all can only say good things. Drawer slides are sturdy and smooth. Holds all of our tools. Some guys even use this cart as a primary tool box. The only thing I would change is better drawer liners. The ones that come with the cart are kind of thin.
November 14, 2011
Rated

5

out of

5
 by
CATman
Has the space you need.
Having prybar holders on each end makes it nice for storage and lock up. The cart is great and well buit. Satifisfyed with the product. Has much more room than the other service carts and makes work more enjoyable.
March 18, 2012
Rated

5

out of

5
 by
Kris
very handy service cart
this is really a very nice and heavy duty service cart, all my drawers are loaded and they still slide in and out very very smooth..i love 4 wheel steering features to get me through tight spaces..love the box.
November 19, 2011
Rated

5

out of

5
 by
WILLIAM
THE SIZE OF THE CART WORKS AWESOME
A COUPLE YEARS AGO I HAD A SNAP ON CART AND IT WAS A PAIN BECAUSE THE DRAWERS WEREN'T TALL ENOUGH TO FIT MY 1/2 SOCKETS SO I HAD TO PUT THEM ON TOP OR LAY THEM DOWN. THIS ONE FITS THEM PERFECT IN THE BOTTOM DRAWER.
October 9, 2011
Rated

5

out of

5
 by
craig85
Great!!!
This is my first REAL toolbox.The quality is excellent,rolling it around the shop is a breeze with the large casters and the ball bearing slides are great
December 11, 2011
Rated

5

out of

5
 by
JBoogie09
Great cart!!
I love this cart it is strong and sturdy unlike other carts I've used. it's great when I get move around the hanger or moved to another hanger doing sheetmetal.
October 26, 2011
Rated

5

out of

5
 by
reesez
extraordinary cart!
i owned this cart for two years and i loved it. in fact i miss having it in my garage so im looking to buy another one! draers are spacious and i love the lid top.
October 14, 2011
Rated

4

out of

5
 by
littlebuddy29
very good product
good price on cart rolls good, very good draws pull in and out good easy to lock and unlock would recommend for shop use or for home very good cart.
October 27, 2011
Rated

4

out of

5
 by
haggard
great but has it quirks
every thing on this cart works well and is pretty heavy duty the only issue i have had is the lock never really worked correctly.
September 12, 2011
Rated

5

out of

5
 by
shaun96
great for road techs.
this cart is great for road techs that work in the shop and the road but don't want to buy two tool boxes
October 20, 2011
Rated

5

out of

5
 by
Beefman420
Really nice and excellent for around the shop
This is a really nice tool box to have its the perfect size to keep your must have tools in and a little more.
September 3, 2011
Rated

5

out of

5
 by
Lager82
Great tool cart
This is my first REAL tool box and it is very nice to have. I can securely fit all my tools in it.
December 12, 2011
Rated

5

out of

5
 by
tarheel
best box you can get
best box you can get,and very well built and also looks good everbody tryes to buy it from me...lol
September 2, 2011
Rated

5

out of

5
 by
Mike21
This product is great.
Its not to little or to big just enough to hold all my tools, and i will never let this box go.
September 5, 2011
Rated

3

out of

5
 by
TrackSpeedChip
It's good, not great
I've been working out of one of these for about 8 years now. you can fit a huge amount of tools into the cart and the large open top makes the common stuff quick to access. the drawer slides are very smooth, and it has well thought out little features like screwdiver storage on the sides of the top which are secured with the locked lid. it's a great box to work out of. but it doess have weaknesses. the first weakness I noted was that the side storage for screwdrivers etc... cannot fit pry bars if you want to close the lid as their handles are too tall. this forces them into a drawer which seems a real waste of an otherwise great feature. The draw pulls (handles# are cheap. First was stripped threads in the plastic #yes, plastic) which I repaired with epoxy but since then they have broken to the point where there are rope pulls in their place now. the lower shelf is not up to the task of moving about a lot. I haul mine to the racetrack regularly. While it has been a great box to work out of, the moving in and out of the trailer has destroyed the floor as the casters mount directly to the flat open sheet metal and have bent to the point where the box actually wonders on it's own when on an open floor. the lock for the top is fiddly and weak. I have to strap mine shut now. the lock for the drawers usually works. usually. there are nice firm detents on the drawer slides when closed but there are no safety latches to keep the rest of the drawers closed when one is open. since the box is light and the drawers are large, it's very easy to tip the whole thing if the 2 wide draws open. not a problem usually but "it" happens. overall, for light loads and good service capability on a smooth shop floor this is a great box. for heavier storage and more durable use, look elsewhere.
January 30, 2013
Rated

4

out of

5
 by
John
good box
I got this box when i started an automotive technology program at my school. Here's my take I love this box, it has plenty of room for tools, the pry bar and screwdriver racks are very convenient, and I like how the lid opens up. The drawers are smooth, and tough as nails. The four swivel casters are great. This is a professional grade tool cart, and it wont let you down. Please note this is my main tool box, I have not bought a larger one yet so I use it for everything. I keep sockets in the top lid, hand tools in the top two drawers, wrenches in the middle drawer, and the bottom drawer has break tools, multimeter, battery tools, vacuum gauge, etc.. I don't keep tools in the bottom tray as it is open, but i use it to move stuff around. Out of everyone in my class (about 30), 7 or 8 of us had to replace the lock because the keys would break off inside. I recommend getting the circular key style lock, as they seem to not break as much as the regular straight style that came with my box. What may be happening is that the lock is not latching right, and the owner might be turning the key too hard. This being said the lock itself is ok, the latch inside may need to be aligned if it does not catch. maybe the problem with this is operator error. Whatever the case you wont have to worry about your tools, they are safe in these little beasts as long as you use don't force it to lock. Don't let the little lock "problem" deter you from buying one of these, if you have a thumb and an index finger you can move the latch to a position that allows better locking.
August 31, 2011