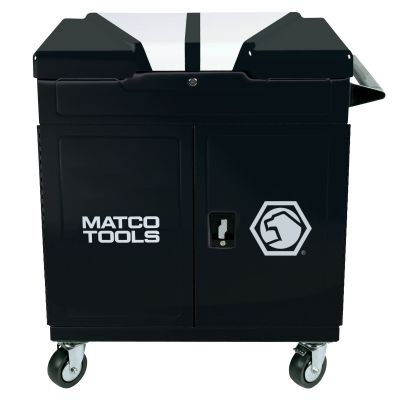 MSCL440-BKFULL SIZE 2 DRAWER MUSCLE CART BLACK
MSCL440-BK FULL SIZE 2 DRAWER MUSCLE CART BLACK - Features & Benefits
Hood scoop not only looks great but has a functional purpose as well: the recess allows for tools to be stored on the lid without sacrificing any top tray storage!
Two 11.75" magnets, with "quick release" handles, are positioned on the lid for convenient storage of your most popular tools.
Single-hand operated "quick release" gas pistons allow for the cart to be transitioned into a convertible in a matter of seconds!
Doors swing open 270 degrees and are held in the open and closed position by magnets.
Bungee cords on the doors maximize lockable storage space.
Bi-molded push handle provides the comfort of a steering wheel.
Matco Magnet Hood ornament makes a perfect paper weight or can be used for hanging pictures.
Internal prybar and screwdriver racks can hold up to 4 of your most frequently used 36" prybars (PBO36B).
Top tray organizer has two cup holders, pen and pencil holder, random small parts cut away along with 1/4" and 3/8" socket holders.
FULL SIZE 2 DRAWER MUSCLE CART BLACK
7
7
Excellant!
I purchased this and the 4s series toolbox together as a package deal, what a great choice. I'm just starting out and this is perfect for me to keep my wrenches, screwdrivers, and other various tools a starter needs to keep with out having a humungous box starting right out. The only thing I wished it had one or two more roll-out drawers for storage than this would be perfect.
December 9, 2012
great features horrible craftsmanship
I purchased this cart new during a sale with matco looked like a great cart for me at work. Loaded it down with tools after receiving it from my sales rep the same day. First thing we noticed after receiving it was that all phillips head screws were coroded and oxidized. No problem new hardware will fix that. Then a month goes by and I do the inevitable dropped a tool behind a panel. No big deal I thought take out the phillips screws and grab my tool. Then I saw the worst thing ever on a "new" cart. Rust and plenty of it around every hole needed for the screws. Both the panel and the square tube structure it ties into. No apparent paint or primer was in site. As if they never painted that portion. Additionally knicks and scratches come with the territory of being a mechanic. However paint that scratches away like a scratch-off, straight to bare metal not good or appreciated. Second complaint on the paint is it soaks up ATF fluid and stains especially the white racing stripes on the lid. Looks great just don't get any fluids whatsoever on it. Additionally as mechanic in the heavy-duty diesel industry I use some heavy and or big tools, Load this thing down and it'll have wheel alignment issues if your shop has any graded floors for drainage. I think the 500 lbs weight capacity is a little inacurate should be about 200 lbs. Question is where was quality control with this product?
August 7, 2012
Pretty good cart
This cart is well made for the most part. I like casters are all able to spin around making it easier to move around the shop. The plastic tray it comes with is okay but some of the socket holes are too small for standard size sockets, the tray would have been nicer with magnetic base and holes big enough for some sockets but the cup holder works good. I like the fact that the pry bar/long screwdriver storage is completely enclosed unless most carts when the cart is locked up. The pegs in the metal are great for customer config. of your tools. I got a set of metal tool holders that fit pegs for pegboards and made use of them throughout the cart. Works great. The hood or top of the cart is pretty nice for holding all my go to wrenches on the two magnetic bars. The stickers on top of the cart are not holding up too well though. Would have been a lot better if they painted the strips and cleared over them but it's a tool cart so I'm accepting it as cost of doing business. Overall it's a nice cart and I think it's a better cart than most carts on the market but it has a few tiny flaws.
September 25, 2011
Amazed with my investment
I bought my muscle Cart to replace a tall standing box I love the movability of this cart being able to " drop the top" for easy access under vehicles also the storage space you have with the magnets and the socket holder. Although they could have sized them a little better. I do suggest a third drawer you can purchase one of you need more room. But I love this cart 5*s So if your a under car mechanic and need a box that will move with you that able to font under a car on a lift than this is it a great investment!!!
June 13, 2012
Awesome tool storage!
I love this cart! I purchased this cart to upgrade my smaller service cart. I must say, this is a much nicer and sturdier way to store my tools. The included locks are great. The three included shelves are awesome (I added one sliding shelf, and left the bottom open). Absolutely awesome.
September 21, 2011
Very solid product
I absolutely love my tool cart. Its very sturdy unlike some of the competition's carts & functions very well every day.
October 22, 2011
More than a cart!
This is more than a cart. Its a tool box that's is more versatile. Not only is it sharp with its curb appeal, its features are top notch. I bought a 3rd drawer, YES you can add to it! Get one of the these you want regret it.
September 4, 2011