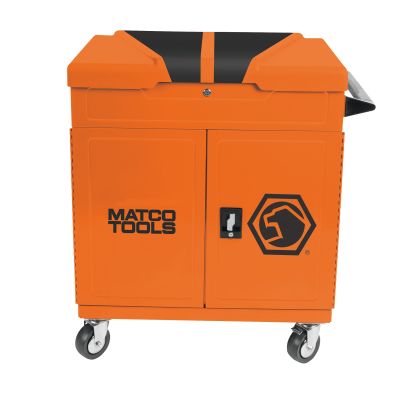 MSCL440-OFULL SIZE 2 DRAWER MUSCLE CART ORANGE
MSCL440-O FULL SIZE 2 DRAWER MUSCLE CART ORANGE - Features & Benefits
Hood scoop not only looks cool but has a functional purpose as well: the recess allows for tools to be stored on the lid without sacrificing any top tray storage!
Doors swing open 270 degrees and are held in the open and closed position by magnets.
Single hand operated "quick release" gas pistons allow for the cart to be transitioned into a convertible in a matter of seconds!
Bungee cords on the doors maximize lockable storage space.
Two 11.75" magnets degrees with "quick release" handles degrees are positioned on the lid for convenient storage of your most popular tools.
Bi-molded push handle provides the comfort of a steering wheel.
Matco Magnet Hood ornament makes a perfect paper weight or can be used for hanging pictures.
Internal prybar and screwdriver racks can hold up to 4 of your most frequently used 36" prybars (PBO36B).
Top tray organizer has two cup holders, pen & pencil holder, random small parts cut away along with 1/4" & 3/8" socket holders.
FULL SIZE 2 DRAWER MUSCLE CART ORANGE
2
2
cool cart use it for all my diagnostic tools and computors
very nice looks like the hood to my 70 chevelle ss.Wish the hood was cowl induction ! ha ha
September 21, 2012
This cart has worked well
I purchased this cart about a year ago for my personal garage. It has done everything I needed it for. I only wish I would have ordered it with all 5 drawers. most of my boxed tools fit in the bottom tray but would have been nice to have them in a rolling drawer for better access.
December 27, 2011