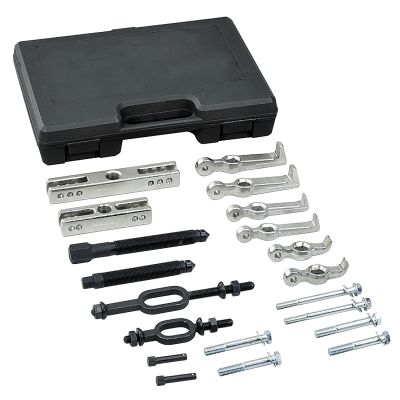 MST4534MULTI BEARING/PULLEY PULLER SET
MST4534 MULTI BEARING/PULLEY PULLER SET - Features & Benefits
General Purpose Puller Set for a wide range of pulling jobs, including: bearings, alternators, generators, power steering and crankshaft pulleys, timing gears, and harmonic balancers.
Set includes drop-forged, heat treated components, which can be used in a variety of combinations.
Two - Forcing Screws 3/4"-16 x 6-11/16" and 3/4"-16 x 5"
Two - Cross-bar Yokes: three pin-hole @ 3-1/4" to 5-1/2", two pin-hole @ 2-3/8" to 3-3/8"
Two - Clamp Bolts
Three - Pairs of Puller Jaws: 1-3/8" Max, 1-5/8" Max, 1-3/4" Max * One - Pair of Jaw Pins with Ball Spring
Three - Pairs of Capped Bolts
Spread: 3" to 5", Reach: 1" to 2-1/4"
MULTI BEARING/PULLEY PULLER SET
1
1
Great tool
This puller set works great for taking off all different types of pulleys. It has a good range in size and it cost about half of what snap-on's set cost.
October 30, 2011