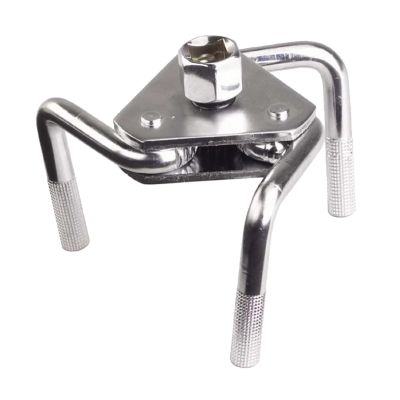 MST45683-LEG OIL FILTER WRENCH
MST4568 3-LEG OIL FILTER WRENCH - Features & Benefits
Fits filters ranging from 2-1/2" to 5-1/4" (65 mm to 135 mm) in diameter.
To turn the tool, use a 1/2" ratchet in the ratchet drive or a 13/16" wrench on the nut.
Knurled legs provide extra gripping power.
3-LEG OIL FILTER WRENCH
4
4
Great product!
Works great and serves its purpose. Will recommend
January 7, 2013
Good Concept
I bought this in light of the good reviews that I read here. To say the least I could get it to do nothing but slip on the filters. I like the idea of it have such a wide range but it just didn't perform as expected.
October 30, 2011
must have tool.
comes in handy for those very tight filters stuck on. i save so much time using this tool when it comes to oil changes. would definatley reccomend.
September 23, 2011
Most Versital Tool For Oil Changes
Must Say i was weary about this tool at first, but when i had to use it the same day i purchased it, not even 10 mins off the Matco truck its was already in action. It busted off one of the biggest filter in the diesel industry with ease, which it normally takes me 10 mins to remove was done in secs. Its ability to fit almost any filter is what caught my eye and it can be used with a 3/8 or 1/2 ratchet is nice too. i used this to on a daily basis almost 10 time a day and it never fails me, love this tool its a must have for anyone doing PM's or even your own oil changes at home. It allows you to reach into tight space and maneuver in ways you can't with an ordinary style filter wrench. This tool handles allot of torque when fighting a tough filter which would break some of the other filter tools I have so please use this review to make a good decision on purchasing this tool because you wont regret it.
September 2, 2011