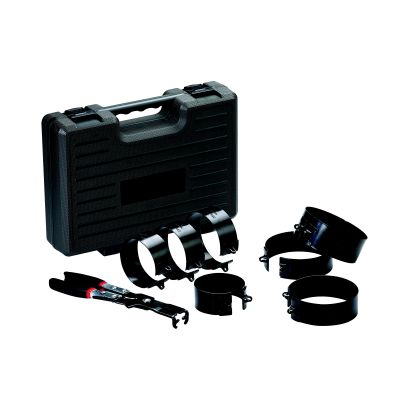 MST75APISTON RING COMPRESSOR SET
MST75A PISTON RING COMPRESSOR SET
Features & Benefits
Install pistons from 2-7/8" to 4-5/8" (73mm to 117mm)
Pliers can be used parallel or perpendicular to the cylinder block.
Set includes pliers (MST75TA) and 7 bands
Return Policy
Return for refund within: 30 days
Return for replacement within: 30 days
| Part # | Product Name | Qty in Set |
| --- | --- | --- |
| MST75A-1 | PISTON RING BAND 2-7/8- 3-1/8" | 1 |
| MST75A-2 | PISTON RING BAND 3-1/8-3-3/8" | 1 |
| MST75A-3 | PISTON RING BAND 3-3/8-3-5/8" | 1 |
| MST75A-4 | PISTON RING BAND 3-5/8-3-7/8" | 1 |
| MST75A-5 | PISTON RING BAND 3-7/8-4-1/8" | 1 |
| MST75A-6 | PISTON RING BAND 4-1/8-4-3/8" | 1 |
| MST75A-7 | PISTON RING BAND 4-3/8 -4-5/8" | 1 |
| MST75TA | PISTON RING COMPRESSOR PLIERS | 1 |
PISTON RING COMPRESSOR SET
3
3
great valued for your money
that's what a really good combination, and you got about all the sized. I 'd recommended this product.
March 25, 2013
Piston Ring Compressor Set
This piston ring compressor set is great because it covers many different cylinder diameters. The pliers attach the the bands in a few different directions, making the set easy to use for all applications. I strongly recommend this product.
September 6, 2011
A MUST HAVE
This tool is so versital and amazing i couldnt imagine my tool box with out it.
October 27, 2011