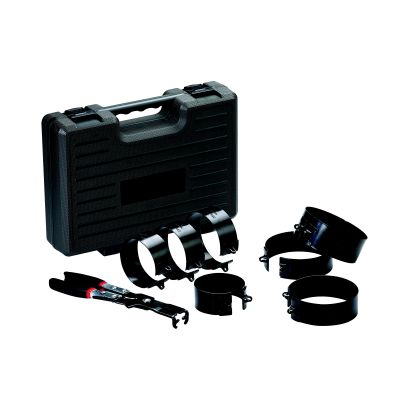 MST75APISTON RING COMPRESSOR SET
MST75A PISTON RING COMPRESSOR SET
Features & Benefits
Install pistons from 2-7/8" to 4-5/8" (73mm to 117mm)
Pliers can be used parallel or perpendicular to the cylinder block.
Set includes pliers (MST75TA) and 7 bands
Return Policy
Return for refund within: 30 days
Return for replacement within: 30 days
| Part # | Product Name | Qty in Set |
| --- | --- | --- |
| MST75A-1 | PISTON RING BAND 2-7/8- 3-1/8" | 1 |
| MST75A-2 | PISTON RING BAND 3-1/8-3-3/8" | 1 |
| MST75A-3 | PISTON RING BAND 3-3/8-3-5/8" | 1 |
| MST75A-4 | PISTON RING BAND 3-5/8-3-7/8" | 1 |
| MST75A-5 | PISTON RING BAND 3-7/8-4-1/8" | 1 |
| MST75A-6 | PISTON RING BAND 4-1/8-4-3/8" | 1 |
| MST75A-7 | PISTON RING BAND 4-3/8 -4-5/8" | 1 |
| MST75TA | PISTON RING COMPRESSOR PLIERS | 1 |
PISTON RING COMPRESSOR SET
3
3
Piston Ring Compressor Set
This piston ring compressor set is great because it covers many different cylinder diameters. The pliers attach the the bands in a few different directions, making the set easy to use for all applications. I strongly recommend this product.
September 6, 2011
great valued for your money
that's what a really good combination, and you got about all the sized. I 'd recommended this product.
March 25, 2013
A MUST HAVE
This tool is so versital and amazing i couldnt imagine my tool box with out it.
October 27, 2011