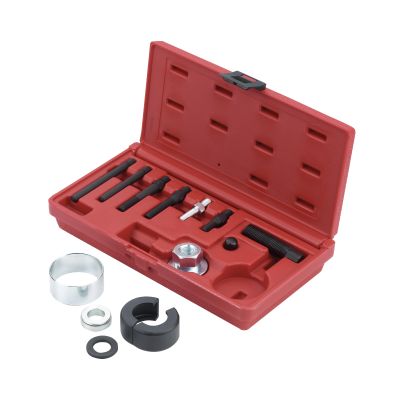 MST93APULLEY REMOVER/INSTALLER SET
MST93A PULLEY REMOVER/INSTALLER SET
Features & Benefits
Removes pressed-on alternator and power steering pulleys on most domestic vehicles
Includes complete instruction on set-up and blow mold box for storage
Return Policy
Return for refund within: 30 days
Return for replacement within: 30 days
| Part # | Product Name | Qty in Set |
| --- | --- | --- |
| MST93A-06A | BLACK SCREW INSTALLER F/MST93A | 1 |
| MST93A-02A | SCREW BODY F/MST93A | 1 |
| MST93A-19A | BEARING KIT F/MST93A | 1 |
| MST93A-05A | SILVER SCREW INSTALLR F/MST93A | 1 |
| MST93A-70A | BUTTON REMOVER ASSM F/MST93A | 1 |
| MST93A-03A | SCREW INSTALLER F/MST93A | 1 |
| MST93A-40A | PULLEY BODY F/MST93A | 1 |
| MST93A-71A | PUSH ROD REMOVER ASSMF/MST93A | 1 |
| MST93A-01A | JAW F/MST93A | 1 |
| MST93A-04D | SLEEVE F/MST93A | 1 |
| MST93A-04C | SCREW INSTALLER F/MST93A | 1 |
| MST93A-72A | PUSH ROD REMOVER ASSM F/MST93A | 1 |
| MST93A-50A | BLOW MOLD BOX F/MST93A | 1 |
PULLEY REMOVER/INSTALLER SET
7
7
best set ever
Works great I would buy again. Cheaper than snap on
May 19, 2013
Good Puller Set
This is a good set to have on hand, I frequently use it and it works pretty good.
April 15, 2013
Bad tool to buy
This product it doesnot perform very well not strong enough. I wish i have bought a different tool. I dont recommend this product it doesnot meet matco tools standard.
March 29, 2013
Great tools for a good price
Works great I would buy again. Cheaper than snap on
January 23, 2013
Very reliable tool.
I had recently bought the same thing from a parts store and shortly aterwards realized I had wasted my money. The tool just broke when I tried to take off a pulley. Consequently I bought this kit and it has never failed me since. This tool has gotten the job done where many other manufacture's tools that I have tried would not.
October 15, 2011
worth every penny
I bought this kit to work on my 95 Tahoe and anything else that I have in my driveway... it is BY FAR, the best tool for this job that I have used. VERY simple use and very well built... the case to keep all the loose parts in is a bonus! keep up the excellent work MATCO... i ll NEVER EVER use S-O again MK
November 16, 2011
Pulley tool
Good over all tool if you word on ligth fleet Not sure if for work in heavy duty
September 14, 2011