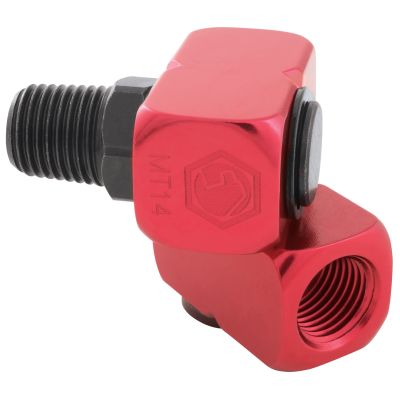 MT14SWIVEL INLET
MT14 SWIVEL INLET - Features & Benefits
Max working pressure: 150 PSI
Safety pin design for percussion environment use.
360 degree rotation for easy maneuverability.
Fittings: 1/4" NPT Male x 1/4" NPT Female threads
Heat treated connecting screw and machined body provide longer life and durability.
Awesome!
Pricey, but you do get what you pay for. I own one for just about every air tool I use daily (4-6). Excellent Product! Would love to see 3/8" and 1/2" NPT versions.
December 21, 2012
Not Disappointed
I bought one of these to replace a swivel hose i had. Irritated at first because it leaked, but it was replaced and the new one is amazing. I didn't think it would work better than the swivel hose I had, but the is a huge difference. This one is WAY better.
August 31, 2011
I really like
I really like this swivel there is no binding or anything it helps getting in those hard to reach places.
October 10, 2011
Great in tight area's
I'll never go without again, I would recommend this to anyone.
September 24, 2011
Great item
Great item, I have one of these on almost every air tool I own. Price is high for a swivel, but worth it.
September 13, 2011