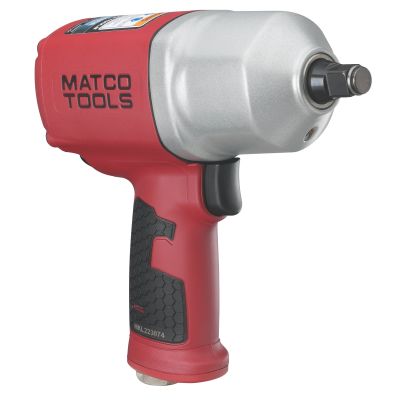 MT1769QA1/2" QUIET IMPACT WRENCH
MT1769QA 1/2" QUIET IMPACT WRENCH
Features & Benefits
1,100 ft. lbs. of breakaway torque
Quiet 1/2" impact tool at 86 dBA
Max torque in reverse: 780 ft. lbs.
Max breakaway torque in reverse: 1,100 ft. lbs.
Improved range on power regulator settings
Increased trigger control
2 year warranty
Return Policy *
Return for refund within: 30 days
Return for replacement within: 30 days
* Applies to purchases made on matcotools.com only; see your Matco distributor for warranty or return information on purchases made elsewhere.
Detailed Specs
Torque Range

50 - 650 Ft. Lbs.

Air Care Kit

ACK1

Maximum Torque

780 Ft. Lbs.

Weight

4.1 lbs.

Warranty

2 Year

Blows Per Minute

1,250

Air Inlet Size

3/8"

Avg. Air Cons.

5.0 CFM

Min. Hose Size

3/8"

Power Management

4 Position Forward

FWD/REV Controls

Rear Button

Twin Hammer

Yes

Motor

7 Vane

Exhaust

Through Handle

Boot

MT1769PC, MT1769YFG

Sound Level (dBA)

94.2

Material

Composite

Performance Rating

Super Duty
1/2'' QUIET IMPACT WRENCH
38
38
OVERALL great tool. use it everyday super QUIET and super STRONG!
i bought this tool on sale a few weeks ago and ive used it everyday since. it has great breakaway torque. the quiet technology is great, i wonder why all impacts arent going that route. no complaints from me. i would recommend this tool to anyone looking to buy an impact but has a little money to spend. Ive used the snap on 1/2" 6500 series and i have to say this feels smoother and stronger by far.
December 16, 2011
PRETTY GOOD IMPACT
I'VE BEEN USING THIS IMPACT FOR ABOUT 2 YEARS. DAILY IMPACT. HAD IT REPLACED/RECONDITIONED ONCE ONLY BECAUSE THE BAFFLE WAS LOOSE, STILL WORKED FINE. GREAT IMPACT JUST NOT STRONG ENOUGH TO BREAK AWAY THE CRANK PULLEY ON V6 HONDAS. BUT OVERALL VERY GOOD IMPACT.
April 9, 2015
Best impact in the business!!!
One of the most quietest impacts that gets the job done fast and easy!! Highly recommended. This is the last impact i would ever buy!
September 1, 2011
This is the best impact wrench I have ever used.
when I first bought this impact wrench I thought it was kind of expensive but the first time I used it I immediately realize that it was because I had the best impact wrench available. people get jealous of my impact wrench because there's isn't as strong and its is louder. I work on cars at toyota of midland and I haven't come across a nut for bolt yet that I haven't been able to break free with my impact. matco tools are great in general I love everything that I own of matco's . the only thing is now I have too many tools to put in my toolbox I need a bigger 1
November 6, 2011
Not as much power as MT1769A
I'll start off that I am not trying to bash Matco, I love there tools and depend on them year round to put food on the table. With that said, I bought this gun new and it never seemed right. When in use it felt like the guts of the gun was going to fall apart. A NPR came in with the right lug nuts(reverse thread) over tightened by another shop trying to do a brake job. I grabbed my new MT1769QA, not a budge from any lug nuts. I grabbed one of my coworkers year old MT1769A and the lug nuts spun right off. This has happened on more then 3 occasions. I have sent my gun back twice under warranty with no improvements (that I have noticed) and no information on any finds or replacement parts. But that's the Matco policy when a product is under warranty. All in all if you're always working on small cars/trucks and would like the quieter gun, go for this. But, if you do any work on larger panel trucks or older autos go for the MT1769A.
October 27, 2011
best 1/2 gun i ever bought
i work in the heavytruck industry for 15 yrs, i have had all the other competitors and when we got our first matco dealer i said i would give the gun a shot,happy i did , the gun takes a beating and keeps on going, i use it everyday, not many bolts can stop it, i can honestly say i have had to pull truck tires in a emergency, she didn't let me down.
October 18, 2011
Love this impact
When others can't get it to come loose, I bring over my Matco 1/2 in impact and off it goes.
November 30, 2011
really lite weight
great tool lite weight and works great. has great tourge and handels great.
December 12, 2011