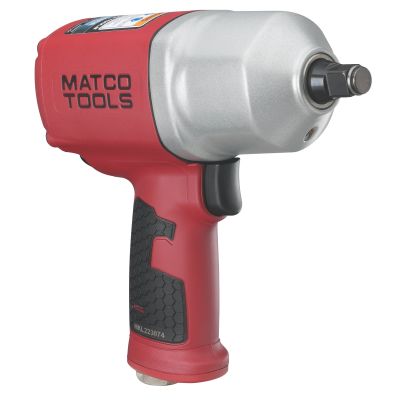 MT1769QA1/2" QUIET IMPACT WRENCH
MT1769QA 1/2" QUIET IMPACT WRENCH
Features & Benefits
1,100 ft. lbs. of breakaway torque
Quiet 1/2" impact tool at 86 dBA
Max torque in reverse: 780 ft. lbs.
Max breakaway torque in reverse: 1,100 ft. lbs.
Improved range on power regulator settings
Increased trigger control
2 year warranty
Return Policy *
Return for refund within: 30 days
Return for replacement within: 30 days
* Applies to purchases made on matcotools.com only; see your Matco distributor for warranty or return information on purchases made elsewhere.
Detailed Specs
Torque Range

50 - 650 Ft. Lbs.

Air Care Kit

ACK1

Maximum Torque

780 Ft. Lbs.

Weight

4.1 lbs.

Warranty

2 Year

Blows Per Minute

1,250

Air Inlet Size

3/8"

Avg. Air Cons.

5.0 CFM

Min. Hose Size

3/8"

Power Management

4 Position Forward

FWD/REV Controls

Rear Button

Twin Hammer

Yes

Motor

7 Vane

Exhaust

Through Handle

Boot

MT1769PC, MT1769YFG

Sound Level (dBA)

94.2

Material

Composite

Performance Rating

Super Duty
1/2'' QUIET IMPACT WRENCH
38
38
MATCO IS AMAZING!!!!!!
THEY HAVE DONE IT AGAIN!! The boss bought one of these a couple o months back. Now I am getting one for myself. I used this gun on several occasions, and it performs like a swiss watch! The variable trigger operates flawlessly, lightweight, and hasn't hit the wall yet. It took the rear axle yoke nut off a Ford F350 dually. Lug nuts that the IR and CP can't break, this wacks em right off. I CAUTION those who use this to install lugs and other fasteners, do it on the lower settings then torque. Oh and did I mention, you can talk to the guy next to you while your hammerin away! Quietest impact ive ever heard.
April 14, 2013
great gun so far
I just bought this gun from my MATCO representative. I was unsure about this gun. I never used one and every one in my shop has snap on. Shawns tools my matco guy had a great deal on it and I traded in my old gun. I work on Komatsu heavy equipment. This gun blown all my the snap on guns out of the water in my shop. It dose every think I ask of it and is quiet
November 2, 2013
If only I could use it on drain plugs...
This impact is awesome. I have owned this impact for over 6 years and am ecstatic that I made that decision. After long term use I don't have the hearing loss with losing power. I have had multiple tech say "you could us mine." I respectfully decline because I know my gun and what its capable of. My friend had actually bought a new, "top grade" Snap-On impact, and it could not even compare with mine. His couldn't take off a lug nut and I made it look like it was nothing. It had actually broke off 5 lug nuts on a new Toyota Tundra, needless to say the dealership requested I buy a torque stick. Its super clean and very powerful, if you buy ANY other type of impact you have made a bad decision.
October 3, 2011
Worth every penny
I bought this gun in January and have been using it ever since (daily, mainly to remove lug nuts). To put it simply, this tool is worth every penny I paid for it. The noise level is reasonable (I was specifically looking for a quiet tool and I'm not disappointed), it's never met a fastener it can't remove, and I've even used it to remove some pretty big in-ground lift bolts, which it dit without breaking a sweat. On more than one occasion I've lent this tool to a coworker whose impact wrench just can't get that last lugnut off. It's the same scene everytime: I say "here, use mine." And with one quick squeeze of the trigger the stubborn nut comes flying off like it was finger-tight. My advice to him is the same as my advice to you: get one of these.
August 19, 2012
Amazingly quiet!
This gun is awesome, I use it daily at work and school. It hasn't let me down yet, even on some of the worst bolts I've seen!
March 13, 2013
It quiet work great
It is work great, but i have problem for shipping. Finnaly I had it and it work very good' Thanks
February 24, 2013
thisa is the best gun ever
so i have had my impact gun for 3 years now and i have to say its the best one i have ever had in all my years of working on car i mean the great thing about it is is that its small and light and has a great grip and fits in some small places i would recomment this gun to any evey one
October 21, 2011
This is the one of the best matco tools!!!!
I buy this gun one week ago and is amazing..... I dont use any other gun, this is the best. My boss buy this gun long time ago, 20 years ago, 20 years and he never use another gun, serius..... I recommend this gun.....
September 20, 2011
This impact has power and durability
When i bought this impact i was woried that it was just a normal ingersall rand brand air tool. this impact has snort it has all the power you need. if you compare it to a snap on you will not be dissapointed.
November 10, 2011
Big Power, Light Gun,- No Problems
I've own this gun for over 2yrs now and it has never let me down. It has great torque & awsome power. I have replaced all my old air tools with matco tools and have never been happier with there performance.
October 26, 2011
This product is AMAZING!!
I bought this impact about a week ago and I cant put it down. It has a ton of power and is super lightweight. I would tell anybody looking for a good impact to go with this one. THANK YOU MATCO!!
October 22, 2011
This product is the best!!!!
this gun is outstanding great breaking torque great power all around i have never had any problems with it its always broke free every bolt i have had to take off it is an outstanding tool
October 26, 2011
Great quiet impact wrench
This gun has great torque and is extremely quiet and light it has not let me down and always has the power with 1100 ft. Lbs. I am in love with this gun!!
December 22, 2011
Great Impact, (AWESOME) A+++++
when I first bought this Impact, I thought the world of It, and I still do. I treasure It, allthough It was and still Is my only matco tool, lol. But ya, I love It.
September 23, 2011
Great impact gun!
It is a good impact gun is quiet n very powerful remove old rust bolt and nut! Must have in the toolbox, will not let you down. Get the job done easy!
November 11, 2011
Worth the money
probably the best purchase thous far.... powerful, light, and small enough to get in some of those tighter spaces.... unlike competitors 1/2in guns
November 10, 2011
this impact wrench is awesome
this impact wrench has loads of torque in few cases too much easy to snap a bolt. light weight sturdy and very very dependable
October 18, 2011
love this impact
This impact is great to have around. This impact wrench seems to be able to do wonders when you need something stubborn removed
October 11, 2011
It beats my I/R
Less noise, more power, what can I say. It replaced my I/R and beats it hands down. Now standard equipment on our service trucks
October 1, 2011
good impact
nice to have an impact that does not destroy your ears or wear you out just carrying the thing around. nice wrench
October 17, 2011
Still works great
I've had this gun for over a year now and it still seems to have just as much torque as from the day i got it.
September 3, 2011
Extremely great product.
Has more power than other brands i've used and much quieter than that of the competion.
October 20, 2011
Wonderful
super strong, great gun, just let it rip and it will take it off. love the gun use daily love it.
September 3, 2011
Great Proformance.
One of the best things in my tool box. Has great power and is very light weight.
October 22, 2011
Super light works great............
super light has a ton of power has been going strong since i bought it.............
September 25, 2011
Great impact gun
Awsome impact gun, tons of power, way better that the snap on I used to buy
October 21, 2011
This is the best Impact.
I have had this Impact for years and it is the best one I have every had!!!
October 17, 2011
power
very quiet yet very powerful. i love this tool. i recommend to all. less weight
September 1, 2011
The best
This is the best impact gun you can buy it's very good
November 12, 2011
Very strong
This impact does a great job with removing stubborn bolts
October 19, 2011