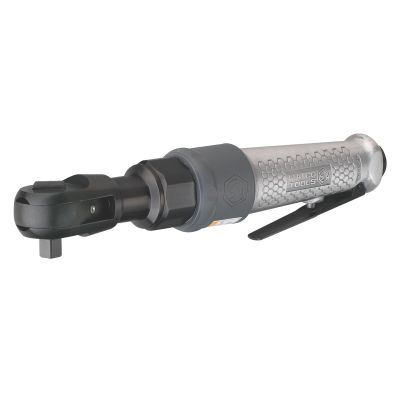 MT18573/8" AIR RATCHET
MT1857 3/8" AIR RATCHET - Features & Benefits
High powered motor delivers up to 60 ft. lbs. of maximum torque.
Rotating center handle exhaust keeps exhaust air away from the user.
Variable speed throttle for total user versatility.
Matco patented grease fitting (US patent 6,305,246) in the yoke, provides easier maintenance on the head, and added durability.
Detailed Specs
Performance Rating

Heavy Duty

Warranty

1 Year

Torque Range

10-50 ft. lbs.

Sound Level (dBA)

89.0

Yoke Grease

ACK1

Weight

2.5 lbs.

Air Inlet Size

1/4"

Min. Hose Size

3/8"

Free Speed RPM

200 RPMs

Avg. Air Cons.

4.0 CFM

Repair Head Kit

MT1857RHK

Length

10.375"

Material

Aluminum

Maximum Torque

60 ft. lbs.

Overall Length

10.375"
Great tool
Air ratchet works great. I Love the rotating center for air control. Just watch your knuckles with the paddle lever you might get a busted knuckle.
January 9, 2013
awesome tool
i bought this during a special where you buy this ratchet, you get a quarter inch ratchet free. This has been a great tool with plenty of power for daily use. I'm really happy with my purchase.
August 30, 2012
Good for the price
good for the price but have had a blue point for 6 years and has never failed when matco has had two issues. Also blue point comes with swivel pig tail, matco does not
October 24, 2011
best tools
matco tools have been used in my family for years my father his father and me that iam just starting out in auto industry looks forward to filling my tool boxes with matco tools because of quaility and over all performance matco tools are built to last i will be a proud cust of matco tools for my entire life this air rachet design and comfort has been created by some one who knows the field and not some one who sets behind the desk there is so much more i could wright about the best tools ever maid but i am sure u all know
September 25, 2011
best air ratchet ive ever owned
i was digging through a freinds toolbox looking for a 3/8 impact gun to remove a pair of front seat brackets, the only thing i could find wasa this 3/8 matco air ratchet and to start with i was at a loss of hopes thinking it wouldnt be able to take them off because of the corrosion on them. i surely couldnt even do it by hand with a 1/2 hand ratchet, so i gave it a try and the air ratchet instantly broke the bolts loose with no hesitation. i then got the model number of it and that very same night, i got off of work and i ordered this, i couldnt be happier with any other air ratchet out there, deffinitally the best ive ever owned or used before. i would never buy any different one because of how easy it removes nuts and bolts and how fast it puts them back on with plenty of power! A+++++ tool. A ABSOLUTE MUST, MUST HAVE IN YOUR TOOLBOX!!!!!! LOVE IT!
December 2, 2011
love the grease fitting
The shop I work at has tons of water in the lines even after going through a drier so its great having a reliable' well built air tool thanks to the grease fitting. Love the handle and trigger too. Super comfortable.
December 8, 2011
i have used mine alot and its great
ive had mine for a ccouple of years now and its a great tool i believe in a mechanic is only as good as the tools ive had diferent airrachets and this one beats them i have a snap on but its to bulky i like this one cuz its light wieght and will fit in tighter places over all its great
November 13, 2011
high quality air ratchet
I liked the torque and power of this tool. It seems like it will hold up well to daily use.
December 18, 2011