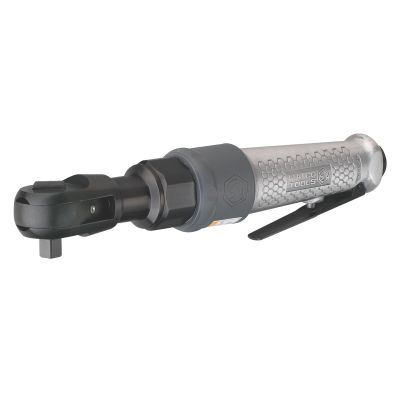 MT1857 3/8" AIR RATCHET
Features & Benefits
High powered motor delivers up to 60 ft. lbs. of maximum torque.
Rotating center handle exhaust keeps exhaust air away from the user.
Variable speed throttle for total user versatility.
Matco patented grease fitting (US patent 6,305,246) in the yoke, provides easier maintenance on the head, and added durability.
Return Policy *
Return for refund within: 30 days
Return for replacement within: 30 days
* Applies to purchases made on matcotools.com only; see your Matco distributor for warranty or return information on purchases made elsewhere.
Detailed Specs
Performance Rating

Heavy Duty

Warranty

1 Year

Torque Range

10-50 ft. lbs.

Sound Level (dBA)

89.0

Yoke Grease

ACK1

Weight

2.5 lbs.

Air Inlet Size

1/4"

Min. Hose Size

3/8"

Free Speed RPM

200 RPMs

Avg. Air Cons.

4.0 CFM

Repair Head Kit

MT1857RHK

Length

10.375"

Material

Aluminum

Maximum Torque

60 ft. lbs.

Overall Length

10.375"
Best Air Wratchet Purchased Ever
This air ratchet is the best I have personally ever used. I had a problem with my snap on ratchet and barrowed one from another technician and snapped the first bolt I used it on. The sheer torque and raw power it has is incredible especially for a muffled air ratchet. I have mine in my tool Matco 3 Series tool box. Keep up the good work.
September 26, 2011
i have used mine alot and its great
ive had mine for a ccouple of years now and its a great tool i believe in a mechanic is only as good as the tools ive had diferent airrachets and this one beats them i have a snap on but its to bulky i like this one cuz its light wieght and will fit in tighter places over all its great
November 13, 2011
This ratchet has great power and will last for a long time.
I use my ratchet all the time on my personal vehicles which makes fixing them easy and fast. I love the power the rachet has and that it stays strong year after year. I have had my 3/8 drive ratchet for over 10 years and it still works like it's brand new, and I wouldn't trade it for any other brand.
October 6, 2011
Ratchet is strong, used every day! Would suggest! Great quality!
This ratchet gets used every day, use oil every day which I am sure increase life, haven't lost any power, unlike others I have used in the past. Would suggest the purchase if your in need of a good air ratchet !
October 18, 2011
Big bang, low price
This ratchet works great, I have had mine for a couple years with no problems. Lightweight, powerful, coveniently sized head. Nice feature of being able to direct exhaust.
December 2, 2011
blows away my old blue point
had a blue point air ratchet for years and bought the matco air ratchet on promotion, and i am blown away on how much better quality the matco is comared to the blue point. its lighter, more powerful, and even looks better!
September 16, 2011
nice for the price
This ratchet has held up pretty well, has a decent amount of power, and is not over sized like others. If the lever was just a button it spoils make it even better. Overall a good ratchet
November 6, 2011
This is a great air ratchet!
This air ratchet is the best, excellent product. I use it probably 4 times a week never a problem to break loose bolts. I would recommend this ratchet to anyone wanting to get their moneys worth.
October 24, 2011
good product
This air ratchet is a very reliable tool from matco. it has a lot of power for its size and is very durable. works excellent and is at a good price as well.
November 9, 2011
GREAT BANG FOR YOUR BUCK!!!
This is an excellent ratchet!! plenty of torque, nice and light weight! grat over all tool. have snap-on and this out preforms it daily!
November 13, 2011
high quality air ratchet
I liked the torque and power of this tool. It seems like it will hold up well to daily use.
December 18, 2011
great deal!
bought this air ratchet on a promotion, works great! way better than my old air ratchet, lighter wieght and looks better too. also really like the adjustable air oulet.
September 25, 2011
pretty good
bought this and it was my first Matco tool. plenty of power and fits nice in my hand.
December 11, 2011
Good deal
I bought this ratchet, used it about a year and then decided I would like a little more power so I traded it. I wish I had it back now to use at home.
October 10, 2011
great product
had another brand air ratchet for years, the power in my new matco air ratchet far surpasses that of my old one . I highly recommend to any mechanic!!!!!
October 2, 2011
Product is excelent
Havent had any problems with the product has good tourque and speed!
December 14, 2011
good
had this tools for a couple of months but didnt have enoughpower for me so i upgraded to the heavy duty ratchet. its good for a begining tech.
October 11, 2011
works well
this product does anything you want and doesnt complain and it also can complete the job with min. effort
November 14, 2011
Powerful air ratchet
This is my best friend, it has a lot of torque, breaks loose stubborn fasteners better than any other 3/8 air ratchet I have ever owned.
October 9, 2011
Wonderful ratchet at a great price!
So far I've had no problems out of this ratchet. Seems very sturdy and feels like it will last a while.
November 3, 2011
great air tool
I HAVE HAD THIS AIR RATCHET FOR OVER 3 YEARS AND USE IT DAILY. I HAVE NEVER HAD ANY PROBLEMS, GREAT RATCHET.
October 29, 2011
the price is right
i love this makes work a lot faster and easier i would recomend matco air tools to anyone who was wondering who to go to
October 12, 2011
Great performance
This 3/8" Air Ratchet from Matco tools has the quality, performance, and overall value that Matco is known for.
October 20, 2011
It is compact.
i like the way you can fit it in manu places that you cannot reaach and its almost the same size as a regualr ratchet. also has a good amount of torque.
September 1, 2011
good product
this air ratchet is just right to strong but not to strong and the price bang on. i would recomend this to all tech.
October 7, 2011
great product!!!!!
I got this with the 1/4 ratchet deal and I absolutely love it. It's small light and very comfortable.
October 12, 2011
great product for the price
Great tool would recommend to any mechanic in any field of interest great torque and power
October 20, 2011
A really great tool
I would definity recommend this ratchet to anyone uses it a lot or hardly at all!
October 26, 2011
Excellent air rachet
I use this tool almost evey day, and i love it because its fast, strong, and quiet, best air rachet in my shop.
September 21, 2011
powerful and durable
great product would rec to anyone helps get the job done and done right.
October 22, 2011