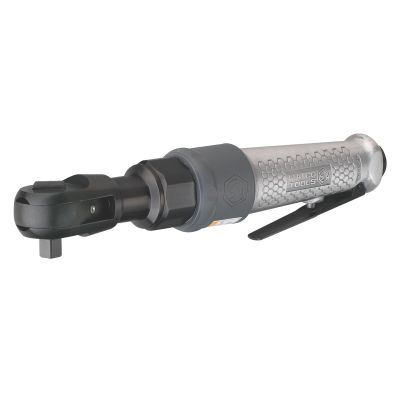 MT1857 3/8" AIR RATCHET
Features & Benefits
High powered motor delivers up to 60 ft. lbs. of maximum torque.
Rotating center handle exhaust keeps exhaust air away from the user.
Variable speed throttle for total user versatility.
Matco patented grease fitting (US patent 6,305,246) in the yoke, provides easier maintenance on the head, and added durability.
Return Policy
Return for refund within: 30 days
Return for replacement within: 30 days
Detailed Specs
Performance Rating

Heavy Duty

Warranty

1 Year

Torque Range

10-50 ft. lbs.

Sound Level (dBA)

89.0

Yoke Grease

ACK1

Weight

2.5 lbs.

Air Inlet Size

1/4"

Min. Hose Size

3/8"

Free Speed RPM

200 RPMs

Avg. Air Cons.

4.0 CFM

Repair Head Kit

MT1857RHK

Length

10.375"

Material

Aluminum

Maximum Torque

60 ft. lbs.

Overall Length

10.375"
great tool
has lot of tork fast great features i well recommend to everyone look for this kind of tool
October 5, 2011
greatg tool
I use every day, good power, great value.perfect for light to heavy work
October 12, 2011
It is compact.
i like the way you can fit it in manu places that you cannot reaach and its almost the same size as a regualr ratchet. also has a good amount of torque.
September 1, 2011
AS A LINE TECH I USE THIS TOOL EVERYDAY,WELL BUILT PRODUCT
I WORK IN A DEALERSHIP AS A LINE TECH AND DEPEND ON QUALITY TOOLS....
October 12, 2011
Excellent air rachet
I use this tool almost evey day, and i love it because its fast, strong, and quiet, best air rachet in my shop.
September 21, 2011
The most powerful 3/8 rachet i have ever owned.
Awesome. Let this rachet do all of your work for you.
October 12, 2011
Awesome product.
good product from matco supplier. just the right amount of torque for every use.
October 1, 2011
air ratchet
I hardly use it. I destroy my knuckles more than anything.
October 9, 2011
The features of this tool are amazing.
This air ratchet hasn't let me down. The grip is fantastic and the trigger is very responsive.
September 23, 2011
Works great
This is a great tool. Would highly recommend. Good job MATCO!
October 6, 2011
great overall
great ratchet overall. could use with some grips on the handle though.
October 1, 2011
Great tool
I bought this tool in a promo deal. Does the job I need it to do. For the price couldnt get better.
September 16, 2011
Great tool
Used daily, works every time, never failed. Good job MATCO.
October 1, 2011
This thing is awesome!
Most bang for my buck so far. Variable speed is not as noticable, this babys on fire. Does what it needs, for me.
September 5, 2011
Great air ratchet.
I use this air ratchet daily to install step bars on new cars. It works great everyday. I never have an issue with it.
September 2, 2011
good tool
It works great, very reliable. Really like the adjustable air outlet.
September 9, 2011
best one iv'e ever bought!!
works great and has never broke. best one that i have bought.
September 9, 2011
THIS AIR RATCHET WORKS GREAT
I USE THIS RATCHET EVERYDAY ON BRAKES, ENGINE WORK, ETC. AND IT WORKS GREAT.
September 2, 2011