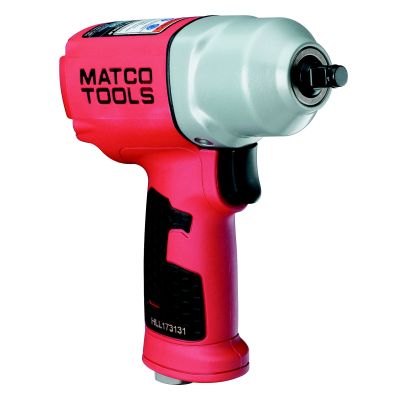 MT21203/8" COMPOSITE IMPACT WRENCH
MT2120 3/8" COMPOSITE IMPACT WRENCH
Features & Benefits
7 vane motor for increased delivery of power providing 300 ft. lbs. of ultimate torque
Upgraded hammer case with an easy to access, higher flow grease fitting
Housing design offers improved air flow for greater power
2 year warranty
Return Policy
Return for refund within: 30 days
Return for replacement within: 30 days
3/8'' COMPOSITE IMPACT WRENCH
21
21
One great tool
This 3/8 is amazing, strong but somewhat weak. I've had mine less than a year and broke my anvil 3 times.
February 11, 2014
great power from small package
This is the most impressive 3/8 impact I have had.the pleasure to use. I have owned for a few months and only have an issue with socket retainer. This light weight compact is now my go to tool for everything except lug nuts, not that it won't break them loose just don't want the wear and tear. If you are a tool junkie like me it is a must have.
November 10, 2013
Better than snap on anyday
Strong, and powerful, I am a heavy duty truck mechanic, and use this everyday, all day long, never had trouble. Breaks loose everything i need it to.
December 7, 2011
best 3/8 impact ever!!
I purchased this impact about two months ago i had previously had been using a snap on mg231 i believe it was. This impact for outperforms my old and even replaces my need in some cases for the use of my 1/2 in drive heavy duty impact. It is also the quietest impact i have ever owned but doesn't sacrifice a bit of power. Lightweight is an understatement when it comes to this impact i did a side by side comparison with my old impact and this one seems like a feather compared to the old one i would defined recommend this impact to everyone!!!
September 1, 2011
Excellent choice
Ive had this gun for about 6 months now. its very light weight, easy to use, quiet, and has enough power to get most jobs done. this gun fits into areas my 1/2 wont, the sockets are smaller and therefore go places others cant. this gun makes me much more efficient at work. only thing that would help this gun is a bit more power, somewhere in the 400lbs/ft area would be killer. i would highly recommend this gun to anyone in the market for a 3/8 impact
June 1, 2012
best impact ever
Have not used my 1/2 impact gun since I bought this. Takes lug nuts off no problem. best balanced gun on the the market!!!!!!!!!! I have a snap on air tools they dont even compare
July 14, 2012
Awesome Power
This 3/8 impact wrench has enough power to take off most fasteners that my 1/2 takes off. it is an amazing tool. I have had the composite impact for over 8 years without any hiccups. I highly recommend this tool to anyone in the market for a 3/8 impact wrench
December 15, 2011
Over all this gun works great
This gun offers great break away power. When other techs reach for there 1/2" gun I just change the socket and keep on moving. It saves me time therefore it makes me money.
December 25, 2011