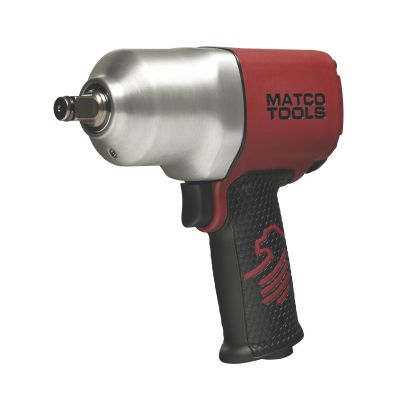 MT27691/2" COMPOSITE IMPACT WRENCH
MT2769 1/2" COMPOSITE IMPACT WRENCH
Features & Benefits
1,300 ft. lbs. of breakaway torque
50 - 850 ft. lbs. of working torque
Best-in-class torque output
One hand push-button forward/reverse design.
Variable speed throttle gives user ultimate control in feather throttle applications.
Reinforced clutch mechanism for increased durability.
Rear housing power adjustment
User removable muffler plate allows technician to customize desired dBA as well as properly service muffler.
Lightweight at 4.6 lbs.
Textured housing provides durable ergonomic design.
2 year warranty
Return Policy *
Return for refund within: 30 days
Return for replacement within: 30 days
* Applies to purchases made on matcotools.com only; see your Matco distributor for warranty or return information on purchases made elsewhere.
Detailed Specs
Weight Tool

4.6 lbs.

Maximum Torque

1,300 ft. lbs.

Free Speed RPM

7,500

Working Torque Range

50 - 850 ft. lbs.

Material

Composite

Air Inlet

3/8"

Min. Hose Size

3/8"

Power Management

4 Position Forward

Twin Hammer

Yes

Air Care Kit

ACK1

Retainer

Rings - ATR12

Boot

MT2769PC

Warranty

2 years

CFM @ 90 PSIG

4.9
Rated

4.9

out of

5

 by

29

reviewers.
Rated

5

out of

5
 by
Gary
small design easy to fit in tight spaces and is not so noisy like snap on gun .
Bought mine two weeks ago and it works really good it either comes off or it breaks it really happy great tool
September 23, 2014
Rated

5

out of

5
 by
joe1993
i love my matco air gun
i got my air gun off a tool truck about 2 months ago and its been great to me. havent really oiled it and its still kickin butt. if your friend has the 600 dollar snap-on gun, and needs to barrow your gun cuz his cant break anything loose, tell him to get his own. MATCO PROUD. i highly recommend this gun, and mine came with a 2 year warranty. also, it has very easy features. buy yours today!
August 18, 2014
Rated

5

out of

5
 by
ebz87
great impact
im a mechanic and been using this gun for 3 months best impact gun ever .
October 5, 2014
Rated

5

out of

5
 by
bigcody
Beast
Been using this gun for about 6-7 months now. It's strong, plenty of power. Haven't come across anything it couldn't break yet. Had been using this gun on a compressor with low psi. Changed jobs and it amazed me even more with the proper psi.
August 27, 2014
Rated

5

out of

5
 by
Elpirri23
This gun is amazing great power.
Since I have my new gun I didn't have any problem to get my job done, this one has great torque and amazing power , I'm really happy. I recommend this air gun.
August 23, 2014
Rated

5

out of

5
 by
Merccydog22
The bolt ripper
The gun Is unmatched. Snap on May sound nice but the pure torque is amazing
August 9, 2014
Rated

5

out of

5
 by
TWL5000
Great Reverse Torque!
This gun has plenty of power! Maybe because its new. Used a a demo for about week, and used the bought one for about 2 weeks. I abuse this gun, I throw it and toss from one side of the lift to the other. Its held up so far. It feels lighter than snap on mg725, heavier than the IR TiQuietTool gun. Iv'e used snapon mg3255(3/8" body with 1/2" drive) nice light gun with lots of power for light duty work. However not enough power for axle bolts. One of the guys used the older version of this gun to take out a rusted axle bolt out. It could not do it. Used the 2769 at half power and it broke it loose. I was not expecting that! great gun, nice weight balance. we will see how well it does it the next couple of months.
June 3, 2014
Rated

5

out of

5
 by
JasonG13
If you don't have this impact gun or have it on order, GET IT.
I was definitely skeptical about the torque rating but I was in the market for a 3/4" gun and this gun has about the same power output. It took some time but it removed 10 lug nuts on a front discharge concrete mixer that were put on with a 1" Ingersoll Rand impact. Very impressed with the torque of this impact compared to my IR 2135Ti that I've been using for years. My only complaint about this gun is the forward and reverse controls are hard to operate compared to the IR controls.
February 8, 2014
Rated

5

out of

5
 by
migarmstrong
nice gun
i got it insted of 3/4 inch im happy with results.
August 1, 2014
Rated

5

out of

5
 by
Partsguy74
Money Well spent
I work at a auto salvage yard in NH. And deal with rusty bolts due to the salt they use on the roads in the winter , This gun is the best investment I have made as far as tools go.... I fell in love with it the very first time i used it ... Light weight Very powerful
May 11, 2014
Rated

5

out of

5
 by
Tech24
Great Impact lots of power!
A great purchase, hold on tight it means buisness! Get the cover to keep it protected!
April 29, 2014
Rated

5

out of

5
 by
cawarner1989
Awesome!
Just got this today and it is night and day compared to other name brand impacts. It's not the lightest gun out there but it certainly isn't the heaviest by any means. The muffler is removable to make an even quieter if you really wanted to but man it's plenty quiet anyway. The torque on this thing is ridiculously strong and according to Matco the strongest on the market at the moment. Marco did great with this!
December 11, 2013
Rated

5

out of

5
 by
Cheve66
Great impact lots of power.
Plenty of power for anything that you will need to brake loose from a great company with fast shipping.
May 10, 2014
Rated

5

out of

5
 by
jfitz
awsome gun feels like an IR but makes the titanium.seem like a toy
Great gun can feel the power since I hooked it up deff best gun you can get for the money. Its quality but why is it made in tiwan very upseting to spend that much send it over seas bring it back to usa .
April 14, 2014
Rated

5

out of

5
 by
Paulmor02
Great Product
The things that I don't like that it's made in Taiwan has a plastic handle with a plastic trigger. Kinda feels cheap but other then that it's had great power and can break loose any thing
April 10, 2014
Rated

5

out of

5
 by
DSperle
must have
This gun is a must have for any student or mechanic like every guy in my shop had this gun i tried one of theirs and fell in love.....i now also own one
March 5, 2014
Rated

5

out of

5
 by
BKoelle
Amazing
You can't beat this impact. I would say its a must have for suspension work. The switch between reverse and forward is very smooth and so is the dial. And to top it off its rather quiet.
March 12, 2014
Rated

5

out of

5
 by
Jomarie
Extremely happy with my purchase!
This impact gun is amazing, I use it in the shop for everything. It works so well that all the guys in my shop ask to borrow it! I would recommend this gun to anyone, either for your career or personal use.
February 19, 2014
Rated

5

out of

5
 by
MatcoGuy1847
Awesome Power
Great gun. Wanted it from the minute I saw the promo videos. It can take off lug nuts on big rigs, even with a 3/8" hose. Recommend it to anyone who's looking for a new impact.
January 17, 2014
Rated

5

out of

5
 by
LilBill90
AMAZING IMPACT WRENCH!
LOVE THIS! breaks bolts loose that my old mt17969qa couldn't. $100 less then it too and 1300ft lbs torque. you cant go wrong with this
January 1, 2014
Rated

5

out of

5
 by
andrew1234
great impact
i have had all of the "top of the line impacts" first i bought the 2135timax liked it alot but when it couldnt get honda crank pully bolts loose and my coworkers mg725 could i decided to buy the mg725 from snap on at first it was great awesome torque but 3 months later it broke down had it rebuilt one month after that it broke again so i sold it. then i bought the new mac awp050 it was very underwhelming it was no where near its claims to 1260 ftlbs it also couldnt break loose honda crank pully bolts and i think the timax actually had more power. so i sold the mac and went back to using my timax which i never sold and probably never will since it has been so reliable, but then i saw this new matco gun and i decided since it was so similar in design to my 2135 but with more torque that i would try it. im really glad i did. awesome torque breaks everything ive thrown at it loose really good foreward torque too much more than the 2135 which helps when pressing ball joints or replacing wheel studs etc. overall great gun. i havent had it long only two weeks so i cant speak on reliability but if this gun lasts i will definatly not need to buy another impact any time soon very happy with the torque idk if it will really break loose 1300ftlbs but i can definatly say its more powerful than the 2135timax and atleast as strong as the mg725 if not stronger. havent found anything yet that i could get off with this gun. awesome impact
February 19, 2014