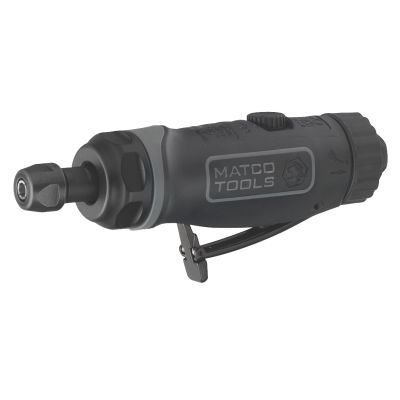 MT2880.5 HP STRAIGHT DIE GRINDER
MT2880 .5 HP STRAIGHT DIE GRINDER - Features & Benefits
High performance efficient .5 HP motor for extra torque and extended durability.
Positive stop regulator for more versatile performance on all kinds of jobs. Super comfortable safety lever throttle to prevent accidental start ups.
Composite nylon housing cover for extra on the job comfort and durability
Detailed Specs
Sound Level (dBA)

81.0

Avg. Air Cons.

3.5 CFM

Horsepower

.5

Warranty

1 Year

Performance Rating

Super Duty

Weight

1.85 lbs

Free Speed RPM

22,000

Collet Size

1/4"

Air Inlet Size

1/4"

Min. Hose Size

3/8"

Length

7.34"

Body Type

Composite
.5 HP STRAIGHT DIE GRINDER
14
14
I love my Matco die grinder!
Ive had this die grinder for over 6 years and never once had a problem with it! All my other air tools Ive had to send in to be repaired. I'm done with the competition!
March 2, 2013
Awesome performance
This has been one of my favorite tools it has been a great all around tool I really love the adjustable speed and safety trigger it is extremely quite but still very powerful. It is so light weight with the composite body and is very easy to use it feels like it belongs in your hand. I also like how durable it is just a really well thought out design I love it and would recommend this to anyone looking for a good die grinder.
October 1, 2011
very quiet
building and repairing heavy equipment is very hard on air tools i have gone through many die grinders and this one thus far has out lasted all other brands i have purchased in the past and it is the quietest with surprisingly no power loss all thumbs up from this mechanic
November 13, 2011
Great tol for the price
I am the type of person that does a good bit of research before I buy an item. Some of my fellow coworkers have this die grinder. I asked if I could use it to test it out to see if I would like the performance of it. They told me that I should just buy it because they wouldn't trade it for another. I tried it out and I was impressed. I bought one.
September 22, 2011
Great
quality die grinder comfortable to use and plenty of power
December 15, 2011
best grinder ive ever used
best and qutie and most power full ive ever seen or used
December 4, 2011
Plenty of grinding power
This die grinder works great even under hard pressure where deep grinding needs to be done.
November 22, 2011
great price
I purchased this and .50 horsepower 90 degree die grinder on a sales promotion got both for the price of one and have had great use with them .They are very durable I should know been through a lot of die grinders over the past 36 years as a heavy equipment tech.
September 25, 2011