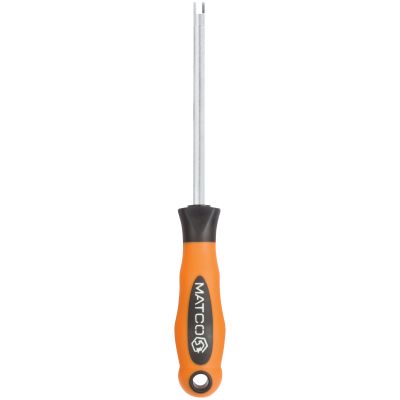 MTV4-4VALVE CORE REMOVER/INSTALLER TOOL
MTV4-4 VALVE CORE REMOVER/INSTALLER TOOL - Features & Benefits
Use to remove and install valve core from/into valve stems on automobiles and light trucks.
Can be used on most vehicles with tube or tubeless tires that utilize a Schrader type valve stem.
Matco style miniature size dual durometer handle with hot stamped logo and part number is resistant to all known fluids, acids and solvents
Mirror finish chrome vanadium shafts with 3" exposed shaft length.
VALVE CORE REMOVER/INSTALLER TOOL
2
2
Easy Removal
The long handle on these make it much easier to remove stuck schrader valves and the comfort grip reduces fatigue and hand cramping.
November 23, 2011
Great tool to keep in the toolbox
This tool feels good in the hand and it works easily and very effectively.
October 31, 2011