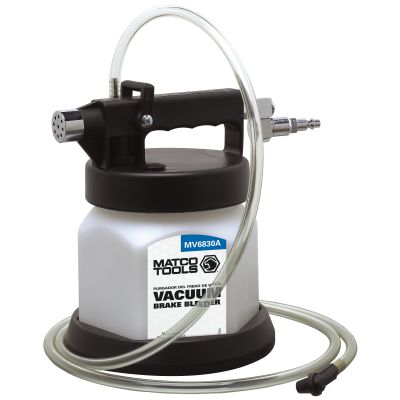 MV6830ASHOP AIR BRAKE BLEEDER / EVACUATOR
MV6830A SHOP AIR BRAKE BLEEDER / EVACUATOR
Features & Benefits
Compressed-air-operating offers professional grade brake and clutch bleeding performance.
Compact yet powerful unit bleeds up to 2 quarts (1.9 liters) per minute.
Simple operation allows clean, quick bleeding of brake and clutch lines.
Swivel air hose connector prevents air hose from twisting and crimping.
Includes brake bleeding adapters, hanging hook for the reservoir, flexible hose with universal bleeder screw adapter
Return Policy
Return for refund within: 30 days
Return for replacement within: 30 days
| Part # | Product Name | Qty in Set |
| --- | --- | --- |
| MMMVA6825 | REFILL KIT F/MV6830A | 1 |
| MM822701 | BASE F/MV6830A | 1 |
| MM822694 | BLEEDER TUBE ASSEMBL F/MV6830A | 1 |
| MM822722 | EVAC TUBE ASSEMBLY F/MV6830A | 1 |
| MM822753 | HOOK KIT F/MV6830A | 1 |
| MM822664 | BLEED ADPT KIT F/MV6830A/7205 | 1 |
| MM822706 | RESERVOIR GASKET F/MV6830A | 1 |
| MM822704 | VENT KIT F/MV6830A | 1 |
| MM822700 | VALVE KIT F/MV6830A | 1 |
| MM822703 | COUPLER KIT F/MV6830A | 1 |
| MM822702 | COUPLER SWIVEL KIT F/MV6830A | 1 |
| MM822705 | O RING KIT F/MV6830A | 1 |
| MM822709 | MUFFLER KIT F/MV6830A | 1 |
| MM822731 | FLOAT KIT F/MV6830A | 1 |
SHOP AIR BRAKE BLEEDER / EVACUATOR
2
2
this tool makes brake bleeding a breeze!
Using this brake bleeder has taken hours off of many brake jobs. If it is a new wheel cylinder or caliper or just exchanging fluids this vac has been very handy. I have also used it for P/S fluid exchange. works great everytime!
November 18, 2011
Worth the time it saves
As a professional mechanic, this makes a great difference compared to other types of bleeders. Great product. Never have had any problems with it or components.
August 31, 2011