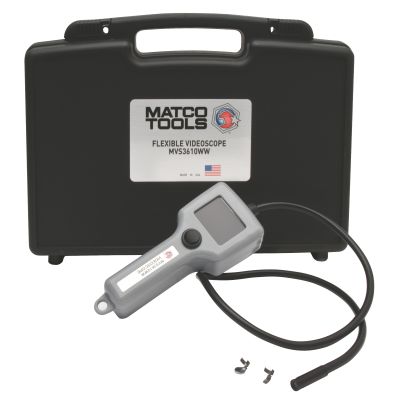 MVS3610WW10MM FLEX IBLE VIDEO SCOPE
MVS3610WW 10MM FLEX IBLE VIDEO SCOPE - Features & Benefits
High resolution remote color camera with auto-focus.
2.5" full color monitor for easy viewing, Resolution 320 x 240 pixels
10mm, 36" long shaft
Waterproof, Flexible Staylok shaft
5 hrs operation on 4 AA batteries (incl'd)
Video out for optional recording
Mirror and magnet accessories included
10MM FLEX IBLE VIDEO SCOPE
2
2
This scope is good but big
This scope is good but big. Too big for a lot of inspetion work. The cable too heavy to manuever accurately in tght spots. Spend twice as much and get 10 times the capability and buy the PRO 1000, that way you wont end up with both of them like I did.
January 8, 2013
Such a valuable tool when needing to work quick
Awesiome tool when you need to see inside a combustion chamer or in an intake valley. Saves time while you make money.
December 14, 2011