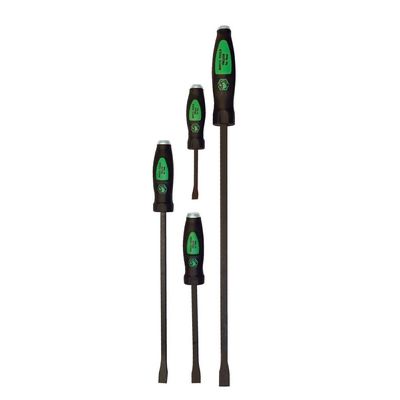 PBSG4A4 PIECE GREEN HEAVY DUTY PRY BAR SET
PBSG4A 4 PIECE GREEN HEAVY DUTY PRY BAR SET
Features & Benefits
Ergonomic, double-molded handle provides maximum strength and comfort
Steel striking cap makes this pry bar set ideal for automotive and heavy truck applications.
Blades manufactured from high grade alloy with hardness and chemistry specifically formulated for automotive and heavy truck applications.
23 degree angled tip allows optimum access and user advantage.
Includes sizes: 8", 12", 17" and 25".
Return Policy
Return for refund within: 30 days
Return for replacement within: 30 days
| Part # | Product Name | Qty in Set |
| --- | --- | --- |
| PBG8A | SCR/PRYBAR-GREEN-8 IN | 1 |
| PBG12B | 12 IN PRYBAR GREEN-ANGLE TIP | 1 |
| PBG17B | 17 IN PRYBAR GREEN-ANGLE TIP | 1 |
| PBG25B | 25 IN PRYBAR GREEN-ANGLE TIP | 1 |
4 PIECE GREEN HEAVY DUTY PRY BAR SET
15
15
GREAT SET
Bought these about 2 months ago and I am happy with my purchase. Set comes in handy for just about every job, I plan on buying the 42" just for those heavier duty type jobs.
April 15, 2013
tough mamajommas
been great so far, i've beat on these and put my 240lbs onto the largest 1 with no problems.
April 21, 2013
Great Set
Love this pry bar set. I have Cornwell, Snap-on, and Matco pry bars. The snap on big pry bar bends too easily like it wasn't hardened well. I actually reach for my Cornwell bars first just because they have the most curve at the end of the bar and seem to pry the best, but I still love the Matco set. They have the most comfortable handles out of the bunch and have a good hardness so they don't bend. I also like the end cap because it protects the tool head from getting all mashed up from hitting it with a hammer like my snap on and cornwell bars do.
October 14, 2011
Great pry bars
I have had the older version of these pry bars for over five years with ZERO issues. I recently bought a used Matco service cart that came with this set of four pry bars to sweeten the deal. I don't ever see any issues coming from these bars either.
September 28, 2011
Fantastic
This set is just great. I have had it for about 4 monte and use at least one of them nearly every day. I do wish that the larges pry bar was a little longer but it will get the job done for nearly every job. The handles are great and comfortable. just i was a little surprised when i felt the small bar compared to the large one. the handles are sized differently for each bar. not a bad thing just surprising. if you are looking for a quality pry bar set, i would go with this, there is nearly no flex when really putting some force on them, they are comfortable and the bar goes all the way through the handle to the end cap so if you want to use a hammer on them, it won't damage them.
July 4, 2013
best pry bar ever
im a heavy diesel mechanic, use them everyday i have put them through he!! and keep going at it, best pry bar ever!!!!!!!!!!!!!!!!!!!!!!!!!!!!!
January 10, 2013
Great
I have abused these prybars and haven't hurt them at all. recommend to anyone
November 2, 2011
Very good bars for the price
This is a very good bar set for the price i use them everyday and the make alot of jobs easier
July 30, 2013