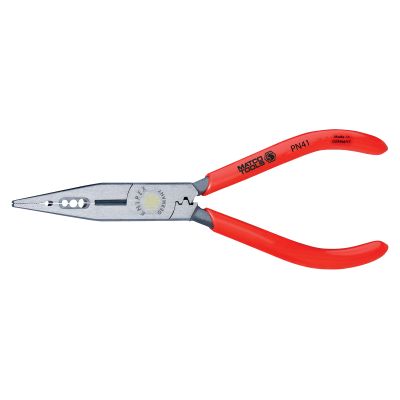 PN414-IN-1 ELECTRICIAN PLIER
PN41 4-IN-1 ELECTRICIAN PLIER - Features & Benefits
Multi purpose electrician's tool; grips, strips, cuts and crimps wire.
Three precision holes for easy stripping of 14, 16 & 20 AWG.
Crimper (at base of handles) for cable connectors, end sleeves and non-insulated terminals.
Separately induction-hardened cutting edges (60HRC) for easy cutting of soft to medium hard wire.
Made from oil-hardened special tool steel.
Detailed Specs
Capacity

Strips 14, 16 & 20 AWG.
4-IN-1 ELECTRICIAN PLIER
1
1
To Small Difficult to Use
These are high quality. And can do most applications in one tool but are extremely difficult to use
September 15, 2012