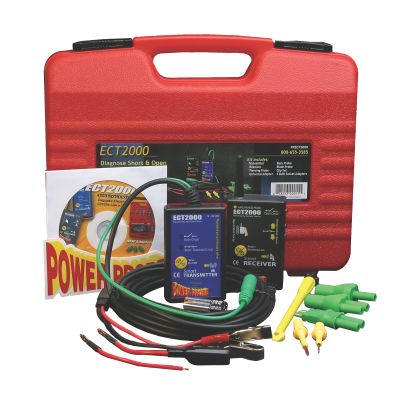 PPECT2000ELECTRONIC CIRCUIT TESTER
PPECT2000 ELECTRONIC CIRCUIT TESTER
Features & Benefits
Locates short and open circuits quick & easy.
The receiver has a reception threshold setting button that allows the technician to lock in the desired reception range.
The transmitter is now powered via the cars battery and features a 20' lead.
The set includes 7 new adapters making it easier than ever to connect your transmitter to the circuit.
Set includes: a back probe, a blade probe, and 3 light bulb adapters. (A wedge style, an 1156 & an 1157). A threaded piercing probe and solder in lead make it even more versatile than ever.
Return Policy
Return for refund within: 30 days
Return for replacement within: 30 days
ELECTRONIC CIRCUIT TESTER
3
3
I have Bought 3
Yes i have bought three of these. nope not because they break cause they dont. nope only cause i bought one for my dad and my 2 jobs. If you do alot of electrical work. or work on big rig trucks and trailers this is the best tool to have EVER. Locate a short in a matter of mins. Quick to hook up and just run your meter down the line body what ever and you will find the short. This is my favorite tool in my box. i have save so much time and money using this tool. I recommend it to any one. I promise you wont be disappointed with this product or even MATCO ever. Only tools I buy!!!!!!!!!!
September 24, 2011
Saves you time, and makes you money
This product has helped me in many ways.As a certified RV tech working on 40' coach's and trailers it makes my job alot easier.
September 15, 2012
Great tool
We had a break in a wire in the middle of a harness, this unit helped find it fast and easy. Well worth the money for the time it saved us.
October 1, 2011