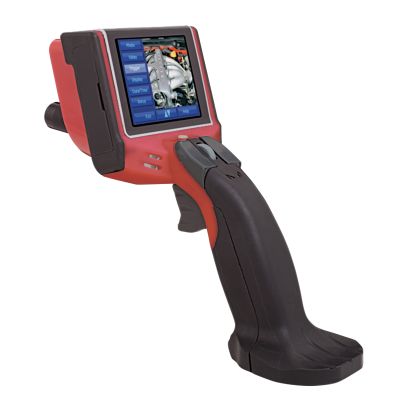 PRO1000 VIDEO BORESCOPE
Features & Benefits
Ergonomic design - One handed operation. One hand on the unit and one hand on the camera pipe.
5.5mm camera pipe standard on the unit - smallest camera pipe on the automotive market.
Easy to use with thumbwheel control and menu that functions like a digital camera
One-touch help feature
2GB SD card included; unit has internal memory can be used without the memory card.
Exclusive Image Management Options- Manage images on the unit or SD card
Freeze and compare images - Quickly compare a 'frozen image' with a live image.
Project folders - Store and organize images from multiple projects.
Photo burst capabilities- Capture a series of photos in rapid succession looking for anything that has changed.
Standard photo capabilities - Set the size of a photo and then capture an image.
Add a voice memo to a picture for another technician or the insurance company.
Video recording feature allows a user to capture a video, both image and sound.
The unit can be connected directly to a TV in a shop to show the customer or insurance company work that has been done
Return Policy
Return for refund within: 30 days
Return for replacement within: 30 days
Featured Video
Smallest size, biggest advantage. That's Matco's new PRO1000 Borescope, with the smallest camera on the automotive market -- period. The 5.5 mm camera head gets into the tightest spots without teardowns, saving up to 90% of the cost of warranty repair evaluations.
Plus, it's easy to operate, lightweight and ergonomic, only four buttons run everything from a simple on-screen display. Shoot photos, video and audio, and toggle between them.
this has better features than snapon best
this is cats meow everyone should get. It is one of those tools that pays for itself the fist time and everyother time.
September 25, 2011
Excellent tool best one I have seen
Great tool with awsome features excellent clarity lighted and the smallest one on the market
October 11, 2011
this is better than snapons top model
this is one of those tool that pay for itself the first time in full and keeps one giving.
September 25, 2011
EASY TO USE
THIS PRODUCT IS EASY TO USE AND THE SD CARD IS A PLUS. GREAT IMAGE DISPLAY.
October 4, 2011
THIS IS A VERY AWESOME TOOL TO HAVE
EVERYBODY NEEDS ONE OF THESE IN THERE TOOLBOX ARE SERVICE SHOP
October 4, 2011