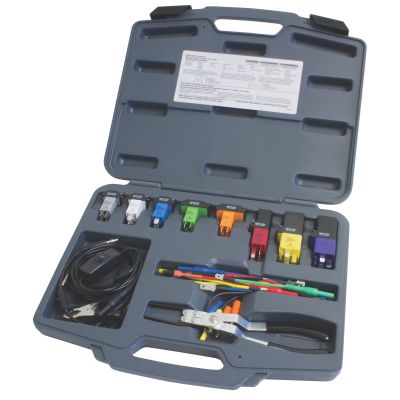 RTK825MASTER RELAY KIT WITH TERMINAL LEAD
RTK825 MASTER RELAY KIT WITH TERMINAL LEAD
Features & Benefits
Includes 8 jumpers to fit most popular relays
No need to pierce wires or connect multiple jumper wires.
Includes Test Lead Kit for easily and securely connecting Relay Test Jumpers to a multimeter.
Relay Puller Pliers easily remove electrical relays without damage to the relay or electrical box.
The terminal leads with switch/fuse/power provides the technician several ways to check the fuses that are in the panel.
Six wire set that fits these fuses; Female-Pal, JK, LJK, Male-L-mini, Mini, ATO, and Maxi.
Different sized ends on the wires give flexibility to plug directly in the relay base or to fit other relay sizes not covered by the jumpers.
Use the on/off switch to control a circuit. Test before or after the switch by using the stacking Banana plugs.
Power lead can apply external power to only the circuit that you are working on.
Two 4' extensions to be used if you are controlling a circuit while the vehicle is on a hoist.
The In-line fuse holder (common ATO fuse style) protects the circuit and meter when testing.
Return Policy
Return for refund within: 30 days
Return for replacement within: 30 days