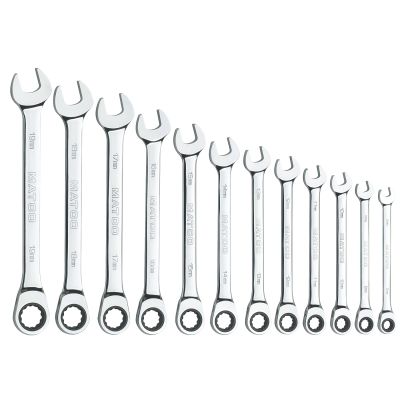 S7GRCM1212 PIECE 72 TOOTH METRIC COMBINATION RATCHETING WRENCH SET
S7GRCM12 12 PIECE 72 TOOTH METRIC COMBINATION RATCHETING WRENCH SET
Features & Benefits
72 tooth ratcheting wrench gains access where standard ratcheting wrenches will not fit with a minimal 5° swing arc.
Non-slip box end.
Includes sizes: 8mm - 19mm
Return Policy
Return for refund within: 30 days
Return for replacement within: 30 days
| Part # | Product Name | Qty in Set |
| --- | --- | --- |
| 7GRC8M2 | 8MM 72TH CMB RCHT WRENCH | 1 |
| 7GRC9M2 | 9MM 72TH CMB RCHT WRENCH | 1 |
| 7GRC10M2 | 10MM 72TH CMB RCHT WRENCH | 1 |
| 7GRC11M2 | 11MM 72TH CMB RCHT WRENCH | 1 |
| 7GRC18M2 | 18MM 72TH CMB RCHT WRENCH | 1 |
| 7GRC19M2 | 19MM 72TH CMB RCHT WRENCH | 1 |
| 7GRC12M2 | 12MM 72TH CMB RCHT WRENCH | 1 |
| 7GRC13M2 | 13MM 72TH CMB RCHT WRENCH | 1 |
| 7GRC14M2 | 14MM 72TH CMB RCHT WRENCH | 1 |
| 7GRC15M2 | 15MM 72TH CMB RCHT WRENCH | 1 |
| 7GRC16M2 | 16MM 72TH CMB RCHT WRENCH | 1 |
| 7GRC17M2 | 17MM 72TH CMB RCHT WRENCH | 1 |
12 PIECE 72 TOOTH METRIC COMBINATION RATCHETING WRENCH SET
3
3
Best Wrenches for the cost
These are my most frequently used set of wrenches and I have never had an issue with the ratcheting end. I work on BMWs and I only needed a 22mm and a 32mm to complete the sets I need for everyday service (alignment, brakes, ect.)
March 31, 2014
Simple good tool
I like this set because it doesn't have a reverse on the box ratchet side. It simplifies using the tool. I'm always thumbing the reverse lever on angled head ratcheting wrenches. The quality is high and the tools feel tougher than the Gearwrench equivalents.
December 6, 2013
great wrenches at an unbeatable price!
i bought these wrenches two weeks ago and haven't went one day without using them! cheaper than other similar brands and better quality!
February 14, 2013