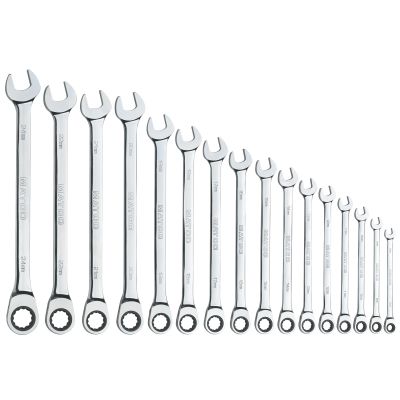 S7GRCXLM1616 PIECE 72 TOOTH EXTRA LONG METRIC COMBINATION RATCHETING WRENCH SET
S7GRCXLM16 16 PIECE 72 TOOTH EXTRA LONG METRIC COMBINATION RATCHETING WRENCH SET
Features & Benefits
72 tooth ratcheting wrench gains access where standard ratcheting wrenches will not fit with a minimal 5° swing arc.
Extra Long Beam length helps reach where standard wrenches will not.
Non-slip box end.
Includes sizes: 8mm - 22mm, 24mm
Return Policy
Return for refund within: 30 days
Return for replacement within: 30 days
| Part # | Product Name | Qty in Set |
| --- | --- | --- |
| 7GRCXL8M2 | 8MM XL CMB RCHT WRENCH | 1 |
| 7GRCXL9M2 | 9MM XL CMB RCHT WRENCH | 1 |
| 7GRCXL18M2 | 18MM XL CMB RCHT WRENCH | 1 |
| 7GRCXL19M2 | 19MM XL CMB RCHT WRENCH | 1 |
| 7GRCXL20M2 | 20MM XL CMB RCHT WRENCH | 1 |
| 7GRCXL21M2 | 21MM XL CMB RCHT WRENCH | 1 |
| 7GRCXL22M2 | 22MM XL CMB RCHT WRENCH | 1 |
| 7GRCXL24M2 | 24MM XL CMB RCHT WRENCH | 1 |
| 7GRCXL10M2 | 10MM XL CMB RCHT WRENCH | 1 |
| 7GRCXL11M2 | 11MM XL CMB RCHT WRENCH | 1 |
| 7GRCXL12M2 | 12MM XL CMB RCHT WRENCH | 1 |
| 7GRCXL13M2 | 13MM XL CMB RCHT WRENCH | 1 |
| 7GRCXL14M2 | 14MM XL CMB RCHT WRENCH | 1 |
| 7GRCXL15M2 | 15MM XL CMB RCHT WRENCH | 1 |
| 7GRCXL16M2 | 16MM XL CMB RCHT WRENCH | 1 |
| 7GRCXL17M2 | 17MM XL CMB RCHT WRENCH | 1 |
16 PIECE 72 TOOTH EXTRA LONG METRIC COMBINATION RATCHETING WRENCH SET
3
3
same as above review
great for alignments the wrenchs are huge the picture doesnt do justice ,,, same issues as the guy above me
January 15, 2013
Great
Great wrenches I use um everyday a must have for alignments or even just everyday work.
June 22, 2013
Good Overall XL Ratcheting Wrench Set
I love everything about this set except for the fact that it's made in Taiwan. Also, a few of the wrenches were nicked straight out of the box. Other than that the wrenches feel great in my hands and perform as expected. Another great product by a great company.
April 16, 2012