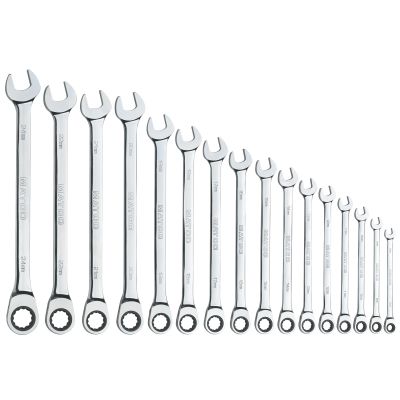 S7GRCXLM1616 PIECE 72 TOOTH EXTRA LONG METRIC COMBINATION RATCHETING WRENCH SET
S7GRCXLM16 16 PIECE 72 TOOTH EXTRA LONG METRIC COMBINATION RATCHETING WRENCH SET
Features & Benefits
72 tooth ratcheting wrench gains access where standard ratcheting wrenches will not fit with a minimal 5° swing arc.
Extra Long Beam length helps reach where standard wrenches will not.
Non-slip box end.
Includes sizes: 8mm - 22mm, 24mm
Return Policy
Return for refund within: 30 days
Return for replacement within: 30 days
| Part # | Product Name | Qty in Set |
| --- | --- | --- |
| 7GRCXL8M2 | 8MM XL CMB RCHT WRENCH | 1 |
| 7GRCXL9M2 | 9MM XL CMB RCHT WRENCH | 1 |
| 7GRCXL18M2 | 18MM XL CMB RCHT WRENCH | 1 |
| 7GRCXL19M2 | 19MM XL CMB RCHT WRENCH | 1 |
| 7GRCXL20M2 | 20MM XL CMB RCHT WRENCH | 1 |
| 7GRCXL21M2 | 21MM XL CMB RCHT WRENCH | 1 |
| 7GRCXL22M2 | 22MM XL CMB RCHT WRENCH | 1 |
| 7GRCXL24M2 | 24MM XL CMB RCHT WRENCH | 1 |
| 7GRCXL10M2 | 10MM XL CMB RCHT WRENCH | 1 |
| 7GRCXL11M2 | 11MM XL CMB RCHT WRENCH | 1 |
| 7GRCXL12M2 | 12MM XL CMB RCHT WRENCH | 1 |
| 7GRCXL13M2 | 13MM XL CMB RCHT WRENCH | 1 |
| 7GRCXL14M2 | 14MM XL CMB RCHT WRENCH | 1 |
| 7GRCXL15M2 | 15MM XL CMB RCHT WRENCH | 1 |
| 7GRCXL16M2 | 16MM XL CMB RCHT WRENCH | 1 |
| 7GRCXL17M2 | 17MM XL CMB RCHT WRENCH | 1 |
16 PIECE 72 TOOTH EXTRA LONG METRIC COMBINATION RATCHETING WRENCH SET
3
3
Great
Great wrenches I use um everyday a must have for alignments or even just everyday work.
June 22, 2013
same as above review
great for alignments the wrenchs are huge the picture doesnt do justice ,,, same issues as the guy above me
January 15, 2013
Good Overall XL Ratcheting Wrench Set
I love everything about this set except for the fact that it's made in Taiwan. Also, a few of the wrenches were nicked straight out of the box. Other than that the wrenches feel great in my hands and perform as expected. Another great product by a great company.
April 16, 2012