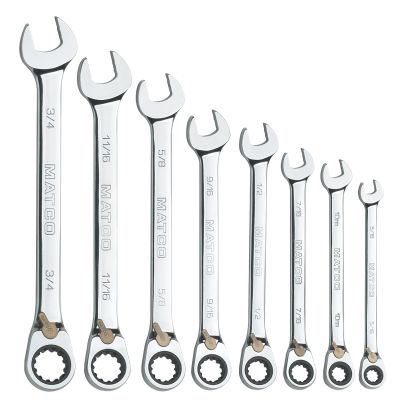 S9GRRC88 PIECE 90 TOOTH SAE REVERSIBLE COMBINATION RATCHETING WRENCH SET
S9GRRC8 8 PIECE 90 TOOTH SAE REVERSIBLE COMBINATION RATCHETING WRENCH SET
Features & Benefits
Loosen or tighten any 6pt, 12pt, spline, star, square and even up to 50% rounded off fasteners.
90 teeth head ratcheting wrench gains access where standard ratcheting wrenches will not fit with a minimal 4 degree swing arc.
Reversing lever with 12 degree offset provides on the fly ratcheting adjustability with knuckle clearance.
Includes sizes: 5/16", 3/8", 7/16", 1/2", 9/16", 5/8", 11/16", 3/4"
Return Policy
Return for refund within: 30 days
Return for replacement within: 30 days
| Part # | Product Name | Qty in Set |
| --- | --- | --- |
| 9GRRC102 | 5/16" 90TH REV CMB RCHT WRENCH | 1 |
| 9GRRC122 | 3/8" 90TH REV CMB RCHT WRENCH | 1 |
| 9GRRC142 | 7/16" 90TH REV CMB RCHT WRENCH | 1 |
| 9GRRC162 | 1/2" 90TH REV CMB RCHT WRENCH | 1 |
| 9GRRC182 | 9/16" 90TH REV CMB RCHT WRENCH | 1 |
| 9GRRC202 | 5/8" 90TH REV CMB RCHT WRENCH | 1 |
| 9GRRC222 | 11/16" 90TH REV CMB RCHT WRENC | 1 |
| 9GRRC242 | 3/4" 90TH REV CMB RCHT WRENCH | 1 |