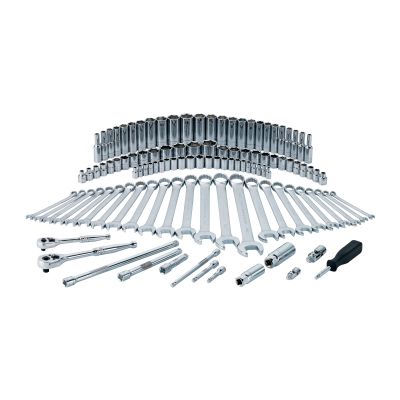 SABSE111P111 PC SILVER EAGLE GENERAL SERVICE SET
SABSE111P 111 PC SILVER EAGLE GENERAL SERVICE SET
Features & Benefits
Offers a wide range of 6 point SAE and Metric sockets in both standard and deep lengths
Includes Metric and SAE Combination Wrenches
Also includes ratchets, extensions, spark plug sockets, a spinner handle, and universal joints.
Packaged in a rugged plastic case
Return Policy
Return for refund within: 30 days
Return for replacement within: 30 days
| Part # | Product Name | Qty in Set |
| --- | --- | --- |
| BDSE6M6 | 3/8 IN DR 6 MM DP SIL EAG SKT | 1 |
| BDSE7M6 | 3/8 IN DR 7 MM DP SIL EAG SKT | 1 |
| BDSE8M6 | 3/8 IN DR 8 MM DP SIL EAG SKT | 1 |
| BDSE9M6 | 3/8 IN DR 9 MM DP SIL EAG SKT | 1 |
| BDSE10M6 | 3/8 IN DR 10 MM DP SIL EAG SK | 1 |
| BDSE11M6 | 3/8 IN DR 11 MM DP SIL EAG SK | 1 |
| BDSE12M6 | 3/8 IN DR 12 MM DP SIL EAG SK | 1 |
| BDSE13M6 | 3/8 IN DR 13 MM DP SIL EAG SK | 1 |
| BDSE14M6 | 3/8 IN DR 14 MM DP SIL EAG SK | 1 |
| BDSE15M6 | 3/8 IN DR 15 MM DP SIL EAG SK | 1 |
| BDSE16M6 | 3/8 IN DR 16 MM DP SIL EAG SK | 1 |
| BDSE17M6 | 3/8 IN DR 17 MM DP SIL EAG SK | 1 |
| BDSE18M6 | 3/8 IN DR 18 MM DP SIL EAG SK | 1 |
| BDSE19M6 | 3/8 IN DR 19 MM DP SIL EAG SK | 1 |
| BSE86 | 3/8 IN DR 1/4 IN SIL EAG SKT | 1 |
| BSE106 | 3/8 IN DR 5/16 IN SIL EAG SKT | 1 |
| BSE126 | 3/8 IN DR 3/8 IN SIL EAG SKT | 1 |
| BSE146 | 3/8 IN DR 7/16 IN SIL EAG SKT | 1 |
| BSE166 | 3/8 IN DR 1/2 IN SIL EAG SKT | 1 |
| BSE186 | 3/8 IN DR 9/16 IN SIL EAG SKT | 1 |
| BSE206 | 3/8 IN DR 5/8 IN SIL EAG SKT | 1 |
| BSE226 | 3/8 IN DR 11/16 IN SIL EAG SK | 1 |
| BSE286 | 3/8 IN DR 7/8 IN SIL EAG SKT | 1 |
| BSE306 | 3/8 IN DR 15/16 IN SIL EAG SK | 1 |
| BSE326 | 3/8 IN DR 1 IN SIL EAG SKT | 1 |
| BSE6M6 | 3/8 IN DR 6 MM SIL EAG SKT | 1 |
| BSE7M6 | 3/8 IN DR 7 MM SIL EAG SKT | 1 |
| BSE8M6 | 3/8 IN DR 8 MM SIL EAG SKT | 1 |
| BSE9M6 | 3/8 IN DR 9 MM SIL EAG SKT | 1 |
| BSE10M6 | 3/8 IN DR 10 MM SIL EAG SKT | 1 |
| BSE11M6 | 3/8 IN DR 11 MM SIL EAG SKT | 1 |
| BSE12M6 | 3/8 IN DR 12 MM SIL EAG SKT | 1 |
| BSE13M6 | 3/8 IN DR 13 MM SIL EAG SKT | 1 |
| BSE14M6 | 3/8 IN DR 14 MM SIL EAG SKT | 1 |
| BSE15M6 | 3/8 IN DR 15 MM SIL EAG SKT | 1 |
| BSE16M6 | 3/8 IN DR 16 MM SIL EAG SKT | 1 |
| BSE17M6 | 3/8 IN DR 17 MM SIL EAG SKT | 1 |
| BSE18M6 | 3/8 IN DR 18 MM SIL EAG SKT | 1 |
| BSE19M6 | 3/8 IN DR 19 MM SIL EAG SKT | 1 |
| BSE206P | 5/8" SE SPARK PLUG - 3/8 DRIVE | 1 |
| BSE266P | 13/16 SE SPARK PLUG SOCKET | 1 |
| BXSE10K | 3/8 IN DR SILVER EAG 10 IN EX | 1 |
| BXSE3K | 3/8 IN DR SILVER EAG 3 IN EXT | 1 |
| BXSE6K | 3/8 IN DR SILVER EAG 6 IN EXT | 1 |
| BUSE | 3/8 IN UNIVERSAL JOINT | 1 |
| BRSE8T | 3/8 IN DR SE RATCHET | 1 |
| ASE66 | 1/4 IN DR 3/16 IN SIL EAG SKT | 1 |
| ASE76 | 1/4 IN DR 7/32 IN SIL EAG SKT | 1 |
| ASE86 | 1/4 IN DR 1/4 IN SIL EAG SKT | 1 |
| ASE106 | 1/4 IN DR 5/16 IN SIL EAG SKT | 1 |
| ASE126 | 1/4 IN DR 3/8 IN SIL EAG SKT | 1 |
| ASE96 | 1/4 IN DR 9/32 IN SIL EAG SKT | 1 |
| ASE146 | 1/4 IN DR 7/16 IN SIL EAG SKT | 1 |
| ASE116 | 1/4 IN DR 11/32 IN SIL EAG SK | 1 |
| ASE166 | 1/4 IN DR 1/2 IN SIL EAG SKT | 1 |
| ASE186 | 1/4 IN DR 9/16 IN SIL EAG SKT | 1 |
| ASE4M6 | 1/4 IN DR 4 MM SIL EAG SKT | 1 |
| ASE5M6 | 1/4 IN DR 5 MM SIL EAG SKT | 1 |
| ASE5.5M6 | 1/4 IN DR 5.5 MM SIL EAG SKT | 1 |
| ASE6M6 | 1/4 IN DR 6 MM SIL EAG SKT | 1 |
| ASE7M6 | 1/4 IN DR 7 MM SIL EAG SKT | 1 |
| ASE8M6 | 1/4 IN DR 8 MM SIL EAG SKT | 1 |
| ASE9M6 | 1/4 IN DR 9 MM SIL EAG SKT | 1 |
| ASE11M6 | 1/4 IN DR 11 MM SIL EAG SKT | 1 |
| ASE10M6 | 1/4 IN DR 10 MM SIL EAG SKT | 1 |
| ASE12M6 | 1/4 IN DR 12 MM SIL EAG SKT | 1 |
| ASE13M6 | 1/4 IN DR 13 MM SIL EAG SKT | 1 |
| ASE14M6 | 1/4 IN DR 14 MM SIL EAG SKT | 1 |
| ASE6DR | 1/4 IN SILVER EAGLE SPINNER H | 1 |
| AUSE | 1/4 IN UNIVERSAL JOINT | 1 |
| AXSE2K | 1/4 IN DR SILVER EAG 2 IN EXT | 1 |
| AXSE3K | 1/4 IN DR SILVER EAG 3 IN EXT | 1 |
| AXSE6K | 1/4 IN DR SILVER EAG 6 IN EXT | 1 |
| ARSE5T | 1/4 IN DR SE RATCHET | 1 |
| RCSE82 | 1/4 IN SILVER EAGLE COMB WREN | 1 |
| RCSE102 | 5/16 IN SILVER EAGLE COMB WRE | 1 |
| RCSE122 | 3/8 IN SILVER EAGLE COMB WREN | 1 |
| RCSE142 | 7/16 IN SILVER EAGLE COMB WRE | 1 |
| RCSE162 | 1/2 IN SILVER EAGLE COMB WREN | 1 |
| RCSE182 | 9/16 IN SILVER EAGLE COMB WRE | 1 |
| RCSE202 | 5/8 IN SILVER EAGLE COMB WREN | 1 |
| RCSE222 | 11/16 IN SILVER EAGLE COMB WR | 1 |
| RCSE242 | 3/4 IN SILVER EAGLE COMB WREN | 1 |
| RCSE8M2 | 8 MM SE COMB WRENCH | 1 |
| RCSE9M2 | 9 MM SE COMB WRENCH | 1 |
| RCSE10M2 | 10 MM SILVER EAGLE COMB WRENC | 1 |
| RCSE11M2 | 11 MM SILVER EAGLE COMB WRENC | 1 |
| RCSE12M2 | 12 MM SILVER EAGLE COMB WRENC | 1 |
| RCSE13M2 | 13 MM SILVER EAGLE COMB WRENC | 1 |
| RCSE14M2 | 14 MM SILVER EAGLE COMB WRENC | 1 |
| RCSE15M2 | 15 MM SILVER EAGLE COMB WRENC | 1 |
| RCSE16M2 | 16 MM SILVER EAGLE COMB WRENC | 1 |
| RCSE17M2 | 17 MM SILVER EAGLE COMB WRENC | 1 |
| RCSE18M2 | 18 MM SILVER EAGLE COMB WRENC | 1 |
| RCSE19M2 | 19 MM SILVER EAGLE COMB WRENC | 1 |
| RCSE21M2 | 21 MM SE COMB WRENCH | 1 |
| RCSE22M2 | 22 MM SE COMB WRENCH | 1 |
| RCSE24M2 | 24 MM SE COMB WRENCH | 1 |
| SABSE111PBMC | BLOW MOLD CASE FOR SABSE111P | 1 |
111 PC SILVER EAGLE GENERAL SERVICE SET
20
20
Good if you know what your getting.
First off I did not realize that these were not actually Matco, but instead Matco's Off Brand. Similar to Blue Point with Snap-on. So I was initially disappointed when they arrived. But As I understand it you still get the same lifetime warranty backed by Matco, but the ratchet isnt the smooth matco 88 tooth, and the finish on the tools isnt chrome. Im sure they will function fine, just not as pretty. Similar to Craftsman quality. While I think the website should put a disclaimer so people know what they are getting unlike myself, the product is still fine. Lots of solid tools for a good price.
March 27, 2013
Not good for professional use would be fine for garage.
Wrenches are rough not polished, and it only comes with half of the sockets I wanted...thought I was getting a full set of everything. Not what I thought it was, traded in on a great deal for universal impact sockets from my tool truck dealer.
March 27, 2013
Good Deal
The chrome on a lot of my bits is flaking off. one of the 1/4" extensions has a missing ball from the tip that hold the socket on. The wrenches are cheaper quality then I was expecting as well. However there is a lot of sockets for a good price.
March 29, 2012
great product
this was my first big tool set and it has been great. the only downfall is the 3/8 wiggler has some design issues i have gone through two in six months , but they have a great lifetime warranty free replacement no questions asked. overall very great tools!
December 19, 2011
great tool
nice tool to have nothing less than I expect would be great for someone just starting out
December 8, 2011
Great Tools
I bought this Product for my tech class and it is a great product to have. Great 1/4 and 3/8 sizes of sockets.
November 25, 2011
silver eagle 15mm
Just bought a silver eagle wrench from my tool truck and it has done me right,fantastic quality,durability,style.would recommend these wrenches to anyone
October 27, 2011
Good set for the price
I was pleased with the number of tools for a pretty good price. I've used them daily since I purchased them about a month ago and they seem to be holding up pretty decently.
September 21, 2012