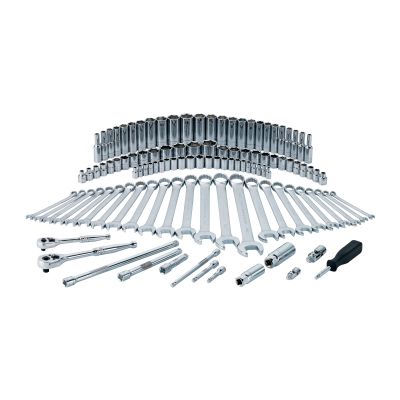 SABSE111P111 PC SILVER EAGLE GENERAL SERVICE SET
SABSE111P 111 PC SILVER EAGLE GENERAL SERVICE SET
Features & Benefits
Offers a wide range of 6 point SAE and Metric sockets in both standard and deep lengths
Includes Metric and SAE Combination Wrenches
Also includes ratchets, extensions, spark plug sockets, a spinner handle, and universal joints.
Packaged in a rugged plastic case
Return Policy
Return for refund within: 30 days
Return for replacement within: 30 days
| Part # | Product Name | Qty in Set |
| --- | --- | --- |
| BDSE6M6 | 3/8 IN DR 6 MM DP SIL EAG SKT | 1 |
| BDSE7M6 | 3/8 IN DR 7 MM DP SIL EAG SKT | 1 |
| BDSE8M6 | 3/8 IN DR 8 MM DP SIL EAG SKT | 1 |
| BDSE9M6 | 3/8 IN DR 9 MM DP SIL EAG SKT | 1 |
| BDSE10M6 | 3/8 IN DR 10 MM DP SIL EAG SK | 1 |
| BDSE11M6 | 3/8 IN DR 11 MM DP SIL EAG SK | 1 |
| BDSE12M6 | 3/8 IN DR 12 MM DP SIL EAG SK | 1 |
| BDSE13M6 | 3/8 IN DR 13 MM DP SIL EAG SK | 1 |
| BDSE14M6 | 3/8 IN DR 14 MM DP SIL EAG SK | 1 |
| BDSE15M6 | 3/8 IN DR 15 MM DP SIL EAG SK | 1 |
| BDSE16M6 | 3/8 IN DR 16 MM DP SIL EAG SK | 1 |
| BDSE17M6 | 3/8 IN DR 17 MM DP SIL EAG SK | 1 |
| BDSE18M6 | 3/8 IN DR 18 MM DP SIL EAG SK | 1 |
| BDSE19M6 | 3/8 IN DR 19 MM DP SIL EAG SK | 1 |
| BSE86 | 3/8 IN DR 1/4 IN SIL EAG SKT | 1 |
| BSE106 | 3/8 IN DR 5/16 IN SIL EAG SKT | 1 |
| BSE126 | 3/8 IN DR 3/8 IN SIL EAG SKT | 1 |
| BSE146 | 3/8 IN DR 7/16 IN SIL EAG SKT | 1 |
| BSE166 | 3/8 IN DR 1/2 IN SIL EAG SKT | 1 |
| BSE186 | 3/8 IN DR 9/16 IN SIL EAG SKT | 1 |
| BSE206 | 3/8 IN DR 5/8 IN SIL EAG SKT | 1 |
| BSE226 | 3/8 IN DR 11/16 IN SIL EAG SK | 1 |
| BSE286 | 3/8 IN DR 7/8 IN SIL EAG SKT | 1 |
| BSE306 | 3/8 IN DR 15/16 IN SIL EAG SK | 1 |
| BSE326 | 3/8 IN DR 1 IN SIL EAG SKT | 1 |
| BSE6M6 | 3/8 IN DR 6 MM SIL EAG SKT | 1 |
| BSE7M6 | 3/8 IN DR 7 MM SIL EAG SKT | 1 |
| BSE8M6 | 3/8 IN DR 8 MM SIL EAG SKT | 1 |
| BSE9M6 | 3/8 IN DR 9 MM SIL EAG SKT | 1 |
| BSE10M6 | 3/8 IN DR 10 MM SIL EAG SKT | 1 |
| BSE11M6 | 3/8 IN DR 11 MM SIL EAG SKT | 1 |
| BSE12M6 | 3/8 IN DR 12 MM SIL EAG SKT | 1 |
| BSE13M6 | 3/8 IN DR 13 MM SIL EAG SKT | 1 |
| BSE14M6 | 3/8 IN DR 14 MM SIL EAG SKT | 1 |
| BSE15M6 | 3/8 IN DR 15 MM SIL EAG SKT | 1 |
| BSE16M6 | 3/8 IN DR 16 MM SIL EAG SKT | 1 |
| BSE17M6 | 3/8 IN DR 17 MM SIL EAG SKT | 1 |
| BSE18M6 | 3/8 IN DR 18 MM SIL EAG SKT | 1 |
| BSE19M6 | 3/8 IN DR 19 MM SIL EAG SKT | 1 |
| BSE206P | 5/8" SE SPARK PLUG - 3/8 DRIVE | 1 |
| BSE266P | 13/16 SE SPARK PLUG SOCKET | 1 |
| BXSE10K | 3/8 IN DR SILVER EAG 10 IN EX | 1 |
| BXSE3K | 3/8 IN DR SILVER EAG 3 IN EXT | 1 |
| BXSE6K | 3/8 IN DR SILVER EAG 6 IN EXT | 1 |
| BUSE | 3/8 IN UNIVERSAL JOINT | 1 |
| BRSE8T | 3/8 IN DR SE RATCHET | 1 |
| ASE66 | 1/4 IN DR 3/16 IN SIL EAG SKT | 1 |
| ASE76 | 1/4 IN DR 7/32 IN SIL EAG SKT | 1 |
| ASE86 | 1/4 IN DR 1/4 IN SIL EAG SKT | 1 |
| ASE106 | 1/4 IN DR 5/16 IN SIL EAG SKT | 1 |
| ASE126 | 1/4 IN DR 3/8 IN SIL EAG SKT | 1 |
| ASE96 | 1/4 IN DR 9/32 IN SIL EAG SKT | 1 |
| ASE146 | 1/4 IN DR 7/16 IN SIL EAG SKT | 1 |
| ASE116 | 1/4 IN DR 11/32 IN SIL EAG SK | 1 |
| ASE166 | 1/4 IN DR 1/2 IN SIL EAG SKT | 1 |
| ASE186 | 1/4 IN DR 9/16 IN SIL EAG SKT | 1 |
| ASE4M6 | 1/4 IN DR 4 MM SIL EAG SKT | 1 |
| ASE5M6 | 1/4 IN DR 5 MM SIL EAG SKT | 1 |
| ASE5.5M6 | 1/4 IN DR 5.5 MM SIL EAG SKT | 1 |
| ASE6M6 | 1/4 IN DR 6 MM SIL EAG SKT | 1 |
| ASE7M6 | 1/4 IN DR 7 MM SIL EAG SKT | 1 |
| ASE8M6 | 1/4 IN DR 8 MM SIL EAG SKT | 1 |
| ASE9M6 | 1/4 IN DR 9 MM SIL EAG SKT | 1 |
| ASE11M6 | 1/4 IN DR 11 MM SIL EAG SKT | 1 |
| ASE10M6 | 1/4 IN DR 10 MM SIL EAG SKT | 1 |
| ASE12M6 | 1/4 IN DR 12 MM SIL EAG SKT | 1 |
| ASE13M6 | 1/4 IN DR 13 MM SIL EAG SKT | 1 |
| ASE14M6 | 1/4 IN DR 14 MM SIL EAG SKT | 1 |
| ASE6DR | 1/4 IN SILVER EAGLE SPINNER H | 1 |
| AUSE | 1/4 IN UNIVERSAL JOINT | 1 |
| AXSE2K | 1/4 IN DR SILVER EAG 2 IN EXT | 1 |
| AXSE3K | 1/4 IN DR SILVER EAG 3 IN EXT | 1 |
| AXSE6K | 1/4 IN DR SILVER EAG 6 IN EXT | 1 |
| ARSE5T | 1/4 IN DR SE RATCHET | 1 |
| RCSE82 | 1/4 IN SILVER EAGLE COMB WREN | 1 |
| RCSE102 | 5/16 IN SILVER EAGLE COMB WRE | 1 |
| RCSE122 | 3/8 IN SILVER EAGLE COMB WREN | 1 |
| RCSE142 | 7/16 IN SILVER EAGLE COMB WRE | 1 |
| RCSE162 | 1/2 IN SILVER EAGLE COMB WREN | 1 |
| RCSE182 | 9/16 IN SILVER EAGLE COMB WRE | 1 |
| RCSE202 | 5/8 IN SILVER EAGLE COMB WREN | 1 |
| RCSE222 | 11/16 IN SILVER EAGLE COMB WR | 1 |
| RCSE242 | 3/4 IN SILVER EAGLE COMB WREN | 1 |
| RCSE8M2 | 8 MM SE COMB WRENCH | 1 |
| RCSE9M2 | 9 MM SE COMB WRENCH | 1 |
| RCSE10M2 | 10 MM SILVER EAGLE COMB WRENC | 1 |
| RCSE11M2 | 11 MM SILVER EAGLE COMB WRENC | 1 |
| RCSE12M2 | 12 MM SILVER EAGLE COMB WRENC | 1 |
| RCSE13M2 | 13 MM SILVER EAGLE COMB WRENC | 1 |
| RCSE14M2 | 14 MM SILVER EAGLE COMB WRENC | 1 |
| RCSE15M2 | 15 MM SILVER EAGLE COMB WRENC | 1 |
| RCSE16M2 | 16 MM SILVER EAGLE COMB WRENC | 1 |
| RCSE17M2 | 17 MM SILVER EAGLE COMB WRENC | 1 |
| RCSE18M2 | 18 MM SILVER EAGLE COMB WRENC | 1 |
| RCSE19M2 | 19 MM SILVER EAGLE COMB WRENC | 1 |
| RCSE21M2 | 21 MM SE COMB WRENCH | 1 |
| RCSE22M2 | 22 MM SE COMB WRENCH | 1 |
| RCSE24M2 | 24 MM SE COMB WRENCH | 1 |
| SABSE111PBMC | BLOW MOLD CASE FOR SABSE111P | 1 |
111 PC SILVER EAGLE GENERAL SERVICE SET
20
20
good`
good ;for a student or diy/shade tree mechanic, the 3/8th drive is surprisingly durable.
September 25, 2012
amazing product
this set has had everything i have ever needed to get a job done when im working on a car and where i can fit a ratchet. i've broken many ratchets and this one just keeps working, i have had chances to break it and i have tried to break it and it wont break. great quality. matco tools in genereal work the best in my opinion. this socket set was the first thing ive used from matco and i know it wont be the last, i just ordered a bunch of tools from matco also. cant wait to break them in either.
October 27, 2011
This is an Excellent Set.
I use the SABSE111P at school. I am very satified with the tools. I am a beginner in the industry and I am going to represent myself with a good name brand set of tools so I purchased the set. Very affordable. Thank you Matco
October 17, 2011
Great for home use.
I bought this to have at home and because when I purchased I got the hex socket set for free. It has held up well for me as I don't use this set everyday. It is an economical alternative or would be great for someone just starting out. But I would recommend the regular matco brand for everyday professional use.
November 16, 2011
Great economic socket set!!
Best most complete basic socket set for the money. Has all your everyday basic socket sizes and drives to do any job that comes into your bay. You get a great quality tool with the Matco Lifetime warranty for a great economic price!!!
September 27, 2011
Great starter set
Great starter set for anyone. Has all the basic sockets and wrenches you'll need. Good quality. Easy to carry around. Only issue I would state is the box that it comes in. It doesn't really hold the sockets in place but besides that they are great tools.
August 31, 2011
Great set of sockets!
The set is durable and holds up great. Have had the set only a little while, but has lasted through anything I can put it through.
November 20, 2011
Great set to cover all your basic needs.
Great set to cover all your basic needs. Not much more to say but that this set is great for anyone starting out with nothing and wants good quality tools at a great price.
September 1, 2011
Has all of your everyday tools and always used.
Use this set everyday, worth the money, and great quality of tools. Perfect for anyone to use!
October 12, 2011
Great Product
wonderful tool kit that has all your basic tools i use this kit as a professional daily and i have never had an issue with any of the tools in this kit
September 11, 2011
Its an ok starter kit
You get quite a bit for the money but I have found very quickly that I am already looking to upgrade some of the components for better stuff.
September 9, 2011
great tools
Great set to cover all your basic needs. great for anyone starting out
September 4, 2011