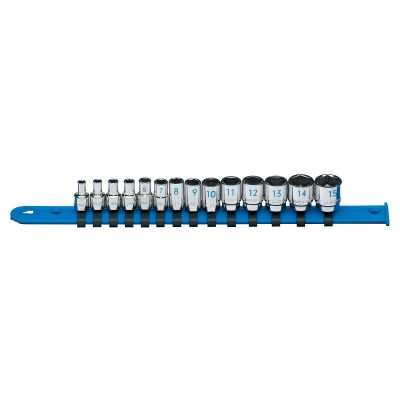 SAM146TB1/4" DRIVE 14 PIECE METRIC 6 POINT CHROME SOCKET SET
SAM146TB 1/4" DRIVE 14 PIECE METRIC 6 POINT CHROME SOCKET SET
Features & Benefits
High visibility pad printed, laser etched markings to help technicians identify sockets quicker
Opti-Torque, which applies torque to fastener sides not corners
Counter Torque, which applies torquing stress uniformly throughout socket
Includes sizes: 4mm, 4.5mm, 5mm, 5.5mm, 6mm - 15mm
Return Policy
Return for refund within: 30 days
Return for replacement within: 30 days
| Part # | Product Name | Qty in Set |
| --- | --- | --- |
| A4M6B | 1/4 IN DR 4MM CHROME 6PT SKT | 1 |
| A4.5M6B | 1/4 IN DR 4.5MM CHROME 6PT SKT | 1 |
| A5M6B | 1/4 IN DR 5 MM 6PT CHROME SKT | 1 |
| A5.5M6B | 1/4 IN DR 5.5MM 6PT CHROME SKT | 1 |
| A6M6B | 1/4 IN DR 6 MM 6PT CHROME SKT | 1 |
| A7M6B | 1/4 IN DR 7 MM 6PT CHROME SKT | 1 |
| A8M6B | 1/4 IN DR 8 MM 6PT CHROME SKT | 1 |
| A9M6B | 1/4 IN DR 9 MM 6PT CHROME SKT | 1 |
| A10M6B | 1/4 IN DR 10 MM 6PT CHROME SKT | 1 |
| A11M6B | 1/4 IN DR 11 MM 6PT CHROME SKT | 1 |
| A12M6B | 1/4 IN DR 12 MM 6PT CHROME SKT | 1 |
| A13M6B | 1/4 IN DR 13 MM 6PT CHROME SKT | 1 |
| A14M6B | 1/4 IN DR 14 MM 6PT CHROME SKT | 1 |
| A15M6B | 1/4 IN DR 15 MM 6PT CHROME SKT | 1 |
1/4'' DRIVE 14 PIECE METRIC 6 POINT CHROME SOCKET SET
4
4
Nice socket set
The sockets work great and the high visibilty size markings are awesome. After over 3 years though, the high visibility paint is worn off my most used sockets.
November 3, 2013
Good 1/4 sockets
I use these sockets with my other Matco ratchets. Fit on the ratchets very smoothly and work great.
January 10, 2013
Best 1/4" sockets in my box.
The high visibility markings are great. Many other high end sockets don't have that. Never had any problems with breakage they seem to hold up great.
October 22, 2011
great set of sockets
The lengt is very good for getting to those hard to reach bolts that are allmost behind something like a dipstick .
October 21, 2011