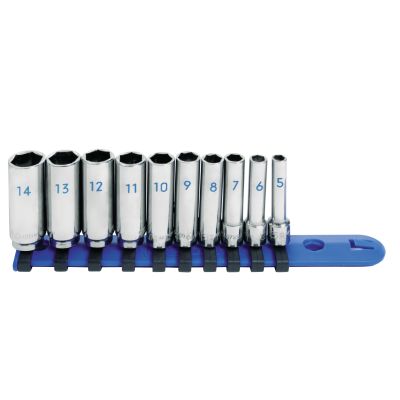 SAMD106TA1/4" DRIVE 10 PIECE METRIC 6 POINT DEEP CHROME SOCKET SET
SAMD106TA 1/4" DRIVE 10 PIECE METRIC 6 POINT DEEP CHROME SOCKET SET
Features & Benefits
Opti-Torque which applies torque to fastener sides not corners.
Counter Torque which applies torquing stress uniformly throughout socket.
Hi-visibility to identify socket sizes at a glance with over-sized laser markings
Made of high strength material.
Includes sizes: 5mm - 14mm
Return Policy
Return for refund within: 30 days
Return for replacement within: 30 days
| Part # | Product Name | Qty in Set |
| --- | --- | --- |
| AD5M6A | 1/4X5MM DP 6PT SKT | 1 |
| AD6M6A | 1/4X6MM DP 6PT SKT | 1 |
| AD7M6A | 1/4X7MM DP 6PT SKT | 1 |
| AD8M6A | 1/4X8MM DEEP 6PT SKT | 1 |
| AD9M6A | 1/4X9MM DEEP 6PT SKT | 1 |
| AD10M6A | 1/4X10MM DP 6PT SKT | 1 |
| AD11M6A | 1/4X11MM DEEP 6PT SKT | 1 |
| AD12M6A | 1/4X12MM DEEP 6PT SKT | 1 |
| AD13M6A | 1/4X13MM DEEP 6PT SOCKET | 1 |
| AD14M6A | 1/4X14MM DEEP 6PT SKT | 1 |
1/4'' DRIVE 10 PIECE METRIC 6 POINT DEEP CHROME SOCKET SET
6
6
Great set!
I really like these sockets. Great grip for little fastener wear. Matco has figured out how to mark sockets to a tee. Easy to see and distinguish from sae sockets with the color coding.
November 20, 2011
This set has become my bets & most used tool for dash board parts & batteries
Bought when first produced and use 10mm, 8mm,7mm the most have worn out one 10mm after yrs of daily use already the replacement appears better than the first. I would recommend this set for and to anyone!
October 24, 2011
awsome set
geate set of sockets, strong well made tools what more can you ask for
December 5, 2011
Great sockets, Must buy!!!
sockets are the best I have ever used, the blue markings are easy to read so you can get the job done fast, the sockets are strong and have the best grip on bolts.
September 14, 2011
Great sockets
These are a pleasure to use and easy on the fasteners.
November 25, 2011
sockets
The blue markings make them easy to see. great feature no body else has
October 9, 2011