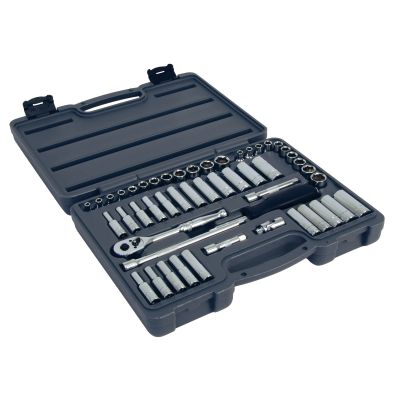 SASE50P1/4" DRIVE SILVER EAGLE GENERAL SERVICE SET
SASE50P 1/4" DRIVE SILVER EAGLE GENERAL SERVICE SET
Features & Benefits
50 piece set offers a wide range of 6 point SAE and Metric sockets
Includes both standard and deep sockets
Also includes ratchet, 3 extensions, spinner handle, and a universal joint.
Packaged in a rugged plastic case
Return Policy
Return for refund within: 30 days
Return for replacement within: 30 days
| Part # | Product Name | Qty in Set |
| --- | --- | --- |
| ADSE106 | 1/4 IN DR 5/16 IN DP SIL EAG | 1 |
| ADSE10M6 | 1/4 IN DR 10 MM DP SIL EAG SK | 1 |
| ADSE116 | 1/4 IN DR 11/32 IN DP SIL EAG | 1 |
| ADSE11M6 | 1/4 IN DR 11 MM DP SIL EAG SK | 1 |
| ADSE126 | 1/4 IN DR 3/8 IN DP SIL EAG S | 1 |
| ADSE12M6 | 1/4 IN DR 12 MM DP SIL EAG SK | 1 |
| ADSE13M6 | 1/4 IN DR 13 MM DP SIL EAG SK | 1 |
| ADSE146 | 1/4 IN DR 7/16 IN DP SIL EAG | 1 |
| ADSE14M6 | 1/4 IN DR 14 MM DP SIL EAG SK | 1 |
| ADSE166 | 1/4 IN DR 1/2 IN DP SIL EAG S | 1 |
| ADSE186 | 1/4 IN DR 9/16 IN DP SIL EAG | 1 |
| ADSE4M6 | 1/4 IN DR 4 MM DP SIL EAG SKT | 1 |
| ADSE5.5M6 | 1/4 IN DR 5.5 MM DP SIL EAG S | 1 |
| ADSE5M6 | 1/4 IN DR 5 MM DP SIL EAG SKT | 1 |
| ADSE66 | 1/4 IN DR 3/16 IN DP SIL EAG | 1 |
| ADSE6M6 | 1/4 IN DR 6 MM DP SIL EAG SKT | 1 |
| ADSE76 | 1/4 IN DR 7/32 IN DP SIL EAG | 1 |
| ADSE7M6 | 1/4 IN DR 7 MM DP SIL EAG SKT | 1 |
| ADSE86 | 1/4 IN DR 1/4 IN DP SIL EAG S | 1 |
| ADSE8M6 | 1/4 IN DR 8 MM DP SIL EAG SKT | 1 |
| ADSE96 | 1/4 IN DR 9/32 IN DP SIL EAG | 1 |
| ADSE9M6 | 1/4 IN DR 9 MM DP SIL EAG SKT | 1 |
| ASE106 | 1/4 IN DR 5/16 IN SIL EAG SKT | 1 |
| ASE10M6 | 1/4 IN DR 10 MM SIL EAG SKT | 1 |
| ASE116 | 1/4 IN DR 11/32 IN SIL EAG SK | 1 |
| ASE11M6 | 1/4 IN DR 11 MM SIL EAG SKT | 1 |
| ASE126 | 1/4 IN DR 3/8 IN SIL EAG SKT | 1 |
| ASE12M6 | 1/4 IN DR 12 MM SIL EAG SKT | 1 |
| ASE13M6 | 1/4 IN DR 13 MM SIL EAG SKT | 1 |
| ASE146 | 1/4 IN DR 7/16 IN SIL EAG SKT | 1 |
| ASE14M6 | 1/4 IN DR 14 MM SIL EAG SKT | 1 |
| ASE166 | 1/4 IN DR 1/2 IN SIL EAG SKT | 1 |
| ASE186 | 1/4 IN DR 9/16 IN SIL EAG SKT | 1 |
| ASE4M6 | 1/4 IN DR 4 MM SIL EAG SKT | 1 |
| ASE5.5M6 | 1/4 IN DR 5.5 MM SIL EAG SKT | 1 |
| ASE5M6 | 1/4 IN DR 5 MM SIL EAG SKT | 1 |
| ASE66 | 1/4 IN DR 3/16 IN SIL EAG SKT | 1 |
| ASE6DR | 1/4 IN SILVER EAGLE SPINNER H | 1 |
| ASE6M6 | 1/4 IN DR 6 MM SIL EAG SKT | 1 |
| ASE76 | 1/4 IN DR 7/32 IN SIL EAG SKT | 1 |
| ASE7M6 | 1/4 IN DR 7 MM SIL EAG SKT | 1 |
| ASE86 | 1/4 IN DR 1/4 IN SIL EAG SKT | 1 |
| ASE8M6 | 1/4 IN DR 8 MM SIL EAG SKT | 1 |
| ASE96 | 1/4 IN DR 9/32 IN SIL EAG SKT | 1 |
| ASE9M6 | 1/4 IN DR 9 MM SIL EAG SKT | 1 |
| AUSE | 1/4 IN UNIVERSAL JOINT | 1 |
| AXSE2K | 1/4 IN DR SILVER EAG 2 IN EXT | 1 |
| AXSE3K | 1/4 IN DR SILVER EAG 3 IN EXT | 1 |
| AXSE6K | 1/4 IN DR SILVER EAG 6 IN EXT | 1 |
| ARSE5T | 1/4 IN DR SE RATCHET | 1 |
| SASE50PBMC | BLOW MOLD CASE FOR SASE50P | 1 |
1/4'' DRIVE SILVER EAGLE GENERAL SERVICE SET
17
17
Product has great quality
Used to do basic maintenance on car, great set to have
October 11, 2013
GREAT STARTER SET, GREAT QUALITY,
I LIKE THIS SET. ITS AND IDEAL STARTER SET I WILL ALSO BE PURCHASING 3/8. AND 1\2 INCH, THE ONLY PROBLEM ON THIS SET AND ALL OF SILVER EAGLES PRODUCT IS THE READING FOR THE SIZE ITS REALLY HARD TO SEE THEM, THEY ARE GRAVED IN, AND WHEN IN DIRECT SUN OR LIGHT ITS HARD TO SEE WITH THE GLARE, THAT'S SOMETHING TO TAKE INTO CONSIDERATION OTHER THAN THAT ITS PERFECT FOR THE PRICE,
September 6, 2013
Good set
Great set to have for general service, the ratchet could be improved though, not the best ratchet gears stick a little bit but I use it daily as a maintenance technician, I like how the nut driver can be used as an extension for quick exchange of a ratchet to driver
May 2, 2013
Love the case, not a fan of the drive
The drive got hung up as soon as i used it. love the sockets, the drive needs to be redesigned. i removed the drive out of the case and replaced it with another that has yet to give me issues.
May 6, 2013
Good set!
The set is a very good set. i use it mostly for cab trim pieces. the only downside i have is that the ratchet seems a little sub-par. other than that it is a very good set for the cost.
November 20, 2011
Good 1/4" set to have in your box
Nice set of 1/4" drive sockets, comes in handy in small engine repair. pick up a decent ratchet and you'll have yourself a cheap but well built tool in your arsenal.
October 31, 2011
Excellent Set
I work for a boat dealership and this set comes in real handy when im in the boat and doing mechanic work on outboards. I would recommend this set to any mechanic.
September 10, 2011
Excellent and very Handy!
I ordered this product recently and I really like it! I tried to used this tools once and I felt the best satisfaction because it's comfortable to my hand and my wrist and also very handy. I trust this company because the make one of the best tools ever! I really recommend this product if you don't have one yet.
December 15, 2012