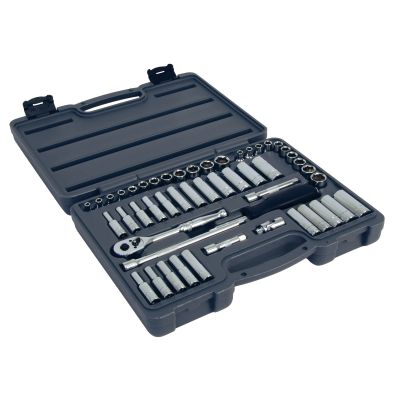 SASE50P1/4" DRIVE SILVER EAGLE GENERAL SERVICE SET
SASE50P 1/4" DRIVE SILVER EAGLE GENERAL SERVICE SET
Features & Benefits
50 piece set offers a wide range of 6 point SAE and Metric sockets
Includes both standard and deep sockets
Also includes ratchet, 3 extensions, spinner handle, and a universal joint.
Packaged in a rugged plastic case
Return Policy
Return for refund within: 30 days
Return for replacement within: 30 days
| Part # | Product Name | Qty in Set |
| --- | --- | --- |
| ADSE106 | 1/4 IN DR 5/16 IN DP SIL EAG | 1 |
| ADSE10M6 | 1/4 IN DR 10 MM DP SIL EAG SK | 1 |
| ADSE116 | 1/4 IN DR 11/32 IN DP SIL EAG | 1 |
| ADSE11M6 | 1/4 IN DR 11 MM DP SIL EAG SK | 1 |
| ADSE126 | 1/4 IN DR 3/8 IN DP SIL EAG S | 1 |
| ADSE12M6 | 1/4 IN DR 12 MM DP SIL EAG SK | 1 |
| ADSE13M6 | 1/4 IN DR 13 MM DP SIL EAG SK | 1 |
| ADSE146 | 1/4 IN DR 7/16 IN DP SIL EAG | 1 |
| ADSE14M6 | 1/4 IN DR 14 MM DP SIL EAG SK | 1 |
| ADSE166 | 1/4 IN DR 1/2 IN DP SIL EAG S | 1 |
| ADSE186 | 1/4 IN DR 9/16 IN DP SIL EAG | 1 |
| ADSE4M6 | 1/4 IN DR 4 MM DP SIL EAG SKT | 1 |
| ADSE5.5M6 | 1/4 IN DR 5.5 MM DP SIL EAG S | 1 |
| ADSE5M6 | 1/4 IN DR 5 MM DP SIL EAG SKT | 1 |
| ADSE66 | 1/4 IN DR 3/16 IN DP SIL EAG | 1 |
| ADSE6M6 | 1/4 IN DR 6 MM DP SIL EAG SKT | 1 |
| ADSE76 | 1/4 IN DR 7/32 IN DP SIL EAG | 1 |
| ADSE7M6 | 1/4 IN DR 7 MM DP SIL EAG SKT | 1 |
| ADSE86 | 1/4 IN DR 1/4 IN DP SIL EAG S | 1 |
| ADSE8M6 | 1/4 IN DR 8 MM DP SIL EAG SKT | 1 |
| ADSE96 | 1/4 IN DR 9/32 IN DP SIL EAG | 1 |
| ADSE9M6 | 1/4 IN DR 9 MM DP SIL EAG SKT | 1 |
| ASE106 | 1/4 IN DR 5/16 IN SIL EAG SKT | 1 |
| ASE10M6 | 1/4 IN DR 10 MM SIL EAG SKT | 1 |
| ASE116 | 1/4 IN DR 11/32 IN SIL EAG SK | 1 |
| ASE11M6 | 1/4 IN DR 11 MM SIL EAG SKT | 1 |
| ASE126 | 1/4 IN DR 3/8 IN SIL EAG SKT | 1 |
| ASE12M6 | 1/4 IN DR 12 MM SIL EAG SKT | 1 |
| ASE13M6 | 1/4 IN DR 13 MM SIL EAG SKT | 1 |
| ASE146 | 1/4 IN DR 7/16 IN SIL EAG SKT | 1 |
| ASE14M6 | 1/4 IN DR 14 MM SIL EAG SKT | 1 |
| ASE166 | 1/4 IN DR 1/2 IN SIL EAG SKT | 1 |
| ASE186 | 1/4 IN DR 9/16 IN SIL EAG SKT | 1 |
| ASE4M6 | 1/4 IN DR 4 MM SIL EAG SKT | 1 |
| ASE5.5M6 | 1/4 IN DR 5.5 MM SIL EAG SKT | 1 |
| ASE5M6 | 1/4 IN DR 5 MM SIL EAG SKT | 1 |
| ASE66 | 1/4 IN DR 3/16 IN SIL EAG SKT | 1 |
| ASE6DR | 1/4 IN SILVER EAGLE SPINNER H | 1 |
| ASE6M6 | 1/4 IN DR 6 MM SIL EAG SKT | 1 |
| ASE76 | 1/4 IN DR 7/32 IN SIL EAG SKT | 1 |
| ASE7M6 | 1/4 IN DR 7 MM SIL EAG SKT | 1 |
| ASE86 | 1/4 IN DR 1/4 IN SIL EAG SKT | 1 |
| ASE8M6 | 1/4 IN DR 8 MM SIL EAG SKT | 1 |
| ASE96 | 1/4 IN DR 9/32 IN SIL EAG SKT | 1 |
| ASE9M6 | 1/4 IN DR 9 MM SIL EAG SKT | 1 |
| AUSE | 1/4 IN UNIVERSAL JOINT | 1 |
| AXSE2K | 1/4 IN DR SILVER EAG 2 IN EXT | 1 |
| AXSE3K | 1/4 IN DR SILVER EAG 3 IN EXT | 1 |
| AXSE6K | 1/4 IN DR SILVER EAG 6 IN EXT | 1 |
| ARSE5T | 1/4 IN DR SE RATCHET | 1 |
| SASE50PBMC | BLOW MOLD CASE FOR SASE50P | 1 |
1/4'' DRIVE SILVER EAGLE GENERAL SERVICE SET
17
17
Good set
everything you need. quality set also features deep sockets similar to the snap on ones that do not go all the way deep into the socket, but rather allow you to start a nut on a bolt without pushing the nut deep into the socket which is nice.
September 13, 2012
Great set
Super convenient for working under the hood. I've been needing a 1/4 inch set and this one is perfect!
September 5, 2012
This can be used for almost every Auto Repair!!!!
This Small Portable set has saved my you know more than once!!! It's so handy and durable I have saved hundreds of dollars with this set and also have all sizes at my finger tips to save back and forth if you don't have one get it your missing out!!!
December 21, 2011
Great starter kit
This kit has almost everything you need. The only thing I wish it had was a 15mm socket, and didn't stop at 14. Other then that its great. Great kit to buy, and you can't beat the price
January 22, 2012
great quality set
Ratchet is good quality and forms to your hand nicely. this is a very complete set and i believe it could acomplish any job it was made for, also the set looks very nice and high quality, a great all around socket set.
December 7, 2011
good set
great set to have around everything in one place instead of going back to the box for another size
December 17, 2011
Quality Tools
I use this set on a daily basis. This set provides me the quality tools that I need to get the job done
December 12, 2011
sweet set
these set comes in handy for my work, i use this set daily and it is good quality tools not cheap at all and for a good price
September 24, 2011
Good quality tools and plenty of sockets.
This set has plenty of sockets and tools to finish all of my small engine repairs.
October 18, 2011