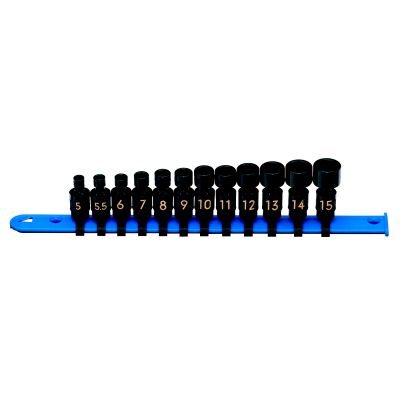 SAUPM126RB1/4" DRIVE 12 PIECE METRIC 6 POINT UNIVERSAL IMPACT SOCKET SET
SAUPM126RB 1/4" DRIVE 12 PIECE METRIC 6 POINT UNIVERSAL IMPACT SOCKET SET - Features & Benefits
Pinless design for longer socket life with less breakage.
4 point contact spreads wrenching forces throughout the roundhead joint to increase durability.
High Visibility markings are laser etched providing size information at a glance.
360° Rotation gives easier access from any angle.
EZ On and EZ off provides the right fit on the gun every time.
Includes sizes: 5mm, 5.5mm, 6mm - 15mm
| Part # | Product Name | Qty in Set |
| --- | --- | --- |
| AUP5M6B | 1/4 IN 5 MM UNIV IMP SOCKET | 1 |
| AUP5.5M6B | 1/4 IN 5.5 MM UNIV IMP SOCKET | 1 |
| AUP6M6B | 1/4 IN 6 MM UNIV IMP SOCKET | 1 |
| AUP7M6B | 1/4 IN 7 MM UNIV IMP SOCKET | 1 |
| AUP8M6B | 1/4 IN 8 MM UNIV IMP SOCKET | 1 |
| AUP9M6B | 1/4 IN 9 MM UNIV IMP SOCKET | 1 |
| AUP10M6B | 1/4 IN 10 MM UNIV IMP SOCKET | 1 |
| AUP11M6B | 1/4 IN 11 MM UNIV IMP SOCKET | 1 |
| AUP12M6B | 1/4 IN 12 MM UNIV IMP SOCKET | 1 |
| AUP13M6B | 1/4 IN 13 MM UNIV IMP SOCKET | 1 |
| AUP14M6B | 1/4 IN 14 MM UNIV IMP SOCKET | 1 |
| AUP15M6B | 1/4 IN 15 MM UNIV IMP SOCKET | 1 |
1/4'' DRIVE 12 PIECE METRIC 6 POINT UNIVERSAL IMPACT SOCKET SET
3
3
great
Some of the best and most used sockets in my toolbox.
September 27, 2011
Great small design allows for easy access in tight areas
Love this product it's design allows the greatest torque transmitted to fastener and it's compact design allows for access in tight areas
September 1, 2011
Can't compare with any other!
I use these all the time! They are small & compact and so easy to handle, it makes your job so much easier and more efficient.
September 3, 2011