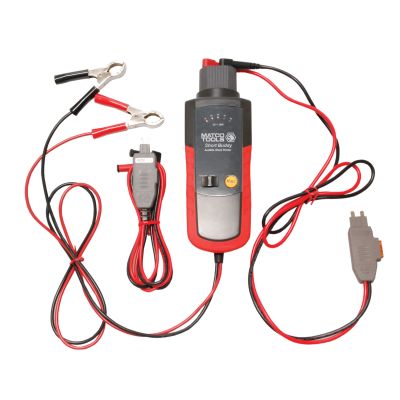 SB230SHORT BUDDY
SB230 SHORT BUDDY - Features & Benefits
Blowing Fuses?? Short Buddy helps you find the the short via audible feedback. When you push or pull the offending wire you hear a loud beep! Tester connects to the circuit in series at the fuse panel.
In the event of a dead short Short Buddy gives you continuous re-set/re-power capability and allows you to keep working hands free.
While you push pull tug and grab wires Short Buddy is always watching the current level. If your tug causes the dead short again, Short Buddy opens the circuit for 15 seconds then re-powers for continuous testing.
Another big feature - if the current changes by more than approximately .25 Amps it beeps at you. If you pull/push the offending wire or connector you'll hear it which is a huge help.
Great tool for shorts intermittant drop outs and flaky grounds & connections. A real time saver.
Settable Amp Levels of 10, 15, 20, 25, and 30 Amps.