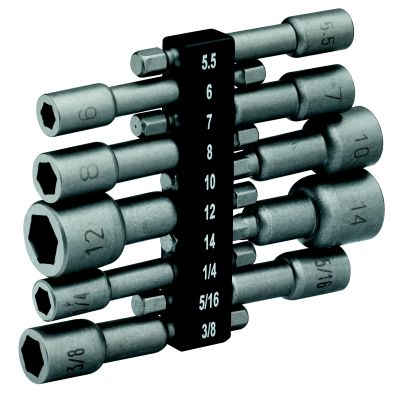 SBCXR10R10 PIECE MAGNETIC NUT SETTER SET
SBCXR10R 10 PIECE MAGNETIC NUT SETTER SET
Features & Benefits
Nut Setter Set Include Sizes: 5.5mm,6mm,7mm,8mm,10mm,12mm,14mm HEX1/4, 5/16,3/8 HEX
Return Policy *
Return for refund within: 30 days
Return for replacement within: 30 days
* Applies to purchases made on matcotools.com only; see your Matco distributor for warranty or return information on purchases made elsewhere.
| Part # | Product Name | Qty in Set |
| --- | --- | --- |
| B6XRA | 3/8 X E6 RECESS TORX SOCKET | 1 |
| B8XRA | 3/8 X E8 RECESS TORX SOCKET | 1 |
| B10XRA | 3/8X E10 RECESS TORX SOCKET | 1 |
| B12XRA | 3/8 XE12 RECESS TORX SOCKET | 1 |
| B14XRA | 3/8 X E14 RECESS TORX SOCKET | 1 |
| B16XRA | 3/8 X E16 RECESS TORX SOCKET | 1 |
| C18XRA | 1/2 X E18 RECESS TORX SOCKET | 1 |
| C20XRA | 1/2 X E20 RECESS TORX SOCKET | 1 |
| C22XRA | 1/2 X E22 RECESS TORX SOCKET | 1 |
| C24XRA | 1/2 X E24 RECESS TORX SOCKET | 1 |
10 PIECE MAGNETIC NUT SETTER SET
1
1
Forged in the heart of a dying star
When I first saw the price of this item I was hesitant, but I had to have an 8MM, and there were no sets available locally that contained that size so I ordered it. Shipping was, to say the least, impressive: almost immediately after clicking 'confirm' the skies above my building darkened, clouds began to swirl and lightning struck the ground outside my door. Dazzled and deafened, I picked my way through the shattered remains of my lobby to find a glowing white-hot mass sinking slowly into the molten soil. Rain began to fall and a cloud of steam enveloped me. The ringing in my ears mingled with the hissing and pinging of hot metal meeting cold water from above and I retreated, choking as I lost consciousness. When I came to, I was lying amid rubble on the edge of a small crater where my welcome mat had been. The bowl of the crater was fused to glass, and sitting in the bottom, still pinging occasionally as it cooled, was this set. Initially I was afraid that these were going to be impossible for me to use but I've found that individually, while quite heavy, they are no more than one man can manage. The set as a whole must be handled with extreme care, and I've had to reinforce the bottom of my toolbox, but the individual bits work quite well; there's not a single nut or bolt I've applied them to that they haven't moved with ease. I'd highly recommend these to anyone, but suggest listing your annoying neighbor's house as the shipping address.
April 8, 2014