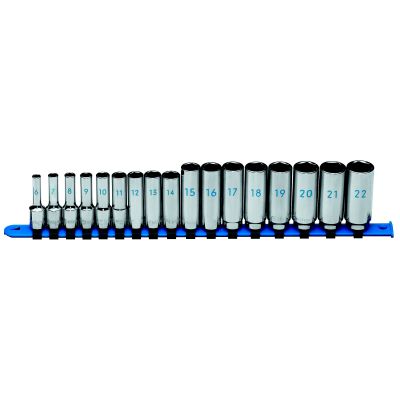 SBDM176TA3/8" DRIVE 17 PIECE METRIC 6 POINT DEEP CHROME SOCKET SET
SBDM176TA 3/8" DRIVE 17 PIECE METRIC 6 POINT DEEP CHROME SOCKET SET
Features & Benefits
Opti-Torque applies torque to fastener sides, not corners which allows more torque to fastener and longer life.
Counter-Torque distributes the torquing stress uniformly throughout the socket extending socket life
Hi-Visibility to identify socket sizes at a glance with oversized laser markings (red for SAE, blue for metric).
Includes sizes: 6mm - 22mm
Return Policy
Return for refund within: 30 days
Return for replacement within: 30 days
| Part # | Product Name | Qty in Set |
| --- | --- | --- |
| BD6M6A | 3/8 X 6MM 6 PT DP SOCKET | 1 |
| BD7M6A | 3/8 X 7MM 6 PT DP SOCKET | 1 |
| BD8M6A | 3/8 X 8MM 6 PT DP SOCKET | 1 |
| BD9M6A | 3/8 X 9MM 6 PT DP SOCKET | 1 |
| BD10M6A | 3/8 X 10MM 6 PT DP SOCKET | 1 |
| BD11M6A | 3/8 X 11MM 6 PT DP SOCKET | 1 |
| BD12M6A | 3/8 X 12MM 6 PT DP SOCKET | 1 |
| BD13M6A | 3/8 X 13MM 6 PT DP SOCKET | 1 |
| BD14M6A | 3/8 X 14MM 6 PT DP SOCKET | 1 |
| BD15M6A | 3/8 X 15MM 6 PT DP SOCKET | 1 |
| BD16M6A | 3/8 X 16MM 6 PT DP SOCKET | 1 |
| BD17M6A | 3/8 X 17MM 6 PT DP SOCKET | 1 |
| BD18M6A | 3/8 X 18MM 6 PT DP SOCKET | 1 |
| BD19M6A | 3/8 X 19MM 6 PT DP SOCKET | 1 |
| BD20M6A | 3/8 X 20MM 6 PT DP SOCKET | 1 |
| BD21M6A | 3/8 X 21MM 6 PT DP SOCKET | 1 |
| BD22M6A | 3/8 X 22MM 6 PT DP SOCKET | 1 |
3/8'' DRIVE 17 PIECE METRIC 6 POINT DEEP CHROME SOCKET SET
6
6
Pretty good set
Nothing wrong with it, solid casting and the markings are clear. A bit expensive for what it is considering it only goes to 22mm but not bad overall.
March 31, 2014
good set bad markings
this is a great set for the money but the painted on markings are already wearing off
January 7, 2013
best sockets sets
this is the best socket sets u can find. i have them for a year now and i have never never round a bolt or nut with these sockets.actually i bought the 1/4 all the way to 1/2" in long and short and medium sockets..i love them all.the only thing i dont like is the mm number on the sockets are not lasered, they are painted.so after a long time of use. they will actually get scratched off..other than that.. love the quality..made in usa.
March 11, 2012
Pretty Good set
I received my set when i bought my tools at school. Overall good, but i have broke my 10mm like 4 times in the past 2 yr, but free replacement, so. I love them
September 10, 2011
very reliable set
great set, it keeps you from changing ratchets and socket sets, it save me alot of time A++++
September 23, 2011
Great item
Great visibility of what size you need, long length for long bolts.
October 7, 2011