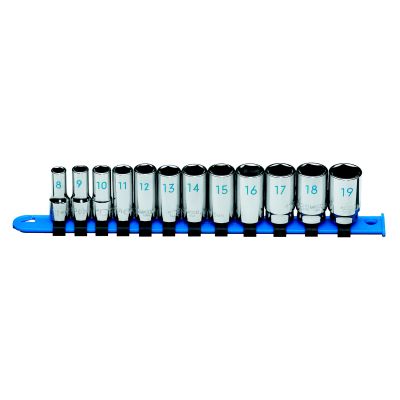 SBIM126T3/8" DRIVE 12 PIECE METRIC 6 POINT MID-LENGTH CHROME SOCKET SET
SBIM126T 3/8" DRIVE 12 PIECE METRIC 6 POINT MID-LENGTH CHROME SOCKET SET
Features & Benefits
Blue for metric so technicians can spot the right size instantly and work more efficiently.
The Opti-Torque feature applies torque to fastener sides, not corners, while Counter-Torque helps distribute the torquing stress uniformly throughout the socket.
Mid-length chrome sockets with high-visibility color-impregnated laser etched markings.
Manufactured from high-grade, impact resistant, heat-treated steel.
Includes sizes: 8mm - 19mm
Return Policy
Return for refund within: 30 days
Return for replacement within: 30 days
| Part # | Product Name | Qty in Set |
| --- | --- | --- |
| BI8M6 | 3/8X8MM MID LGHT CHROME SKT | 1 |
| BI9M6 | 3/8X9MM MID LGTH CHROME SKT | 1 |
| BI10M6 | 3/8X10MM MID LGTH CHROME SKT | 1 |
| BI11M6 | 3/8X11MM MID LGTH SKT 6PT | 1 |
| BI12M6 | 3/8 X 12 MM MID LGHT CHR SKT | 1 |
| BI13M6 | 3/8X13MM MID LGTH CHROME SKT | 1 |
| BI14M6 | 3/8X14MM MID LGTH CHROME SKT | 1 |
| BI15M6 | 3/8X15MM MID LGTH CHROME SKT | 1 |
| BI16M6 | 3/8X16MM MID LGTH CHROME SKT | 1 |
| BI17M6 | 3/8X17MM MID LGTH CHROME SKT | 1 |
| BI18M6 | 3/8X18MM MID LGTH CHROME SKT | 1 |
| BI19M6 | 3/8X19MM MID LGTH CHROME SKT | 1 |
| SKTRL10M | METRIC SKT RAIL 10-1/2 WORK | 1 |
3/8'' DRIVE 12 PIECE METRIC 6 POINT MID-LENGTH CHROME SOCKET SET
3
3
Nice features. Great quality.
So far I'm impressed with my new semi deep metric sockets. I especially like that the socket sizes are printed for easy viewing on the side of the socket.
May 2, 2013
This product is high quality and very durable
This socket set is awesome! The mid-length is great to break loose tough fasteners! A must buy!
April 28, 2013
top notch
i use these for 90% of my 3/8th needs. the perfect depth for mechanics. i've had my set for years and have had no problems. down graded features because the laser etchings wore off after a while. their socket rails are the best too.
December 2, 2011